They fade from nearly clear to fully shaded sunglasses in under 0.1 seconds, while also offering full ballistic protection. The B-On lenses can switch between shaded and nearly clear either automatically or manually with a button. In both case, they change almost instantly.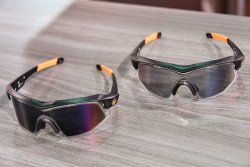 The battery lasts for approximately 72 hours of use, and recharging can be done with a standard USB cable. Power is used only in shaded mode.
e-Tint is essentially an electronic LCD (Liquid Crystal Display) polarizing system that the shooter can very quickly and easily manually activate on and off, according to his/her environmental/ambient lighting conditions, for optimal down-range vision. 
Beretta B-On: different uses
They can be used for multiple outdoor activities and sports like running, biking, climbing and hiking. Beretta recognizes the technology's potential both for sport shooting and outdoor activities and combat/tactical shooting applications.

Things of course can happen very quickly on the range, particularly when you are engaging multiple targets, including moving clay targets.
That's no problem for e-Tint, which gives you the ability to change tint from light to dark within 0.1 second, which is faster than any other technology available.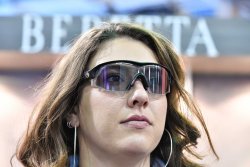 Let's imagine to be at station number one in a Skeet competition; usually it is possible to have the sun in front while shooting the first target and the double, but everything changes (especially lighting) during the subsequent stations.
Normally there is a dark side of the field and a clear one; this is the reason why many shooters wear sunglasses, while having a second pair on the cap, switching them during the round.