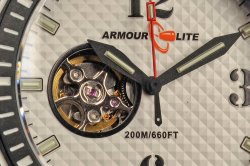 ArmourLite, the North Miami Beach, Florida (USA) based timepiece manufacturer introduced the AL-1021 and AL-1202 wrist watches earlier this year at the Shot Show.
We managed to obtain one each of these fine timepieces from Mr. Ashley Diener, ArmourLite founder and owner, to review: an Armourlite AL1202 Caliber wrist watch with mechanical movement, white textured dial and Nylon NATO band, and an AL1021 Navigator series wrist watch with ultra light polycarbonate case, and Velcro & Nylon band. Both models feature tritium markers on the dial, hands and on the reference marker on the bezel. The wrist watches we received are full production models, but still without the retail packaging; by the time this review is published, both timpeieces will surely be available for purchase.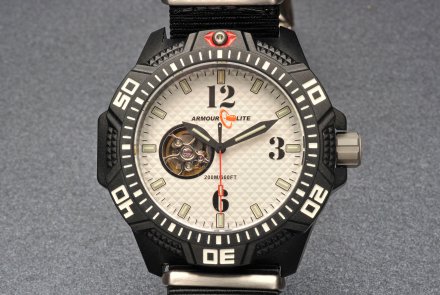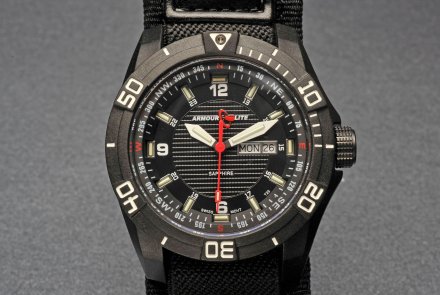 We chose the Armourlite AL1202 and AL1021 Navigator wrist watches to review, because of the deep difference in operation and movement these timepieces feature. That actually translates to a very different way to live each timepiece: while the AL1021 Navigator wrist watch uses a classical quartz movement, the AL1202 features a 24 jewel mechanical movement, with manual and automatic winding and  second-hand hack.

Because of the fact that the mechanical movement must be worn or manually charged, it implicitly demands almost daily attention by the user, whereas a Quartz watch needs none. But, we will get back to the differences in the movements further on.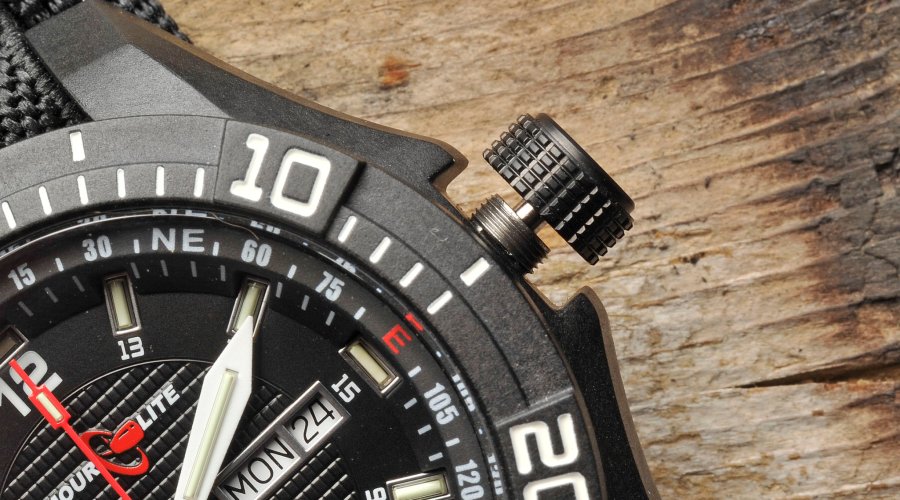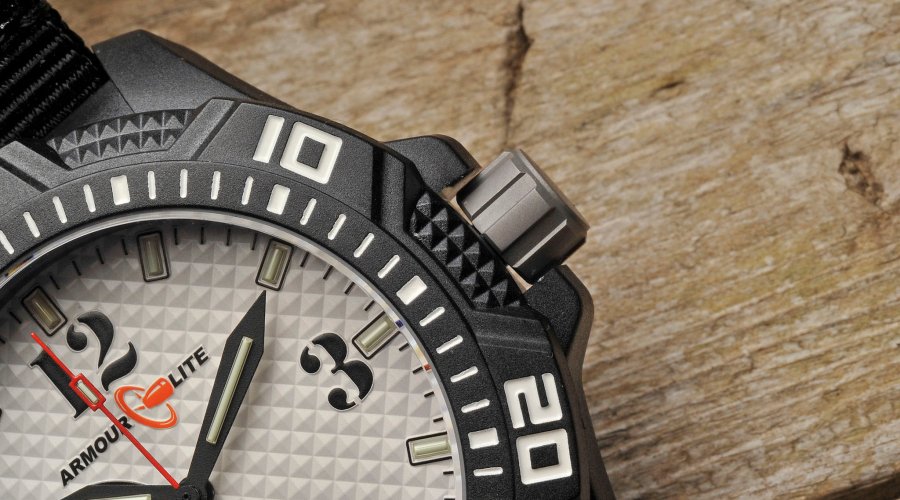 We will start with noting that both watches share a stainless steel back, fastened with four screws on the matte - black, and ultra lightweight carbon fiber reinforced polycarbonate case, an anti-reflective scratch resistant sapphire crystal, and T25 GTLS (gaseous tritium light source) marker vials for readability in any lighting condition, manufactured by Swiss-based company MB-Microtec.
The total amount of H3 isotope used by the markers in both watches do not exceed 1 GigaBequerel.
Both watches share the same water resistance specs, 200m depht and rated for diving, and although of different design, both dials feature a counterclockwise rotating sexagesimal bezel with a T25 self-luminous marker, and a Nylon band.
But this is where the similarities end.
The case of the Armourlite AL1021 Navigator has a 44mm diameter, while the AL1202 Caliber is slightly larger with 47mm, and whereas the Navigator features an 8mm screw-lock crown with triple O-ring sealing, the AL1202 sports a push crown.
Both watches come with a Nylon band, more specifically a standard Nato buckle clasped band for the AL1202 Caliber, and a Nylon with Velcro fastener for the Navigator; these timepieces feature a 22mm wide band interface, and a choice of other options are available both as ready to purchase configurations or after sale accessories.
The Armourlite AL1202 Caliber features a mechanical movement, to be more precise, it's a Japanese SII - Seiko NH38 12 Ligne, three hands, antimagnetic mechanical caliber, with 24 jewels; it has a diameter of 27,4mm and a thickness of 5,32mm. The relatively low beat frequency of 21600 vibrations per hour (equivalent to 3 hz) is a welcome feature, as it insures a higher reliability and longevity of the timepiece (vs a same-class 28000 VPH movement). Accuracy is claimed to be around +/- 20 seconds per day, and the movement allows both manual and automatic winding.
The gold-plated balance wheel is visible through a window in the dial of the Armourlite AL1202 Caliber, giving visual indication of the mechanical movement operation. On a fully charged mainspring, the NH38 insures a duration time of more than 41 hours.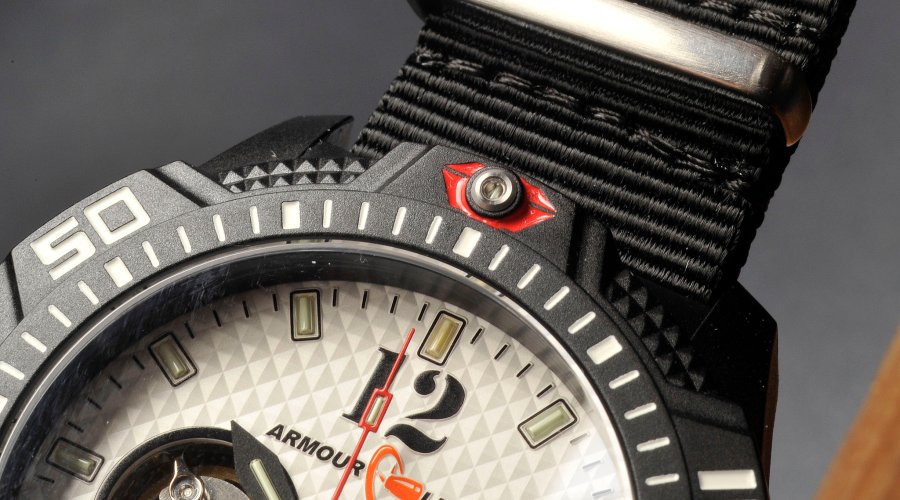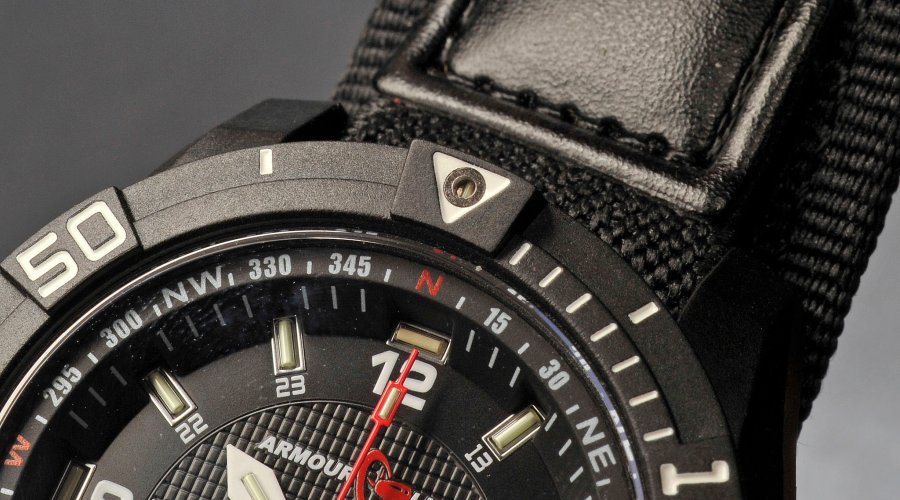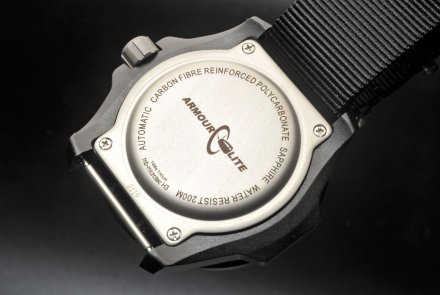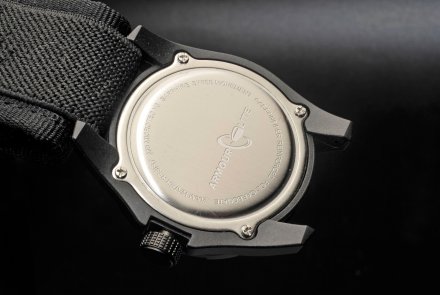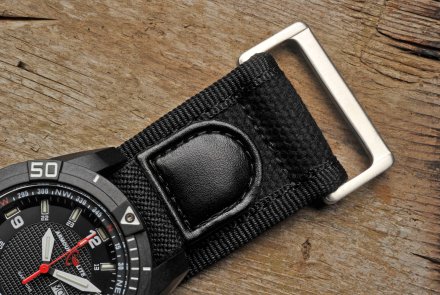 The Armourlite AL1021 Navigator uses a "traditional" quartz movement: an all-metal, nickel-plated Ronda 507 caliber with a single jewel, mounted on the central axis. This movement is powered by a 371 silver oxide cell with a 45 months battery life. The Ronda 517 is an 10½''' size movement (23.90 mm diameter by 3 mm thick) that is assembled with screws and not with cheap plastic pins, so it is considered 'repairable', and features a very powerful stepper motor for improved reliability.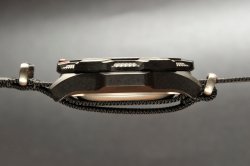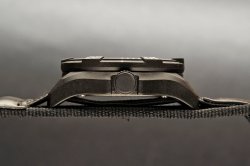 Compared to the three hand mechanical movement of the  AL1202 Caliber, the Ronda 507 movement adds Day and Date features.
The Navigator's dial is black with a engraved texture and features relatively small, but still easily legible white Arabic numerals for the main indexes and much smaller, 24 hour format numeral for the intermediate indexes.

Both secondary indexes and hands feature green GTLS, the '3', '6' and '9' main indexes use yellow, and the '12' index uses orange for an immediate identification of the dial and relative time reading in the dark. A raised portion of the dial features Compass markings with cardinal points and degree indications. The case is sleek and stylish, to make the complex dial 'stand out'.
The Armourlite AL1202 Caliber features a more classical and less utilitarian design, with an uncluttered and clean, white diamond textured  dial and very large and clearly readable Arabic numerals. The window through which the balance wheel can be observed adds a touch of finesse to an otherwise typically 'professional' appearing wrist watch: this timepiece can be worn with a suit and tie, as well as a BDU. 
Both timepieces are extremely light, and although the case is only 10mm thick, the band adds another  2 - 2,5 mm to it, making the watch "stand out' a bit more on the wrist; if this bother the potential customer,  the Navigator series is available with Nitrile Butadiene Rubber (NBR) bands and the Armourlite Caliber series is available in a choice of stainless steel, or NBR bands.