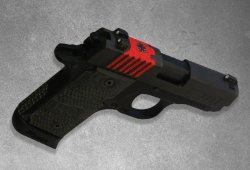 Firearms accessory market is huge and variegated: some accessories are pretty useless, some are straight-up bad, and others make you exclaim "Why didn't I put that on my gun before?".  ArachniGRIP company was founded by two lifelong firearms enthusiasts. They claim to believe that "shooters should have the advantages of proper equipment and training" and that their products "are designed to aid shooters in the safe, practical, use and control of their firearms".
Among ArachniGRIP products, the Slide Spider is probably the best known: basically, it's is an adhesive grip that you can place inside the slide serrations of your firearm for increased grip. The name derives from the fact that when flat, it actually resembles an arachnid with its legs spread.
Slide Spider, even for sweaty hands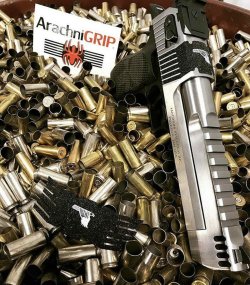 As explained on the manufacturer's website, "The Slide Spider is designed to assist new and practiced shooters alike, affected by weakened hand and/or grip strength, in operating the slide of their semi-automatic pistol. Once installed, the Slide Spider enables the shooter to gain increased control through a safe and secure hold." In fact, the gripping surface ensures a safe and secure hold, offering additional tactical advantages under challenging operating conditions, even when hands are wet or sweaty. More than this, the Slide Spider can also aid shooters with medical conditions such as arthritis.
The Slide Spider grip by ArachniGRIP is available for most semi auto pistols models and manufacturers, from S&Ws, H&Ks and SIGs to Colts, CZs, Berettas etc., in almost all gun versions. For example, for GLOCK pistols you can find a Slide Spider version for both straight and scalloped serrations. The "Spider" is also available in black and red versions, which can help visually find the correct grip on the slide. 
Price for ArachniGRIP's Slide Spider is the same for any pistol model: 19.95 USD. But remember that actual price may vary in your country due to VAT and local taxes.