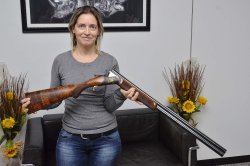 Battista Rizzini founded its brand in 1966, exactly 50 years ago.
Rizzini Anniversary over under model celebrates this goal. It is available in 20/76 gauge (20/3") with fixed or interchangeable chokes and different barrel lenghts from 67 cm (26") to 81 cm (32"). Barrels are hand polished and blued. Top rib is conic solid, side rib is full.
Action is round body, coin finished for silver edition and case hardened for vintage edition. Engraving is Laser made, then completely hand finished.
Stock is either prince of Wales or english straight. Trigger group is single selective or double trigger.
Moira Rizzini said "We made some guns especially for this occasion, a limited edition of 50 pieces – and then another 50 pieces because our customers wanted some more from us! So we had the anniversary gun, it's a round bodied gun, made only in 20-gauge, with different length of barrels, with a special engraving with the 50th anniversary on, and special packaging in a very fine case with all the accessories. We did a very limited edition, but we've seen that our customers are appreciating it a lot."