Recently, we are witnessing of a increase of shotgun's tactical character. A few Companies are gradually adapting to the changing needs of hunters who wish to take up a weapon reliable and easy to use in hunting.
One of the industries that is following this trend is the Armi Leonessa, a brand of Rizzini Srl, which put on the market the new overlay "Defender".
The Defender is in fact intended for the hunting of wild boar and to defense by injured animals, being very light (about 2.5 kg of weight), equipped with in ergal receiver, barrel by 50 cm which allows agile movements in the thick of the forest, a rib ready for the installation of a red dot and stock in synthetic material.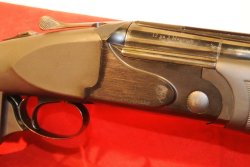 The versatility of the new Defender is in fact enhanced by the possibility of removing the stock or move in three different positions, in order to find the best position during the hunting.
Available in 12, 16, 20 and .410 calibers, the new Defender is also equipped with high-visibility sights, single trigger with sequential release of the two strikers and automatic ejectors for faster charging times.
The over&under Defender by Rizzini / Armi Leonessa could be a good solution in the wild boar hunt, thanks to its compactness and reliability.