Good news for the ever-growing number of fans of the 20 gauge: Winchester announced a welcome addition to its Super X4 Autoloading shotgun range, with six new models in 20 gauge. Introduced in 2017 with the claim "Built for Speed", the Super X4 semi-automatic shotguns became quickly popular among hunters and shooters alike thanks to their speed, reliability and handling. The Super X4 series is in fact lighter, faster cycling, smoother swinging and more ergonomic than previous models. As explained by the manufacturer, "the 20 gauges offer reductions in weight and recoil compared to their 12-gauge counterparts, to make them more appealing to smaller shooters, those sensitive to recoil or those who just want a lighter gun in the field." 

The new six new Super X4 models in 20 gauge are: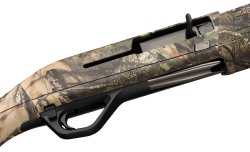 SX4 and Super X4 Compact Shotguns with 24″, 26″ or 28″ barrels (MSRP 939.99 USD)
SX4 Waterfowl Hunter with 26″ or 28″ barrel (MSRP 1,069.99 USD)
SX4 Waterfowl Hunter Compact with 24″ or 26″ barrel (MSRP 1,069.99 USD)
SX4 Universal Hunter with 24″, 26″ or 28″ barrel (MSRP 1,069.99 USD)
SX4 Field with 26″ or 28″ barrel (MSRP 1,069.99 USD)
SX4 Field Compact with 24″, 26″ or 28″ barrel (MSRP $1,069.99 USD) 
Super X4 20 gauge speed loading 
The 20 gauge models share the same features of the 12 gauge ones: they are gas-operated and powered by an Active Valve Gas System that combines reliability, low felt recoil and record-setting cycling speed. They also feature oversize bolt handle and bolt release button that are easy to manipulate with cold or gloved fingers, stocks with improved ergonomics, rounded grip and textured gripping surfaces, Back-Bored Technology, Invector-Plus Choke Tube System with full, modified and improved cylinder choke tubes, chrome-plated chamber and bore, and TRUGLO Long Bead fiber-optic front sight.

Just as all the Super X4 models, they also come with polymer length of pull spacers that fit between the stock and the recoil pad and a crossbolt safety button located at the rear of the angular-profile trigger guard, which is easily reversible for both right- or left-handed shooters. The Inflex Technology recoil pad also helps reduce felt recoil.

Speed Loading, on the contrary, is a feature unique to Super X4 20 gauge models: the first shell loaded into the magazine is sent directly to the chamber when the bolt is open. The Super X4 20 gauge shotguns are lightweight too, at approximately 6 ¼ – 6 ¾ pounds, depending on the model