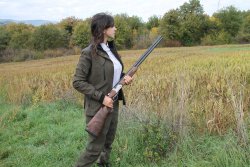 The Vittoria over-under series presented in 2017 is the first range of Beretta shotguns specifically designed for women who are passionate about hunting and shooting.
Developed in collaboration with Beretta shooting champions, these guns are born to offer performing and "tailor-made" weapons to all ladies who want to achieve the desired results.
Deriving from the Beretta 690 platform, Vittoria over-unders offer dedicated ergonomics to ensure a smooth, comfortable and precise swing.
This video has been hidden because of an external service (YouTube) that could potentially collect personal data.Allow video services for the duration of the visitAllow video servicesStop allowing video services
Beretta 690 Field over-under shotguns
To talk about the Beretta 690 Field over-unders is to talk about a range of shotguns whose merits have been recognized both by hunters and shooters.
We can describe the Beretta 690 Field over-under as a shotgun with a classic design, with a slender and perfectly recognizable profile thanks to the particular receiver derived from luxury shotguns, and the Renaissance-inspired, elegant and detailed floral engravings.
The tried and tested mechanics feature Anson & Deeley locks and a selective single trigger.
The locking system is the same that distinguishes the 680/690 series with two conical lugs for a reliable and solid lock-up.
Barrels are made of Steelium Optimabore HP tri-alloy steel with a bore diameter of 18.6 mm, produced by cold hammer forging, vacuum distended and finally assembled in Monobloc.
These characteristics guarantee well-distributed patterns with excellent penetration capacity, as well as stability and less muzzle climb during firing.
All the barrels are also equipped with internal OptimaChoke HP chokes, which can be used with both lead shot and special alloy shot for water-game hunting. The wood the pistol grip and the slender rounded forends are made from are always selected walnut and oil-finished.
In the Vittoria over-under series, in addition to the features illustrated above, there was room for optimization of the general ergonomics in order to guarantee an easy and precise swivel by women.
This has been achieved by intervening above all on the stock through a more angled pistol grip which allows for a better grip and brings the trigger closer, offering full manageability even to small hands.
The exact measurements are 350 mm LOP and 35/45/55 drop.
The "Vittoria 690 Field I" and "III" versions (in 12 and 20 ga) are available for hunting with 66, 71 or 76 cm barrels, 6×6 mm rib and Optima Choke HP chokes.
The "Victory 690 Sporting I" and "III" (in caliber 12) are available for sports shooting, with 71, 76 or 81 cm barrels, 10×8 rib mm and Extended optima Choke HP chokes.
The selected, oil-finished walnut stock sports a semi-Montecarlo design that helps the shouldering of the shotgun, accommodating the female tendency to keep the head high in the pointing phase. The MicroCore recoil pad reduces the already mild effects of the recoil to the shoulder. Last but not least, the fine checkering has been redesigned in order to guarantee a steady and precise purchase, but using a more delicate design for female handles.
Beretta Vittoria over-under: technical data
| | |
| --- | --- |
| Model: | Beretta Vittoria |
| Barrel length: | 66/71/76 cm |
| Chokes: | Optima Choke HP chokes |
| Gauge: | 12 / 20 |
| Stock: | pistol grip with Montecarlo design |
| Recoil pad:  | MicroCore 0.19 in / 15 mm |
| Trigger: | single   |
| Weight (empty): | 98.7 oz / 2,8 Kg |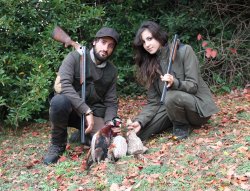 Comfort and accuracy reach the peak with the Vittoria over-under shotguns facilitating above all instinctive shooting that distinguish hunting with pointer dogs, which is the main intended use for these light and handy shotguns.
These are authentic impressions, actually felt and described by Ilenia, a passionate friend who especially hunts water-game, who on this occasion immediately accepted the invitation offered by us and by Beretta to field-test the Vittoria over-under in a pheasant hunt with pointer dogs.
After the first shots to get the right feeling with the shotgun, Ilenia spent pleasant hours of hunting with us in the beautiful estate of Montenero di Todi, expertly managed by G & G Hunting Service.