From Sturm, Ruger & Co. a new model configuration for their popular Scout Rifle, that will now be offered also in the powerful .450 Bushmaster. As explained by Ruger, "combining the versatility of the Scout Rifle with the powerful knockdown capability of the .450 Bushmaster cartridge, this new rifle delivers the accuracy and reliability customers have come to appreciate and expect from Ruger rifles." 
Developed by Tim LeGendre to be used with AR15-type platforms and  commercially introduced in 2007, the .450 Bushmaster mounts heavy .452" bullets. Ballistic performance with a 250-gram ball reaches a muzzle velocity of 2,214 ft/s (675 m/s) with an energy of 3,691 Joules in 20 in / 508 mm barrels. For comparison, a standard 5.56x45mm cartridge generates just around 1,700-1,800 Joules of energy, so this is quite a "big boom" round.

Scout Rifle in .450 Bushmaster: features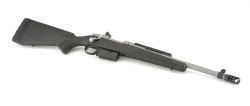 The Scout Rifle in .450 Bushmaster features a stainless steel finish and a lightweight synthetic stock complete with soft rubber buttpad and buttpad spacers. Trigger guard and magazine well glass-reinforced nylon. The 16.1 in / 409 mm free-floated, cold hammer-forged barrel is equipped with a conspicuous Ruger Precision Rifle Hybrid Muzzle Brake to reduce recoil while minimizing noise and blast to the sides of the shooter. The built-in sighting system includes a ghost ring adjustable rear sight and a non-glare, protected blade front sight. A forward-mounted Picatinny rail allows for the mounting of optics. Integral scope mounts are machined directly on the solid-steel receiver.
The .450 Bushmaster is fed by a 4-round, detachable box magazine. The action is a Mauser-type controlled feed with stainless steel bolt. Safety is a three-position type. The suggested retail price for this new configuration of the Scout Rifle is 1199.00 USD.
Ruger Scout Rifle in .450 Bushmaster: technical data
| | |
| --- | --- |
| Type:  | bolt-action rifle |
| Caliber:  | 450 Bushmaster |
| Barrel length: | 16.1 in / 409 mm |
| Overall length:  | 38.5 in / 978 mm |
| Weight:  | 6.2 lb / 2812 g |
| Magazine capacity:  | 4 rounds |
| Sights:  | ghost ring adjustable rear sight, blade front sight; rail for accessories |
| Price:   | 1199.00 USD |