There is no shortage of AR-10-style semi-automatic rifles these days. In addition to the brands from the USA, most German AR-15 manufacturers now also offer a range of full-size rifles chambered in .308 Winchester/7.62x51 mm. One of them is Dynamic Arms Research (DAR), a small company based in Fraureuth, Saxony. However, in order to be able to stand out from the competition with an AR-10 rifle today, it certainly doesn't hurt to focus on special unique selling points, be it in terms of features or a favorable price. In the case of DAR, the main focus is on tailored equipment according to customer requirements, "Made in Germany" quality and solid workmanship down to the last detail.
The DAR-10 in detail

Michael Schippers, © Michael Schippers
The basic mechanical principles of the AR-10 are also maintained by DAR. The DAR-10 is a gas-operated semi-automatic rifle with rotating bolt and direct impingement – gas is channeled through a tube directly to the bolt carrier. The gas block can be adjusted to match the ammunition. As for controls, left-handed shooters are taken into account by means of an additional bolt catch release. In addition, DAR offers a safety selector lever and a charging handle that can be operated from both sides, only the magazine push button is always located in front of the trigger guard. What distinguishes the company's semi-automatic rifles are the first-class fit of the parts, including handguard and receivers, and a great finish. 
It should also be noted that the company coats almost all steel parts of the rifles, including the inner barrel profile and various small parts from scratches, wear and tear and rust not by blueing or phosphating, but with a Tenifer coating (nitriding). In principle, it can be said that almost all metal parts of the semi-automatic rifles from Fraureuth – including most small parts up to bolts – are of their own production. No matter whether they are made from aluminum or steel – in order to meet the company's own quality standards, the company relies largely on in-house manufacture. For barrels alone, DAR always relies on Lothar Walther products. Most of the DAR versions come with Walther barrels made from carbon steel, but some versions come with stainless steel ones. Exception number 2: Dynamic Arms Research does not produce any triggers. They offer standard AR triggers instead, but at Fraureuth they prefer to use match triggers from the German Uhl GmbH company. As an alternative to the Uhl assembly, however, a match trigger from the US specialist Timney is also offered. This is a single-stage trigger without any pre-travel and is particularly recommended for dynamic action sports such as IPSC. The third exception: plastic parts from DAR are only available in the form of an extra-light carbon fiber handguard for the in-house DAR-15.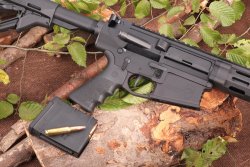 Michael Schippers, © Michael Schippers
Almost all other polymer parts come from the US manufacturer Magpul, such as the pistol grips, magazines and the buttstock. The rubberized grip of the test gun, equipped with finger grooves, does not come from Magpul, however, but from the American grip manufacturer Hogue. In contrast to the DAR-15, with the DAR-10 you don't have to worry about interchangeability with other AR-10 manufacturers. The DAR-15 is mostly Mil-Spec based, but this definitely does not apply to the fits between the upper and lower receivers and their retaining pins. Here DAR works with very small tolerances; if you want to use parts from another manufacturer, it is best to consult with DAR in advance if adjustments are necessary. However, there is no international standard or part dimensions for semi-automatic rifles of the AR-10 type and DAR is no exception: grips, buttstocks, muzzle attachments and magazines are no problem, plus some small parts such as AR triggers. Everything else to convert or upgrade a DAR-10, should better come directly from Dynamic Arms Research. Regarding the choice of caliber: .308 Winchester is standard on the DAR-10, but 6.5 Creedmoor is also no problem. In addition, at Fraureuth they continue to work on versions in calibers such as .260 Winchester, .338 Federal or .358 Winchester.
DAR-10: custom or preconfigured

Michael Schippers, © Michael Schippers
Dynamic Arms Research is a small company that currently has five employees. Despite the use of the most modern machines, one can almost speak of a manufactory here, given the many custom options. The company no longer sells directly to end customers, but their advice is still possible. However, it's better to start by email, because DAR is too small to have a switchboard permanently manned. Alternatively, with or without a concrete concept, you can go to your trusted gun dealer and define with him an individually fitting rifle including its features in detail. The dealer then contacts the manufacturer (preferably in writing) for further advice and a price quotation. This theoretically works for any German gun dealer. However, Dynamic Arms Research also presents a list of dealers on the company's website with whom it has been working well for years. But what about delivery times? 
According to the manufacturer, they try to keep the most common barrel configurations always in stock. Then it can take about 2 weeks from order to delivery in the best of cases. Some special requests such as a Cerakote coating will take longer, of course. As DAR manufactures most parts from steel and aluminum in-house, except for the triggers, and Magpul polymer components are always readily available, longer delivery times will almost always depend on special requests regarding the barrel. These must always be ordered from Lothar Walther first. Then it can take quite some time until the barrel blank with special contour, length or exotic caliber is delivered and then it has to be completely finished at DAR. If you have special requests for the barrel, you should allow for several months delivery time of the finished rifle.
The Hunter model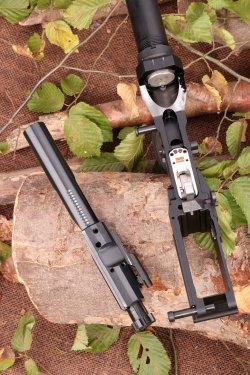 Michael Schippers, © Michael Schippers
The Hunter model takes its name from the particularly slim barrel contour. This makes the rifle  pleasantly easy to handle for a 308 AR, the empty weight remaining under 8.8 lb (four kilograms). If you take a closer look, you'll quickly notice that the manufacturer paid special attention to fit, edge finishing, gap dimensions and the even surface finish. Nothing rattles here, and the upper and lower receivers fit together almost seamlessly. The extremely fine workmanship can also be found in details such as the receiver interior, the bolt carrier or the transition from handguard to upper receiver. DAR's 14.1"/36 cm long Dural handguard has no contact points on the barrel, not even via the barrel retaining nut as is usual with other systems.
Instead, the handguard is attached to the left and right of the upper receiver via a flange integrated into both assemblies. This flange offers enough space for one dowel pin inside and 2 retaining screws on each side. The continuous rail at 12 o'clock (top rail) can be taken literally with Dynamic Arms: the Picatinny rail on the receiver and the top rail of the handguard together form a single assembly, so the continuous rail according to Mil-Std 1913 (Picatinny) is not interrupted at its connecting point. Accessories such as Picatinny rails or QD sling mounts can be mounted on the in-house system called RTS. This system consists of slotted holes and M4 threaded holes, creating a positive and non-positive connection between handguard and attachments. Alternatively, DAR also offers handguards with Keymod or M-LOK interfaces on special customer request.
With the Dynamic Arms Research Hunter on the shooting range

On the shooting range, the test rifle impressed with its practicality for a hunting semi-automatic gun. The CTR adjustable telescopic stock from Magpul helps to achieve a solid firing position. Due to its thin barrel, the Hunter also heats up very quickly in comparison to other AR-10 in .308 Winchester. You have to reckon with negative mirage effects along the barrel and handguard noticeably earlier, and the slim barrel contour also has an effect on  groupings. It is not without reason that match rifles feature considerably more bulky barrels. The DAR-10 in the Hunter configuration is particularly recommended for uses where this semi-automatic rifle can score points due to its comparatively low weight.
Conclusion

Ultimately, a DAR-10 will do nothing fundamentally different on the stand or when hunting than an AR-10 with high-quality barrel from other manufacturers. But in view of the many equipment options and the extraordinarily fine workmanship in detail, the extra price seems to be quite justified. If you are prepared to dig deeper into your pocket for superior "fit and finish" quality, Dynamic Arms Research is the right choice.