Hunting woodcocks in the heart of the winter season, when wildlife is at last perfectly acclimated and ready to escape the slightest threat, is a totally different experience from the "normal" hunts during the autumn period. That's because woodcocks become a challenge that can turn into a pleasant obsession.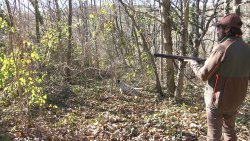 Woodcocks always know what they have to do, and those that are wintering do it very well. They regularly put an obstacle between you and them, anticipate the movements of your dog, surprise you where and when you aren't waiting for them. Seeing them joyfully retrieved by your dog and being able to admire them in your hand before finally putting them into the game bag are unforgettable moments, full of effort and emotion, capable of consolidating your self-confidence and your passion for a long every time you recall them to mind.
It is with one of these woodcocks that the challenge we propose in the video took place – a woodcock in January. After a few days of intense cold and some snow that immediately melted, we visited some typical wintering sites, usually remote and inaccessible places sheltered from the freezing cold. Humidity and the presence of water, that allow the ground to remain soft and practicable for grazing, are fundamental, as well as the silence and calmness almost always due to the choice of hideouts difficult for predators to access.
Experience and harmony between dog and hunter must prove perfect because these wild game birds allow for no mistakes or improvisation. The knowledge of the place and spirit of sacrifice complete the priorities necessary to face with satisfaction these hunting days, whose result is never to be taken for granted. We are in central Italy, in the Marche region, among forests, pinewoods and typical gullies where even a single meeting with a woodcock can mean a lot for those who consider hunting as an art and not as an arithmetic science. From the first battues of the morning, a woodcock that seemed more like a ghost or an abstract idea finally materialized in the decisive meeting after a few hours of walking and puzzles that only a dog can solve. 
This video has been hidden because of an external service (YouTube) that could potentially collect personal data.Allow video services for the duration of the visitAllow video servicesStop allowing video services
Hunting with Lexel: Valkan jacket and Axtar Plus pants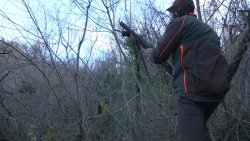 During the most intense period of winter hunting and in this video, among the woods and Mediterranean scrub we used and tested the new technical garments that Lexel Hunting designed for walked-up hunts: the Valkan jacket and the Axtar Plus pants. 
The contribution of adequate technical clothing, thanks to the resistance and technology of the materials used, is essential to enjoy the pleasure of hunting while remaining protected and focused on our activities without ever feeling restricted in movement and in the environment by our own equipment.
Lexel Hunting Valkan Jacket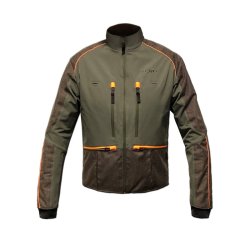 A jacket made from Schoeller Dryskin bielastic cordura with anti-abrasion / anti-thorn Kevlar reinforcements, ideal for hunting in the woods or in the most inaccessible areas. Breathability, water repellency and airtightness make the jacket suitable for half seasons or colder seasons if combined with a thermal garment. Quick drying.
The Valkan jacket features 2 chest pockets with exit hole for handheld satellite phone or other devices antennas, two large pockets on the belly with bellows to increase capacity, waterproof and easy-to-wash fixed game pouch with large zipper opening. The Kevlar inserts are positioned on shoulders, sleeves, front pockets and game pouch to ensure maximum protection and resistance in areas most exposed to contact with vegetation, while the bi-elastic cordura will ensure maximum comfort in movements.
Available colors: military green with fluorescent green or fluorescent orange inserts. Available sizes range from S-46 to 7XL-64.
Lexel Hunting Axtar Plus pants 
Hunting pants made from Schoeller Dryskin bielastic cordura and Kevlar, suitable for hiking in the most insidious environments. The pants feature 2 front zip pockets, a key pocket on the right side, one zipped pocket on the back and another on the right leg side.
Belt loops and elastic waistband for comfort. The stitching in the calf area facilitates a possible shortening modification. The Kevlar reinforcements, which are tear- and puncture-proof, are applied on the whole front leg, seat and calf. The pants have a zip on the bottom that facilitates the opening for use with boots and a front hook for attachment to boot laces.
The highly technical design of the Axtar Plus Lexel Hunting pants has been conceived to guarantee absolute protection and comfort for hunts in the most intricate and difficult environments.