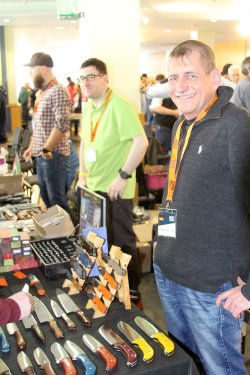 The plan worked: at the second KNIFE exhibition after 2022 on May 6 and 7, 2023, the Solingen Theater and Concert Hall offered 170 exhibitors enough space to present homemade knives, blades, swords or daggers (here is the link to the exhibitor list). But industrially produced cutlery was also on display, with mainly local Solingen manufacturers taking this opportunity to meet customers directly. At the Knifemakers' Meetings held at the German Blade Museum until 2019, a maximum of 100 exhibitors could take part, and with the usually large numbers of visitors, the aisles often became far too crowded (in 2021 there was the Corona break). The theater hall including the shared stage, the anteroom on the first floor and the spacious foyer on the ground floor, on the other hand, offered enough space for both the exhibitors and the numerous visitors. Nevertheless, 1000 tickets were sold after only two hours on Saturday, and 3000 by the end of the exhibition at 4 p.m. on Sunday (not counting the exhibitors who had traveled from all over the world, the trade press and the invited guests of honor).
Travel routes were highly diverse: from Finland to Italy, from France to the Netherlands to Slovenia, from little San Marino to the USA. Visitors, however, were also allowed to move, namely with a vintage trolleybus, which transported them free of charge between the theater and concert hall and the German Blade Museum, where, among other things, blacksmith workshops and demonstrations in pewter casting were offered.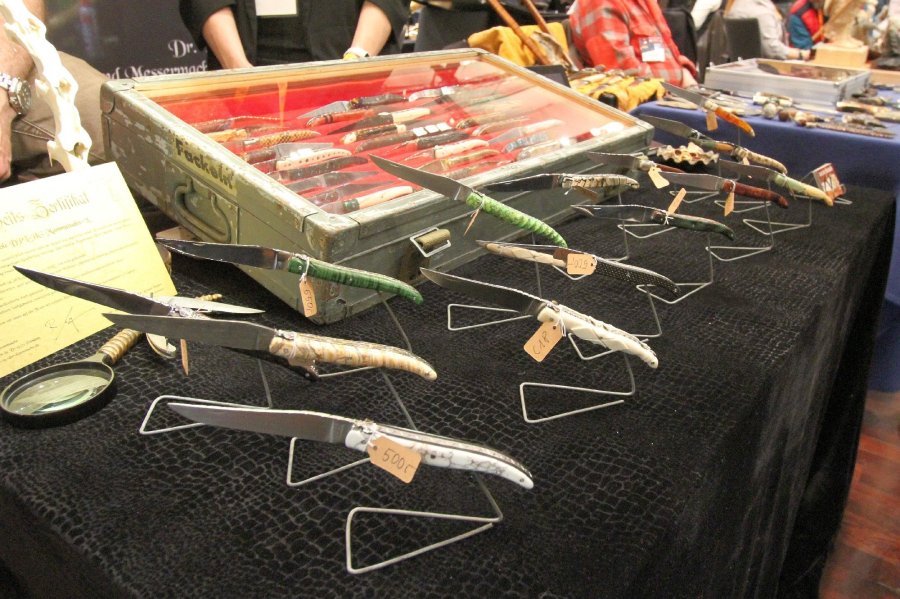 Home game for Puma Manufacture at KNIFE 2023
It was a short journey for the Puma knife factory, which also exhibited at KNIFE 2023. The Solingen-based company already celebrated its 250th anniversary in 2019, but is not resting on its traditional history. Time and again, the company, now run by Heinrich-Ernst Hiepass-Aryus and his son Hendrik Hiepass-Aryus, cooperates with well-known knifemakers to put their designs into series production and thus make them accessible to a wider range of customers. Olaf Zwätz, for example, who designed the Ben and Olo hunting knives, had won a design competition for a fixed hunting and outdoor knife in 2018. The Ben model is now already in production in a limited new edition. The Olo model, which is more suitable for everyday use, was given a longer Micarta handle and a modern Kydex sheath instead of the nickel silver bolsters and the staghorn handle.
With the Puma classic Rüdemann, now dragged into the 21st century as IP Rüdemann with orange Micarta handle, even a family was involved: already in 1975, Walter Tassius, forester and bloodhound handler, designed the original model as a hunting tool. His grandson Philipp Tassius now designed the new edition, which, however, retained the classic features: the knife must have weight, but can't be too heavy, while possessing the important properties of sturdiness and sharpness. The blade should also not be completely sharpened on both sides. Therefore, only the tip is sharpened on both sides to allow quick penetration into the game body. Those who brought a Puma knife to the booth (or bought one there) could have it engraved with their name (or initials) for free.  All Puma new products for this year can be found here.
Puma new products in the slideshow: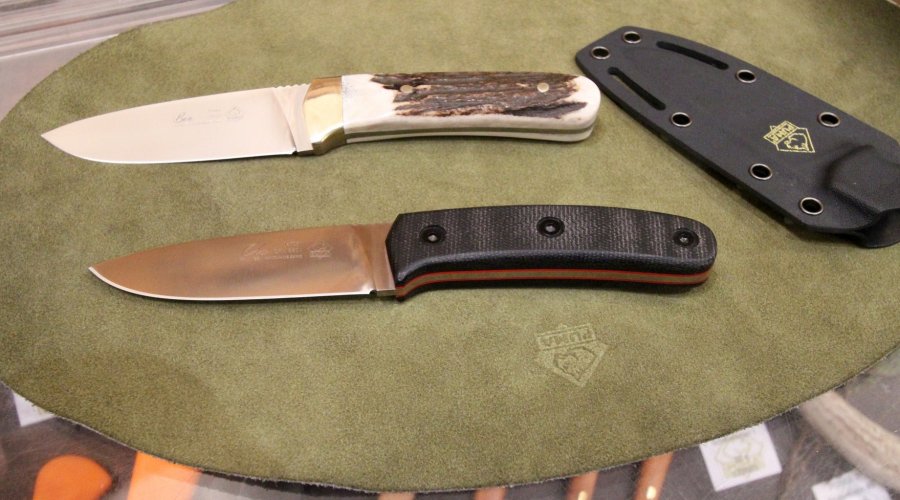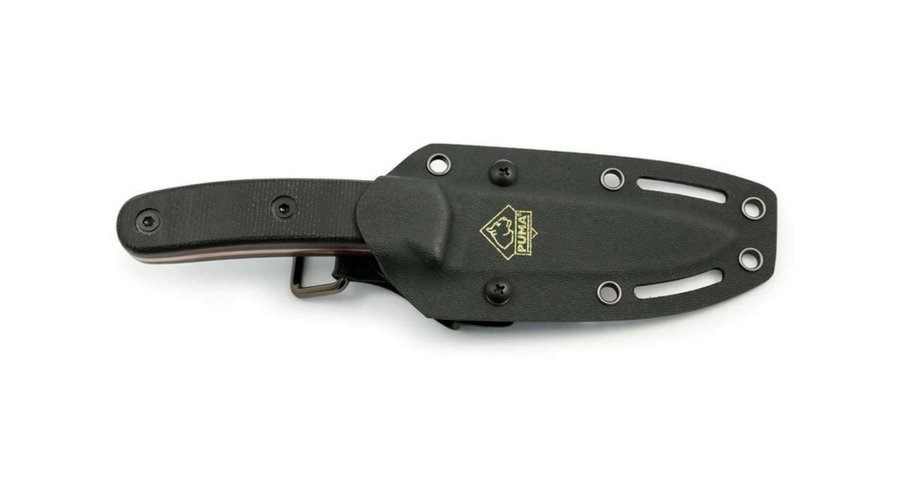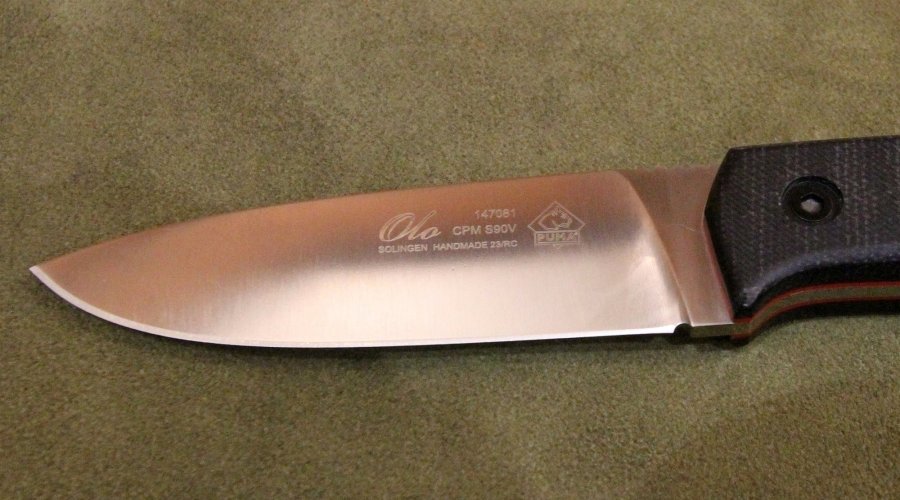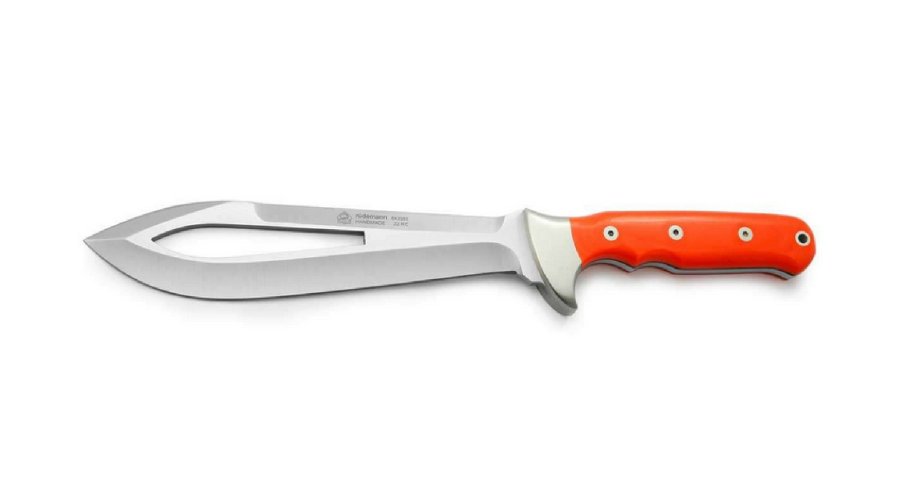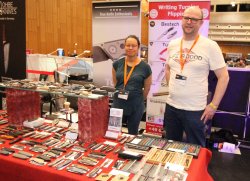 A gratifying number of new exhibitors presented their best pieces. Some up-and-coming talents were placed in the foyer at so-called "promotion tables" of the German Knifemakers Guild, while other young companies could be found spread throughout the halls. For example, Sascha and Jenny Stolp from Essweiler with "Writing, Turning, Flipping", WTF for short – In addition to knives from small-scale production and according to customer wishes, there were also exquisite writing instruments with unusual mechanics or special glue. And plenty to talk about, because Sascha Stolp is not just a knife expert, but also an enthusiastic IPSC sport shooter. Apparently, this combination also applied to other visitors, judging by the discussions at the booth.
Kitchen knives for right- and left-handers at KNIFE 2023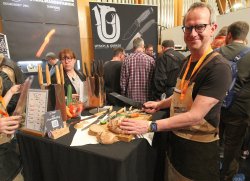 In addition to folding knives, custom swords and accessories, kitchen utensils were everywhere in Solingen, and there are constantly new trends, presented by the exhibitors accordingly with demonstrations. On both days of the exhibition, Paul Buchmüller, owner of the Solingen-based Paul Adrian steelware factory, which was founded as early as 1901, was undauntedly cutting baked goods with his bread knife, which, in addition to an indestructible DLC coating (Diamond-like Carbon), also features a special serrated edge. This allows both right-handed and left-handed users to make equally clean bread cuts – something that apparently isn't always the case. Cutting techniques for bread, vegetables and meat could also were demonstrated at the stand of Wüsthof GmbH, also based in Solingen. There, color has found its way into the kitchen knife range. The bestseller among synthetic handles is... "Pink Himayalan Salt".
And finally, there was at least one winner at KNIFE 2023: 19 contenders submitted their creations to the jury. This time, handmade knives inspired by literature were called for – be it from a fairy tale or knightly epic, a modern crime novel or a comic. Richard Kappeller from Salzburg was able to take home the KNIFE Award 2023, worth 2000 euros, with his knife.