The Game Fair 2017 opened at 08:30 am on Friday 28th July in Herefordshire, UK, by Organisers, local dignitaries and industry representatives with a 59-gun salute.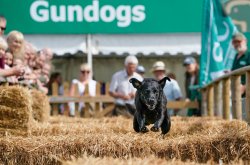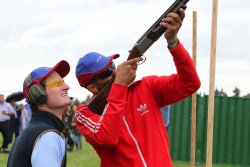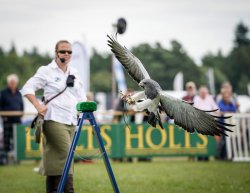 The three-day Game Fair is the biggest of its kind. Visitors had access to a wide selection of popular attractions; gundog handling and competitions, archery, fly fishing, coarse fishing, falconry, ferreting, butchery and game cooking demonstrations. 
The shooting took place on Europe's largest shooting line consisting of traps, layouts and varied disciplines. Numerous competitions took place over the weekend, including Best Dressed Keeper, Game Fair High Gun, Shetland Pony Grand National, show jumping championships and the Euro Challenge for gundogs and the ever-popular scurry. Female visitors were encouraged to dress to impress on Friday which was a themed Ladies day and sponsored by Welligogs and supported by County Equestrian Jewellers. Fishing competitions and demonstrations took place on purpose-built casting pools and the River Lea, the river that runs through Hatfield Estate.

Lord and Lady Salisbury own the 10,000-acre Hatfield House estate. The Game Fair was situated over 396-acres within the grounds of the estate; this was the event's first time at Hatfield House. The brand new venue only 21 miles from London offered easy access and attracted more than 116,000 visitors. With over 800 exhibitors it was the UK countryside sector hotspot for gatherings, product launches and industry news. Organisers were delighted with this year's 8% increase in visitor numbers.

Game Fair 2017: a new location 
The new location in Herefordshire was a hit with countryside lovers from all over the UK and many international guests. The event was billed as a celebration of the British countryside. Shoppers took full advantage of the vast selection of country products purchasing guns and rifles, clothing, footwear, hats, fine art, fishing rods, specialist food and drink and taxidermy.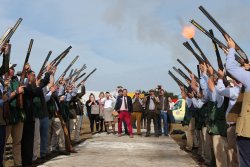 James Gower, managing director of The Game Fair, said: "This is a precious event, a British institution that is loved by hundreds of thousands of people and vitally important for the industries it represents."
MyOutdoorTV.com (MOTV) launched its on-demand streaming platform at the Game Fair to provide 'the best hunting, shooting and fishing TV shows on the planet'. Initially launched in North America in 2016, the Netflix-style platform has been a success with outdoor enthusiasts subscribing to thousands of hours of top quality programmes.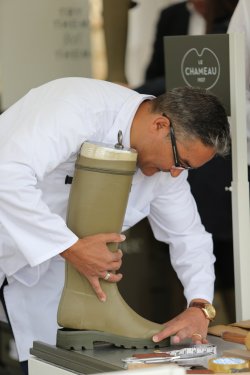 Saturday proved to be the busiest day with the highest footfall.
Mark Osbourne of William Powell said: "We have been coming to The Game Fair for more than 25 years and we sold more guns at Hatfield House than any game fair ever before." 

The typical British weather did not hamper visitors or stand-holders.
David Robinson, CEO from Le Chameau, said: 
"The opportunity The Game Fair gave us to engage with our core audience was unsurpassed. The traffic on our stand throughout the weekend was incredible and we were perhaps one of the only exhibitors happy that it rained!"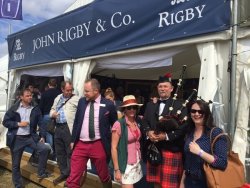 John Rigby & Co (Gunmakers), established in 1775, celebrated the UK launch of its highly anticipated Highland Stalker rifle.
Available in both men's and ladies' versions, the rifle took three years to develop with Rigby's historic partner Mauser and features grade 5 wood as standard, traditional Rigby pattern iron sights, an ambidextrous stock, rounded grip shape, hand-finished chequering and original-style engraving.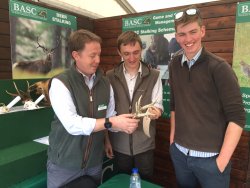 All members of the British Association of Shooting & Conservation (BASC) were entitled to complimentary entry over the three days. Duncan Thomas, Regional Director, BASC North, said: "We had a superb Game Fair; the complimentary BASC membership entry was a big success, the BASC entry gates were constantly flowing, we were very happy and proud to be part of this. The highlight of the Game Fair, for me, was a young lass called Chloe who the week before had shot her first pigeon. She turned up, and we gave her a free clay and air-rifle lesson and her face was a picture: it's moments like that that inspire us."
The Game Fair team also announced the launch of its new initiative, "Game Fair Christmas 2018" which is taking place 22, 23 and 24 November 2018. Held at Bloomsbury Square and Victoria House, the event will bring the beat of the countryside to the heart of London. 
In 2018, the Game Fair will be held at Ragley Hall in Warwickshire from Friday 27 to Sunday 29 July, where the event will celebrate its 60th Diamond anniversary. The Game Fair has secured venues for the next five years: in 2018, the venue will be Ragley Hall in Warwickshire, in 2019 the Game Fair returns to Hatfield House in Hertfordshire, in 2020 the venue will be Ragley Hall in Warwickshire, and back to Hatfield House in Hertfordshire in 2021.
Tickets for The Game Fair 2018 are now on sale.
To purchase, please visit: www.thegamefair.org.