Moreover, it is estimated that 1 of 4 hunters will stop hunting entirely, and at least 30% to hunt less frequently. The economic loss to EU 27 because of the ceased and reduced hunting activity would be at least €5.7 billion. These are the shocking findings published on the Brussels-based and pan-European media network Euractiv in an editorial issued on behalf of the European Shooting Sports Forum (ESSF), in coordination with FACE (European Federation for Hunting and Conservation) and IEACS (European Institute of Hunting and Sporting Arms). The socio-economic study was performed in collaboration with REACHLaw, concerning the ECHA potential restriction on the use of lead and the possible impacts on the European hunting community. The study involved a representative sample of European Economic Area hunters (with over 18,000 responses), designed to gather data on the impact of a lead ban. 

The current situation is fuelled by the fact, that ECHA explicitly includes indoor shooting in the ban of lead for ammunition. Soon we will publish another study from Germany showing the effect on sport shooting and Olympic disciplines. Be sure: leadfree ammo doesn't work for rimfire and airgun pellets.
Hunters and sport shooters under attack from EU - a ban of lead in ammunition would be the end for their passion, industry and retail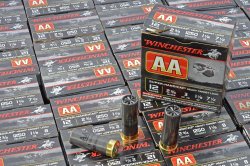 As all4shooters / all4hunters readers already know, Europe's 7 million hunters are actually under attack following the publication of the ECHA's Annex XV Restriction Report (currently in the public consultation phase), since "the cost to replace and modify millions of firearms for non-lead ammunition, the time available to comply, as well as the price of non-lead ammunition are true pain points for."
According to the editorial authors, "the survey findings a better understanding of the issues that hunters are facing and make it possible to pinpoint any discrepancies in the ECHA Report's figures and estimates. Once again, the report has misevaluated the impact of the proposed restriction, which is why FACE felt the need to step in and put the record straight." "In fact – they explain – while the game meat consumption figures seem to be overestimated and the environmental risk assessment statistically unreliable, the ECHA has clearly underestimated its figures when it comes to one-off costs for the adaptation and/or replacement of firearms that are unsuitable for lead-free ammunition."
Some more data show where the problem is: according to the survey, "34% of firearms are incompatible with non-lead ammunition. One-off costs related to the replacement of those firearms could potentially reach up to €14.5 billion. Moreover, ECHA itself estimates that € 3,000 is the average annual hunting budget spent by hunters, and thus the economic loss to EU 27 because of the ceased and reduced hunting activity would be at least €5.7 billion."
There is even the risk that in the face of costs of reproofing their guns for the use of non-lead ammunition and the fees associated with practice/target shooting, hunters would use non-steel-proofed shotguns. Considering that the current proposal doesn't force hunters to modify their shotguns, this poses a safety risk for hunters. In any case, according to the survey, only 30% of hunters are in a position to readily comply with the potential restriction.
Then there are other major issues such as ECHA's proposed restriction on lead in rimfire ammunition "where there are no accurate replacements, transition periods that are unrealistic and derogation conditions that are impossible to comply with for sports shooting ranges."
The survey concludes that the data "once again clearly and unquestionably demonstrate how, given the timeline and scope of the current proposal, the proposed ban on lead ammunition will have major socio-economic impacts of the hunting community in the European Economic Area."
---
Comment: More awareness and broader cooperation are needed
It's not just a question of transition periods! As it was clear from the start, the EU's crusade against lead ammo has very little to do with any legitimate and reasonable concern for human and wildlife health – lead metal is not as dangerous as ECHA is communicating, based on partially irrelevant facts. It is just an ideological-driven agenda against hunters and, ultimately, against all European legitimate gun owners. There is no alternative for ammo makers that's even not equal in respect to function, environment, animal and human welfare – and  ECHA already has potential alternative materials on the watchlist, such as copper, zinc… We also know that most lead-free ammo is not "green ammo" and will never be, because it's simply impossible due to chemical, physical and ballistic facts – and ECHA knows that. That's why this ban on lead will be the end of our hunting and sport shooting passions, as well as of the related industry: ammunition manufacturers, firearms companies, optic companies, accessories manufacturers, etc.
That's not negative thinking – that's the naked reality. Currently nobody is fully aware. "Sunset date" for lead ammunition in EU is most likely Q1/2025. Only facts, new studies and as a last instance EU Court (EuGH) can prevent this disaster. And a well aligned action of all parts of our industry. 
For the moment, we would appreciate an initiative of the "new sincerity" because it will be our final chance – and we  agree with ESSF: "Longer timelines and broader cooperation with all stakeholders – hunters and manufacturers of reference first and foremost – are necessary to get truly effective results and minimise the negative impact of the restriction."