Ordering from the Swarovski Optik online shop has many advantages – now there is another one to add! Until May 31, Swarovski is giving all customers a high-quality CS lens cleaning set as a gift with any online order. After all, even the best lenses will not produce the desired result if they are dirty. Wiping them quickly with a handkerchief is not recommended! Under certain circumstances, small particles of dirt could damage the lens. That's why the Swarowski Optics Cleaning Set (CS) provides everything you need for gentle cleaning of your riflescope, binoculars or spotting scope. In a sturdy Swarovski belt pouch, you will receive a perfect match for your Swarovski optics:

Cleaning cloths
Cleaning brush
Cleaning fluid
Microfiber cloth
The CS cleaning set from Swarovski regularly costs 54 euros. You can find out more about the spring promotion, which runs until May 31, 2020, in the Swarovski Optik Blog.
Further current advantages with the Swarovski Optik Online Shop and the dealer search
For us, the Swarovski Optik dG 8x25 is one of the top new products of 2020. The smart optical device with smartphone connection and special apps for automatic recognition of mammals and birds was announced for early April 2020. The same applies to the Swarovski Z8i 3.5-28x50 P all-round hunting riflescope, that was on display at Jagd & Hund 2020. Now you may be asking yourself: "Where can I buy the Swarovski dG 8x25 when so many shops are closed due to the Coronavirus? The Swarovski Optik online shop offers two simple solutions.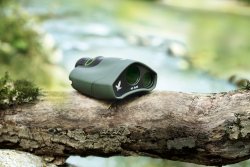 Andre Schönherr, © Swarovski Optik
On the one hand, you can order binoculars, spotting scopes, riflescopes and accessories conveniently online – with the change that, due to the current situation, you now have a 30-day right of return and you can therefore try the ordered optics for longer.

On the other hand, Swarovski also offers an easy-to-use dealer search function if you would like to support specialist retailers. In addition to the dealer's address, Swarovski also provides contact details such as the dealer's telephone number and e-mail address. This allows you to check availability and opening hours without having to leave the house unnecessarily.