With the new  Gemini GEH50R binocular model, InfiRay Outdoor has now launched a multi-spectral binocular with high-quality thermal imaging and digital night vision technology as well as integrated laser rangefinder and HD daylight function in the premium class of hunting observation optics. In terms of design, InfiRay has based the new Gemini GEH50R on the compact design of classic binoculars. This is intended to provide hunters a comfortable observation experience, even in demanding hunting situations. In addition, the new "thermal night vision binoculars" are of course also very well suited for the private security sector, for example in the surveillance of buildings and areas. 
In fusion mode, the InfiRay Gemini GEH50R combines a thermal image with a digital night vision image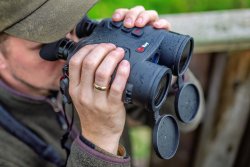 © InfiRay Outdoor/Eike Mross
In terms of thermal imaging, the InfiRay Gemini GEH50R features a high-resolution sub-25 mk NETD thermal sensor with a resolution of 640x512 pixels and a pixel pitch of 12 µm which, in conjunction with the 50-mm lens in the left tube, can detect the smallest temperature differences. According to the manufacturer, this allows a 1.7x0.5 m object to be detected at a distance of up to 2,600 m under optimal conditions. In its right-hand tube, the new Gemini GEH50R features a 35-mm lens, behind which a CMOS sensor with 1,920x1,080 resolution at a 4-µm pitch is claimed to provide brilliant color day-vision and digital night-vision. Both images can be played back separately, but can also be merged into one image in fusion mode. This then produces a highly detailed image that is supposed to ensure clear differentiation of various game species in all conceivable light and temperature conditions. As is common with thermal imagers today, the user has access to a variety of color palettes on the Gemini: White Glow, Black Glow, Red Glow, Iron Red (Violet) and Outline (Outline).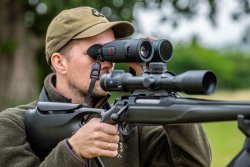 © InfiRay Outdoor/Eike Mross
Each of the two eyepieces of InfiRay's multi-spectral binoculars houses an AMOLED display with an HD resolution of 1,024x768 pixels. In addition to exceptional image quality, these also offer a generous field of view of 15.4 m at 100 m for the thermal imager and 16.4 m at 100 m for the night vision function.
In addition, the Gemini GEH50R has an integrated laser rangefinder with a range of up to 1,200 m. The rangefinder can be used for single measurements as well as in scan mode for moving targets.
Other features of the InfiRay Gemini GEH50R include video, audio and photo recording with picture-in-picture (PIP) display and 64 GB of built-in memory. In addition, there is the option of video playback in the display as well as data transfer via WIFI (WLAN) connection using the InfiRay Outdoor app available for Android and IOS. Furthermore, the Gemini also has a USB-C interface that can be used for external power supply and data transfer as well. Speaking of power supply, the Gemini GEH50R is powered by two replaceable standard 18650 Li-ion rechargeable batteries, which should last for up to 6 hours in continuous operation.
The sturdy polymer housing has a classic and ergonomic binocular design, but does without an adjustable center bridge. The interpupupillary distance, i.e. the distance between the pupils of both eyes, is adjusted by moving the eyepieces on the housing. Just as the focusing wheels next to both eyepieces can be conveniently operated with the thumbs, the control buttons for function and menu control are easily accessible for the fingers on the upper sides of the two tubes. A non-slip surface texture is also intended to make the Gemini the perfect companion for hunting and outdoor use, even in unfavorable, damp weather conditions.
The new InfiRay Gemini GEH50R is now available in stores at a price of 4,499 euros  (RRP in Germany).
© InfiRay Outdoor/Eike Mross
InfiRay Gemini GEH50R specs and price
Model:


InfiRay Gemini GEH50R


Type:


Multi-spectral thermal imaging/night vision binoculars with integrated laser rangefinder


Thermal imaging:


Objective Lens:


50 mm


Thermal Sensor Resolution:


640x512 px


Pitch:


12 µm


NETD:


≤ 25 mK


Field of view (HxW):


8.8°x6.6° (15.4x11.5 m at 100 m)


Magnification:


4.1x (optical); 1x, 2x, 3x, 4x (digital)


Maximum Detection Range:


2,600 m (object size 1.7x0.5 m)


Night Vision Imaging:


Objective Lens:


35 mm


Digital Night Vision Sensor Resolution (CMOS):





1,920x1,080 px


Pitch:


4 µm

External IR Illuminator:


940 nm


Field of View (HxW):


9.4°x7.0° (16.4x12.2 m at 100 m)


Magnification:


3.8x (optical); 1x, 2x, 3x , 4x (digital)


Display:


2x AMOLED 1,024x768 px


Eye Relief Diameter:


7 mm

Eye Relief:


15 mm

Pupillary Range:


61 to 72 mm


Diopter Compensation:


± 5 dpt

Laser Rangefinder:


1,200 m, measuring accuracy ±1 m from 3 to 100 m and ± (1 m + measuring distance × 0.25%) above 100 m


Power Supply:


2x18650 Li-Ion battery / 3.2 Ah / 3.7 V


Operating Time:


Up to 6 h


Dimensions:


198x154x78 mm


Weight:


960 g approx. 


Notes:


Integrated DVR recorder (64 GB internal memory), integrated microphone, WLAN-enabled, InfiRay Outdoor app for Android and IOS, electronic compass, USB-C socket, tripod thread, IP66 protection class.


Price (RRP in Germany):


4,499 euro (in other countries the price may differ due to different tax and import fee rates.)