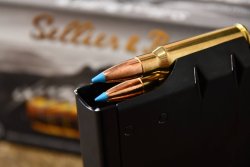 With the lead-free eXergy Blue bullets for 2020, Sellier & Bellot introduces a new line of hunting rifle cartridges. The Czech ammunition manufacturer is actually following the trend, increasingly using lead-free bullets. The "Blue" in the name refers to the blue plastic tip on the bullet.
In this report on all4hunters.com you can learn more about the caliber options of the Sellier & Bellot eXergy Blue.


Instead of lead, Sellier & Bellot is using copper for this bullet – or more precisely, the TXRG Blue bullet with boat-tail and a flat tip, which is supposed to guarantee an extremely flat trajectory. In the widely used .308 Winchester hunting caliber, S&B offers the lead-free option with 110 and 165 gr bullets. And it was exactly this caliber that we chose when it came to checking the accuracy of the new ammunition.

With the Sellier & Bellot eXergy Blue and a short-barrelled Unique Alpine Kodiak Scout on the shooting range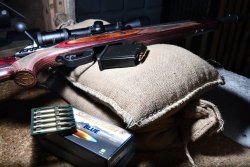 In order not to make it too easy for the ammo, it should be tested from a special firearm. The Unique Alpine JPR-1 Kodiak Scout in .308 Winchester with a Kahles Helia CB 1.5-6x42 driven hunter's scope was available. And with this combination we went to the shooting range.

The new all4shooters.com targets, that were hanging at a distance of 100 m, were fired at. Admittedly a challenge for a gun with a short barrel (16.5"/419 mm) and the Kahles driven hunter's scope, but the aim was to test how the  ammo / rifle combo behaved in such a borderline situation.

After a few zeroing shots the real challenge began. In groups of five, the lead-free bullets flew onto the targets. The rifle with its 8.1 lb/3.7 kg absorbed recoil well, which was welcome (according to Unique Alpine, this version of the Kodiak was primarily designed for driven and walked-up hunts). The reticle aiming dot concealed a lot at a distance, but this had no effect on the groupings per se. So bullet after bullet went on its journey from the sandbag, and not one thing went wrong. In the end, three boxes of the new Sellier & Bellot were shot and all of them found their way onto the target.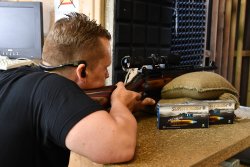 Ammunition evaluation – What we think of the Sellier & Bellot eXergy Blue

Despite the difficult initial situation, all shots hit the target. Every single hit would have been fatal on the game. The ammunition itself shoots very comfortably. There were subjectively no disturbing emissions, no failures or anything else. With the Sellier & Bellot Exergy Blue, you definitely have an unerring alternative to conventional lead bullets, and at an attractive price too.

In this report on all4hunters.com you can learn more about the caliber options of the Sellier & Bellot eXergy Blue.