In addition to silencers, short barrels are also in fashion among hunters. Combined, this results in a hunting gun that reduces noise pollution and yet is similar in length to a standard hunting rifle. But there is a technical catch. Short barrel lengths reduce muzzle velocity and thus bullet energy. Among other things, deformation properties can suffer as a result. In addition, they usually cause a larger muzzle flash. Suppressors do not dampen as well and can in principle wear out faster. Norma has come up with something for these applications.
The special powder of the new Norma Silencer Series of hunting ammunition provides the same performances as in long barrels

Norma has made a special powder selection for barrel lengths around 500 mm to achieve equivalent performances from short barrels. In addition, muzzle flash is minimized and the muzzle gas pressure is reduced, which also has a positive influence on the noise damping effect of the suppressor. The bullet used for the new Norma ammunition line is probably the Swedish manufacturer's most popular one – the Oryx. It is available in the versatile calibers 6.5x55 SE, .308 Winchester, .30-06 Springfield, 8x57 IS and 9.3x62. The new loads will be available from summer 2020 – just in time for the driven hunt season – at specialist dealers throughout Europe.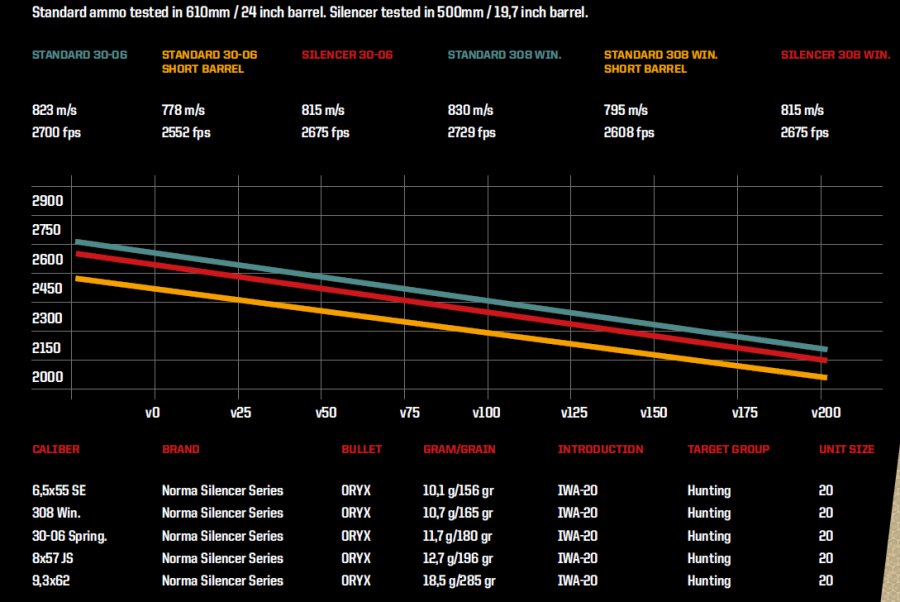 Product

Product Line

Caliber

Weight in gr/g




NORMA SILENCER SERIES

ORYX Silencer
6.5x55 SE

156 gr/10.1 g
ORYX Silencer
.308 Win.

165 gr/10.7 g
ORYX Silencer

.30-06 Spring.

180 gr/11.7 g
ORYX Silencer
8x57 JS

196 gr/12.7 g
ORYX Silencer
9.3x62

285 gr/18.5 g
---
Further information about the ammunition range of the Swedish manufacturer Norma can be found on the website of Norma.