FACE (Federation of Associations for Hunting and Conservation of the EU) has reached a real milestone for all hunters: The lead-in-ammunition game has reopened: Following action by the European Commission, the European Chemicals Agency (ECHA) today opened a three-month targeted consultation on data used to establish the risks posed by lead in game meat.
This follows the failure of the European Food Safety Authority (EFSA) to provide timely information that would be a substantial pillar of ECHA's current opinion on the risks from consuming game meat. Back in February 2021, FACE requested the EFSA data, which were supposed to be provided within 15 days. However, since the start of FACE's access request, there were numerous delays, as well as attempts of justification and extend deadlines. After ECHA's public consultation closed in September 2021, ECHA sent the requested documents to FACE, almost eight months after the deadline.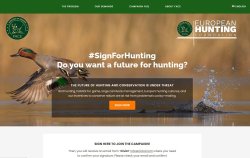 This unacceptable delay was reported to the Ombudsman, who highlighted a case of "maladministration" by EFSA for its inability to provide key documents in a timely manner. The delay prevented stakeholders from substantiating comments made during last year's public consultation on the ongoing restriction procedure on lead in ammunition under REACH. 

Because the procedural defect is obvious and critical, FACE called for a reopening of the public consultation at which all interested parties could present evidence related to the ECHA's human health risk assessment. We already reported the news here on all4shooters.com.
As was to be expected, ECHA refused FACE's request, but at that point the European Commission itself stepped in, agreeing that fairness is required.
From FACE's point of view, failing to re-open the consultation would mean that policymakers would have based their assessments on an overly simplistic treatment of data, resulting in bad law-making. For example, it appears that an insufficient (and superficial) analysis of the data has resulted in an overestimation of lead concentration in game meat.
ECHA's new consultation is open until October 6, 2022. It should be noted that last week ECHA opened its socio-economic consultation (for 2 months) with new proposals including to reduce the transition period for lead shot to 18 months.
It's clear that serious work is required to make this proposal fit for purpose. Responding to today's news, FACE President Torbjörn Larsson stated: "There was no need for any of this if fair play was ensured from the outset and it's not the first time that the Ombudsman has intervened on the EU's approach to restricting lead in ammunition. We trust that EU policymakers will be more careful on this critical file that will directly affect almost 10 million European citizens."
FACE recently launched the European Hunters' Campaign to call for fair play from the EU institutions. At the time of writing, nearly 50,000 citizens have already signed. For more information on the campaign's requests and to give your signature, see www.SignForHunting.com.
FACE is the voice of European hunters.
We ensure hunting remains good for hunters, society and nature.