The Beretta eStore is the international virtual storefront of the Italian company where you can buy clothing, accessories, gear and exclusive items (except for firearms and ammunition).
Until March 5, 2023, you can take advantage of winter sales on more than 120 products from the Beretta Online-Store, with discounts of up to 70 percent. The site allows you to browse products by choosing the display in order of type, price, name, relevance, new arrivals, activity and ratings received from buyers, making it very easy to choose the garment you want. The page dedicated to each garment features a technical description and a series of zoomable images that allow you to observe every detail of the garment. A handy online guide allows you to select the right size for each garment. Purchasing is a matter of a few clicks, and in a few days the customer will receive the desired products at home. 
Beretta Winter Sale 2022/2023: Our selection of products "on promotion" at the Beretta eStore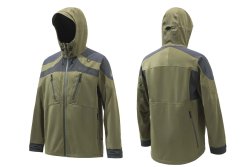 Buying online is a bargin. Shop now and safe money at the international Beretta Online-Shop. Navigation on the site is very simple and intuitive, so we will focus on some of the most interesting products on promotion. Let's start with the Ibex Neoshell jacket, an item that costs 495.00 euros at list price and can be bought for 311.85 euros with a 37% discount. This is a men's jacket designed for active hunting in open country or mountains, where quietness is essential. The Beretta Ibex Neoshell jacket is made of  waterproof and highly breathable  Polartec Neoshell, and is made more wear-resistant to vegetation and shrubs thanks to special inserts
The unique Polartec Neoshell fabric also provides great stretch and lightness, qualities greatly appreciated during long treks. The wear-resistant inserts extend over the shoulders increasing the durability of the garment even when frequently carrying a backpack. The jacket can be combined with Ibex Neoshell pants, made with the same philosophy in mind and featuring anti-weat inserts on the seat, offered at a 30 percent discount that brings the list price from 345 to 241.50 euros.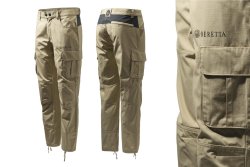 And to stay on the pants theme, the men's Windtrail Pro lightweight yet super-strong model is made of a durable, resistant sand-colored fabric that blends cotton and polyamide giving it a ripstop contruction with DWR (Durable Water Repellent) treatment. Elastic inserts where most needed enhance mobility in any hunting situation. Convenient and roomy cargo-type pockets make them extremely comfortable and versatile, not only for hunting outings but also for leisure and informal situations. Again, the sales make them a purchase to consider, as the list price of 100 euros drops to only 60 euros thanks to the 40 percent discount.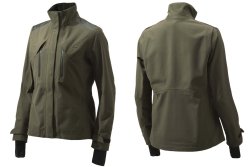 Beretta also thinks of female hunters, and offers among its sale items the elegant Extrelle Active women's jacket, designed specifically to provide the perfect garment for ladies who love active hunting. It is in fact a lightweight microfiber jacket coupled with the BWB EVO-Beretta Waterproof Breathable membrane, specifically designed on the female figure. Completely waterproof, the Extrelle Active jacket is lined with breathable mesh. In extremely cold weather, the Extrelle Active jacket can be combined with the BIS (Beretta Interactive System) garment line. Let's talk about price: the list price is 240 euros, but thanks to the 46% discount the Extrelle Active jacket will be yours for 129.60 euros.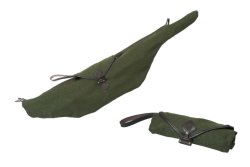 Now to the accessories: among those offered on sale and aimed at the hunter we can point out the Alpentrack Foldable Rifle Case, which is designed for rifles with optics and made from Alpentrack water-repellent wool-blended fabric in loden green. Details and handle are leather, and the overall length is 132 centimeters, big enough to accommodate rifles even with particularly long barrels or suppressors. This must-have accessory for the hunter who loves Central European style has a list price of 99 euros, but thanks to the 44 percent discount it can be bought for 55.44 euros.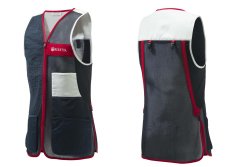 Beretta offers good deals in the online-shop for shooting enthusiasts as well: Among the items on offer are several models of shooting vests such as the Uniform Pro 20.20 model, which can be purchased at a 59 percent discount. This vest is made almost entirely of breathable and stretchy 3D mesh, while the side panels are made from stretch material for maximum fit and freedom of movement. The front pockets are expandable with hidden snap buttons. The comfort cotton back can be customized with embroidery or prints. We invite you to discover all its features, listed in the product profile.
We would like to conclude our roundup of Beretta eStore bargains with a product with a truly aristocratic slant, namely the Norfolk jacket, a must-have item in the wardrobe of the gentleman most sensitive to the charms of British-style country life. In fact, the Norfolk jacket originates in England in the second half of the 19th century, on the estates of the Duke of Norfolk, who proposed it to his guests as a comfortable and exclusive hunting garment. Today Beretta revises its style in a modern key, while retaining the classic applied belt with personalized buttons and flap patch pockets. The Norfolk jacket is a garment that admits no economies and its full price would be 700 euros, which drops to 413 thanks to the 41 percent discount.
For orders from above 99 euros international shipping is free. Payment options include the option to pay for your order in three interest-free installments with PayPal. After receiving the ordered item or accessory, you can also leave a review on the site to help other fans guide them in their purchases or simply express your own opinion. All that remains is to invite you to visit the Beretta eStore to discover in detail the more than 120 products on promotion, wishing you find what you are looking for, or what you didn't know you wanted. Go for it!
---
Click here to visit the Beretta eStore.