Under the management of Michal Štrobl Sr., the Czech dealer of hunting, sport shooting and outdoor accessories has also been successful in business internationally for many years. At STROBL.cz, they are proud of a long history based on a high level of customer satisfaction, which is also reflected in a personal approach: the service is particularly reliable thanks to the STROBL employees, who are active sport shooters and hunters themselves. Shipping and punctuality are two real plus points, along with the interesting range of products and reasonable prices.

Many of the goods in the STROBL.cz online store are imported directly from the USA: Lee Precision, Lyman, Nosler, Sierra, Starline and many other brands are part of the accessories and reloading specialist catalog. But you can also buy Negrini gun cases from Italy or monolithic lead-free FOX bullets from Slovenia online on the STROBL.cz website.

And why order in the Czech Republic? Because you save money and with 24 months warranty and EU legislation you do not take any risk. At the same time, shipment to EU countries is usually inexpensive.

We have selected four interesting products for reloaders, hunters and outdoor and knife enthusiasts from the wide range of products offered by STROBL.cz and, in addition to the KMFS Rival knife sharpening kit and the DeathGrip tripod shooting stick from BOG, we will introduce you to the APP (Automatic Processing Press) Deluxe and the ACP (Automatic Case Primer Press), two loading presses from Lee.

Lee APP Deluxe single-station press as a kit with accessories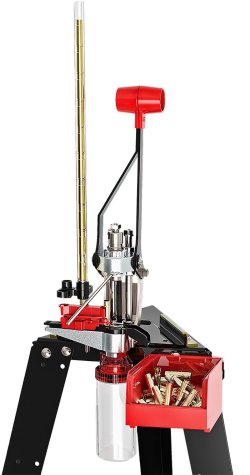 The motto of the approximately 60-year-old manufacturer Lee Precision could go something like this: amazingly simple, often unconventionally designed reloading tools which, despite the predominant plastic and aluminum materials, have a high claim to functionality. At STROBL.cz, you can buy the deluxe kit for the Lee Automatic Processing Press including APP Automation Kit, a set of the three most popular X-Press shell holders, and a bottle adapter for the reservoir.
Hinter derBehind the narrow die carrier, the Lee Automatic Processing Press has just two centerless ground and roller burnished columns. The die riding on these moves towards the case located in the shell holder – exactly the other way round than usual. The stroke of little over 3 inches (around 75 millimeters) is sufficient for all handgun cartridges. However, the stroke of the somewhat slim-looking but sufficiently stable press also easily handles long-case calibers such as .308 Winchester. The shell holders (2, 4 and 19) are suitable for over 60 different cartridges (including .223 Rem., 308 Win., .30-06, 5.56 NATO, 300 Blackout, 9 mm Luger, .40 S&W, .45 ACP). With longer cases like the 6.5x55, the stroke limits the bullet selection. Long variants are eliminated.
The Lee Automatic Processing Press (APP) Deluxe can be used universally as a single-station loading press, for bullet sizing and case processing, and for quick and easy primer ejection and case priming.
At STROBL.cz, the Lee APP Deluxe reloading press in a set costs 132.35 euros.

Lee ACP: automatic case primer with press for small and large primers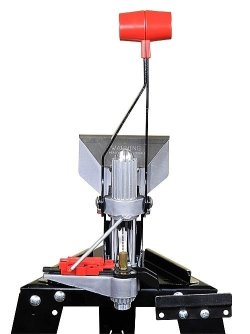 A new development was launched by Lee this year: the first ACP (Automatic Case Primer) press for case priming without the need of shell holders. The new ACP is a true auto prime tool for large and small primers. No shell holders are required, because cases are guided into position by the new finger guide. No further adjustments are required: primers are seated effortlessly with uniform seating depth. 
The Lee ACP tool can process cases up to 2 ½"/63.5 millimeters long. The tool can also be supplemented with a case feeder, the Lee Universal Case Feeder, the Lee Reloading Stand for reloaders with limited working space and other Lee accessories: if you need a catch container for your processed components, the purchase of the Lee APP Bottle Adapter is a good idea.
At STROBL.cz the Lee ACP press is available for 132.35 euro.

KMFS RIVAL knife sharpening kit with 6 whestones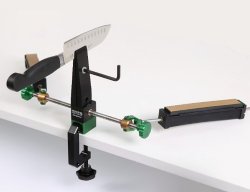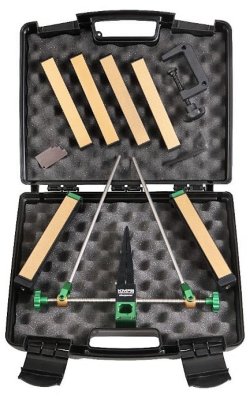 To sharpen knives correctly, you need great sensitivity. High-quality sharpening accessories and, above all, a lot of experience ensure optimum results. However, with the help of a knife sharpening system, even beginners can achieve remarkable results – and professionals save time and energy. From the Czech manufacturer KMFS comes the RIVAL system, developed in 2016 and always sold out, with which knives can be sharpened intuitively, quickly and precisely.

In the process, the knife to be sharpened is fixed by means of a clamp with a right-hand and left-hand thread for angle setting, which is attached to the table or workbench. Using lead bars attached to a lead screw, which can be moved by means of joints, the exchangeable whetstones now slide in curved paths alternately past the blade to be sharpened.

This allows the user to have complete control over the sharpening process, resulting in a double-sided and very even sharpening that also minimizes material loss. For knife enthusiasts and hunters, the KMFS RIVAL knife sharpening kit is a high-quality and very practical system with components made of stainless steel and aluminum instead of plastic or sheet metal. The set comes with six diamond whetstones with 240, 600 and 1000 grit and DLC finish.

The KMFS RIVAL knife sharpening system comes in a handy plastic case and costs 230.39 euros at STROBL.cz.

BOG DeathGrip Tripod: three-legged shooting stick for hunting

A sturdy gun rest can significantly increase both accuracy and comfort on the hunt. From BOG in the USA comes the DeathGrip, a shooting stick that provides particularly high stability as a tripod. The legs of the precision tripod are made of durable aluminum and can be extended telescopically.

Depending on the terrain, steel spikes can even be extended from the tripod's rubber feet for additional support. The leg angle can be adjusted and locked in three positions of 20, 40 and 85 degrees. This allows the DeathGrip to be used when standing, kneeling and even lying down.

A patented clamp with soft and durable rubber insides securely locks any hunting gun. This keeps your hands free and your rifle ready. The clamp head can rotate 360 degrees on the shooting tripod and can be tilted forward and backward 25 degrees. This gives the hunter maximum flexibility when shooting while enjoying the stability and comfort of a shooting rest.

STROBL imports the BOG DeathGrip Tripod from the USA and offers it on STROBL.cz for 217.81 euros.

By the way, STOBL.cz offers further savings to all fans of the STROBL Facebook page, because there you will find regular discount promotions.

Browse here for more accessories for hunting, sport shooters and outdoor in the STROBL.cz online store