Technology sometimes makes life easier for the hunter. Be it thermal imaging or night vision technology, the scope coupled with the smartphone or other finesses. Everywhere it becomes more digital and simpler. And it is also becoming more modern and digital when it comes to hunting. Years ago, it was still a matter of driving to the sites yourself and spreading game food – now technology can take over. 
The range of equipment is huge. You can quickly get rid of several hundred euros for the equipment. However, a digital automatic feeder provided by STROBL.cz proves that there is another way. It is the ECON feeding device, which can be easily attached to a barrel or other container. It impresses above all with its simple handling. You screw the upper part onto your feed barrel or the corresponding container. A funnel ensures that the food slides onto the spin plate when the device starts up. 
ECON Digital Feeder Kit from STROBL.cz: practical impression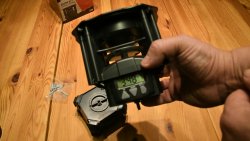 The device comes in a small box and is made of sturdy plastic. It is simple, the price of 41.70 euros is therefore okay. To get to the heart, the lower part is unscrewed. Immediately the display with the three switches becomes visible. On the back, the box for the batteries has to be pulled out of the housing. The power supply is provided by four AA batteries, which you can get everywhere – so no rechargeable battery or any other abstruse battery size.
To put the whole thing into operation, just set the current time (attention: distinction in AM and PM). Then you have four feeding times to choose from. Run time can be selected from one to 30 seconds. That's all: conceivably simple and straightforward.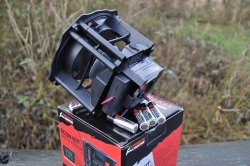 As for the run time until battery replacement, no long-term test could be made. However, the manufacturer states this to be about three months if you feed three seconds a day. 
However, there is unfortunately still a fly in the ointment that restricts the use of the device and other types: always check you local laws regarding the use of automatic feeders, since they are not allowed everywhere and there can be restrictions.

Conclusion: the ECON Digital Feeder from STROBL.cz
At just over 40 euros, the ECON Digital Feeder is a real fighting chance in terms of price. There is still room for improvement in the workmanship, but the low cost is clearly a factor here. Operation is simple. Assembly and options are convincing. In any case, a product that benefits the price-conscious hunter. As said, the legal situation must be observed before you can use this device. But then it is worthwhile in any case.