A combination of a conventional crossbow and a patented rapid cocking system: this is Steambow, an idea that, as explained on their website, "was born in cooperation between passionate crossbow archers and a precision parts manufacturer with over 15 years of experience in the production of components for the aviation, automotive, and defense industries."
To cock the crossbow, the Steambow system uses the power of compressed air, stored in small, lightweight HPA bottles well known to fans of paintball. These bottles are very safe, easy and quick to recharge and repeatedly tested in the most severe paintball competitions. The Steambow cocking system is very reliable and easy to use: the main valve controls the cocking, and everything else is functionally the same as in a conventional full-power hunting crossbow with a 285-pound draw weight. This video explains how it works:

This video has been hidden because of an external service (YouTube) that could potentially collect personal data.Allow video services for the duration of the visitAllow video servicesStop allowing video services
Steambow: foldable and easy to transport

The company offers both complete crossbows and power units to modify existing crossbows, even if at this time it only offers such upgrade kits for crossbows produced by the Canadian manufacturer Excalibur Crossbow Inc.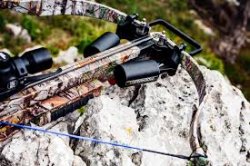 Two models of complete crossbows are offered, the Micro 355 and the Bulldog 400. The power units - the heart of the Steambow system – are made from high-quality aircraft-grade aluminum alloys on CNC machines, and can also be installed on other Excalibur crossbows without permanent modifications in just a few minutes. 
The design of the complete crossbow allows you to fold it in a matter of seconds. Using special quick-release pins, the Steambow limbs can be folded from the firing position to the transport position so that the crossbow will fit easily in a normal duffel bag.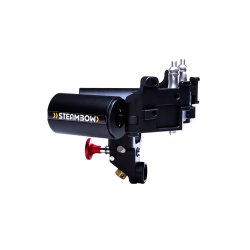 The manufacturer claims that the limbs can be cocked almost silently within one second, and after firing just a quiet hissing can be heard as the air escapes. Then the string is hooked into the latch with the limbs relaxed, the next bolt is loaded, and the Steambow is ready to be cocked and fired again. This system dramatically increases safety. Moreover, the Steambow can be stored and transported with a loaded bolt at zero risk of discharge. The automatic cocking system allows you to recharge Steambow in any position and orientation in space, even in bushes. And since the limbs are not under great tension when the bow is not cocked, to replace the strings of the Steambow you do not need any additional tools. 
The Steambow Bulldog 400 is sold at 2,350 euro, a little less for the Steambow Micro 355 (2,250 euro). The power units alone are priced at 1,200 euro.