More and more women are already practising or approaching shooting sports or hunting today and the market already offers female hunting clothing and sportswear, besides some dedicated shotguns and rifles. That's why a German company named MePaBlu Medizintechnik developed the "Lady Line" earmuffs specially designed for women.  As the manufacturer claims, it's the first time that earmuffs are made taking into account the anthropometric features of the female skull. The slogan aptly sounds like this: "Now the female ears are much better protected!"   
MePaBlu Lady Line ear muffs: features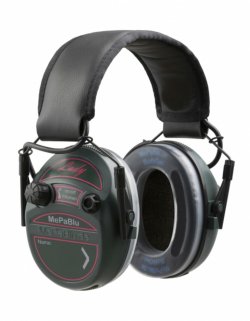 These German-made "ladies only" earmuffs – or rather, ear defenders, since they offer electronic hearing protection  –  are easily distinguished by the label outlined in pink and pink writings on the green plastic cups. The manufacturer followed an innovative approach regarding the gender characteristics of the skull and guarantees outstanding wearing comfort thanks to the original MePaBlu SoftGel "Lady Type" ear pads, coupled with a padded stainless steel head band.
Available in three models – "Lady Hunting", "Lady Sport" and "Silencer Lady" – the Lady Line earmuffs offer 10-fold amplification of surrounding natural sounds and clear and directional hearing, with a 25 dB SNR (signal-to-noise) value. They are also available with flat cups (for lady shooters who use rifles).
As for the price, MePaBlu "Lady Line" earmuffs retail for 289-289 euro, depending on the model.