The Liqui Moly Guntec Silencer Cleaner – Information and application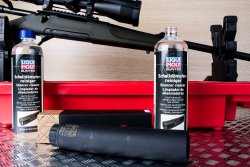 For many hunters, suppressors – or "silencers" – have become an integral part of their equipment in recent years. Like all other parts of hunting equipment, they need a little care and maintenance every now and then, because combustion residues can reduce the performance of the silencer in the long run. Within the Guntec gun care series, Liqui Moly now also has a new silencer cleaner in its range. The Guntec Silencer Cleaner dissolves normal soiling and combustion residues within about two hours and consists of a special water-based surfactant solution. For tougher soiling, it can even be used for up to 24 hours. The suppressor cleaner from Liqui Moly can also be used without any problems in conjunction with an ultrasonic bath – which is even recommended by the manufacturer for an even better result.

Application is very simple. Detachable suppressors are simply placed in the Liqui Moly silencer cleaner for two hours. If there is still residue on the inside of your silencer afterwards, it can usually be easily removed with a soft brush and some water.

If you can't disassemble your suppressor, cleaning works a little differently. To do this, seal one side of the silencer, preferably with a rubber plug. These are available in various sizes at specialty stores and can usually be used multiple times. Once the silencer is tightly sealed, carefully fill it with Guntec Silencer Cleaner from Liqui Moly. After two hours, the contamination should also have dissolved here as a rule. To be sure to remove all dirt, now empty half of the silencer, also close the other side with a rubber plug and shake it vigorously before emptying it completely.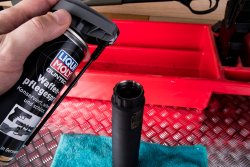 The last step is the same for both types of silencers. Thoroughly rinse the silencer with water, let it dry and then preserve it with Guntec Gun Oil or Guntec Gun Care spray. Note that, as with any treatment with gun oil, the hit placement may shift slightly on the first shot.

Liqui Moly Guntec Silencer Cleaner is not corrosive to metal and is even suitable for cleaning carbon silencers. The price for the 500 ml bottle is 18.89 euros in the Liqui Moly online store, where you can also find other specialized sources of supply.

The Liqui Moly Guntec Gun Care Spray – What is the special oil suitable for?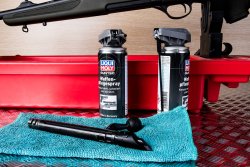 As already mentioned above, the Liqui Moly Guntec Gun Care Spray is also excellent for preserving your silencer after cleaning, but not only that. In addition to the corrosion protection, the highly adhesive oil also offers optimal lubricating properties and thus also protects moving parts from wear. At the same time, the Guntec Gun Care Spray can be used not only on metal parts, but on all gun parts. It works well with plastic and wooden parts can also be oiled with it.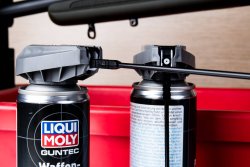 The medium-viscosity oil has been developed to be highly adhesive on the one hand and to have good penetration properties on the other, allowing it to penetrate and lubricate hard-to-reach places. It is also protected against resinification.
The Liqui Moly Gun Care Spray can be applied over a large area as a fine spray mist or very finely and precisely dosed with the integrated spray tube. The many years of experience in the production and development of lubricants of all kinds is evident in all of this. The Guntec Gun Care Spray is available in the Liqui Moly online store for 12.49 euros in the 200 ml spray can.
---
Background knowledge about Liqui Moly: 3 questions about the company and the gun care and cleaning products
Who is behind Liqui Moly?
At the turn of the year 2017/18, the company became part of the German Würth Group through the sale of shares by the previous managing partner Ernst Prost, which is now the sole owner of Liqui Moly.

Where is Liqui Moly manufactured?
To ensure the consistently high quality of its goods, Liqui Moly produces its oils and additives exclusively in Germany.

Is it possible to buy Liqui Moly Gun Care online?
Yes, Gun Care from Liqui Moly is available in numerous online stores – but also directly from Liqui Moly's store. Otherwise, the products are of course also available in well-stocked specialty stores for firearms, equipment and hunting supplies.

---
For more information about the Silencer Cleaner and the Gun Care Spray please visit the Liqui Moly website.