What doesn't look so nice at first glance then often leads to further questions during the first shot at the shooting range. "Funny, last time my rifle still shot hole in hole" – another chapter in the subject of the life cycle of a firearm is opened and many a contemporary then does not know what to write on the next page.

Guns need care, and that on a regular basis 
The barrel of a hunting gun is particularly susceptible to environmental influences. Even if we can hardly imagine it, guns are in a certain sense "weather-sensitive". Anyone who goes hunting in adverse and especially damp conditions can tell you a thing or two about how quickly the rifle can start to rust. all4hunters/all4shooters.com was on the road a lot at the beginning of the year. With the support of Liqui Moly, we would like to present useful and efficient products for gun care that can avoid many a nasty surprise. We will descibe to you how to apply and also the respective differences of the three products for gun
care from Liqui Moly.

Liqui Moly Guntec Gun Oil – Highly aderent and with excellent lubricating properties: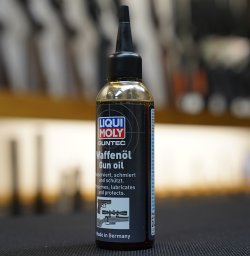 With Liqui Moly Gun Oil, you can easily remove powder and gunshot residues. Note: please, do not use this product inside the barrel. There you should work dry for example with a Boresnake. Liqui Moly's viscous gun oil offers high corrosion protection, it does not drip and it displaces moisture and reduces friction. This is especially important for moving parts such as the bolt. The lubricating film should not break off on moving parts of the gun. So please make sure that the moving parts of your gun are always and at all times coated with a light film. 
In addition, Gun Oil can also be used to care for the wooden stock very effectively. For sturdy polymer stocks, cold clear water is enough to remove contamination. Editor's tip for cleaning polymer stocks: if necessary, use a small nail brush, moisten it with a little water and use it to remove dirt residue from the stock. The advantage of the nail brush is that you can also get into the small pores and thus quickly give the stock its necessary cleaning and care.  
Liqui Moly Guntec Gun Care Spray – With extremely good penetrating properties

The second product that no gun cabinet should be without is the Gun Сare Spray from the Guntec series. When using it, make sure to use it only in well-ventilated rooms. Please do not inhale the gas/fume/vapor/aerosol gases of the product, otherwise direct contact may cause skin irritation. So much for user protection. The product lubricates, preserves and protects, so that even an old rifle is relatively quickly brought back to shine. Unlike the oil, you can use the spray on a very good penetrating effect and thus reach even difficult and hidden places. Before use, please always shake the gun spray can well. All parts that are to be coated with the spray must first be cleaned of old oil residues.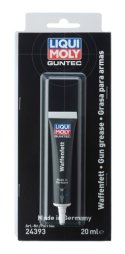 Liqui Moly Guntec Gun Grease – highly adherent, with high lubricating effect

The third product in our presentation can also be effectively used for the regular care of your firearms. The Gun Grease is a strongly adherent synthetic, special grease supplemented with ceramic solid lubricants.
Liqui Moly's Gun Grease guarantees low friction coefficient and best wear protection even in difficult lubrication situations.
This is particularly helpful when the gun is used in unfavorable weather conditions such as rain or snow. It also provides the necessary corrosion protection for all metal components of a rifle. The solid lubricants ensure the best possible functioning of the gun thanks to their properties.

Our conclusion on gun cleaning and sources of supply

Freshly cleaned and preserved, you will achieve the full performance from your hunting rifle and you can be sure that you will be able to maintain the appearance, service life and reliability of your gun in the long term. For more information on Liqui Moly's gun care products, visit the manufacturer's website. There is also a very clear national and international search there for the specialist dealers in your area.

---
Further information on the gun care products and also on the manufacturer's new silencer cleaner can be found on the Liqui Moly website.