The giant Orion with his loyal dog Sirius left happy and fearless for intense hunting trips protected and then condemned by the same goddess, Artemis, who fell in unrequited love with Orion as narrated in Greek mythology.
The passion and love that bound Orion and his dog were extraordinary, to the point of sharing every moment of their time, and finally the same destiny. Since he could no longer bear the dog's laments after its master's death, Zeus decided to send it among the stars next to Orion.
The deep feelings that unite dogs and hunters were already clear to the ancient wisemen. From these Greek mythological characters and from their respective stars and constellations, the technical clothing that Lexel Hunting company dedicates to hunters and to the various types of hunting takes its name.
Here we are talking about a jacket recently introduced by Lexel, the Orione model, that we have tested on the field.
This video has been hidden because of an external service (YouTube) that could potentially collect personal data.Allow video services for the duration of the visitAllow video servicesStop allowing video services
Lexel Hunting Orione jacket: features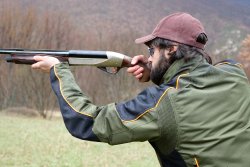 Cordura inserts protect the shoulders and elbows when hunting in the woods, while elastic surfaces help the hunter's movements.
Designed to guarantee freedom of movement but also the necessary protection for the hunter, the Orione jacket has a rather short and snug fit.
Versatile and usable both in autumn and winter, it features a double layer consisting of an Windtex and Lycra inner membrane, that can added be to the upper layer by means of a zip.
The outer jacket is durable, windproof and water repellent to protect the hunter in different environments and also in case of adverse weather conditions. By detaching the inner membrane, a soft and windproof outer jacket is still available to the hunter. This way the jacket becomes a lighter and more breathable garment to be used even in the mild climate.
Elastic inserts along the sides enhance the fit of the jacket and the ease of movement in the woods and while handling the rifle. The four front pockets with zip closure have an internal waterproof layer. The game pocket with double access and safety zip ensures the right space even for medium-sized game.
The parts more exposed to wear and contact with the vegetation at the elbows and shoulders have cordura reinforcements. The fluorescent orange edges ensure the right visibility of the hunter in the woods and during driven hunts.