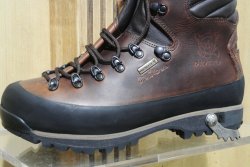 Made in Italy could become an abstract concept. We often hear people says: "We need to revive and consolidate the made ​​in Italy to be competitive in the international market." There are those who say... and who does. This is the case of the historic Diotto shoes factory, craft company founded in 1969 with headquarters in Montebelluna (Treviso), which has experience in two generations. Specializing in the production of footwear for hunting, mountaineering, trekking and recreation, Diotto uses the latest technologies and decades of experience in the production of items suitable for every need, routes and in any weather conditions such as rain, mud, snow and cold.
A make particularly interesting and reliable products Diotto are definitely the materials, with which they are guaranteed waterproofness, breathability, comfort and lightness to the foot over the resistance of the footwear.
Each shoe (manufactured strictly in Italian) is a unique cut with 2 folds and is equipped with the Diotto BLOCK SYSTEM, a revolutionary system that allows, through a loop, a total closure and wrapping the foot.
Even the most extreme weather conditions and environmental are not a problem wearing a shoe Diotto. In this article we present the model LUSIA, a boot in brown leather nubuck, waterproof and with a thickness of 2/6 3 mm. The upper is cut to a single piece, with a side guard with rubber rand which greatly increases the strength and robustness of the boot.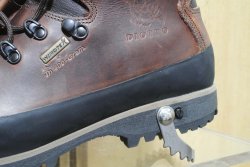 The reliability of the boot LUSIA is found especially on the inside: the lining (internal) Wind-Tex is a totally waterproof and breathable fabric, coupled to the fabric Thinsulate 400 grams, which ensures total thermal insulation. The internal tube sock with taped seams, full LUSIA The internal structure of the boot.
Hunting, however, are not only fundamental waterproofing, protection dl cold and comfort, but it also happens that you have to have a boot that is able to accompany the hunter even in the roughest terrain.
LUSIA as it features a removable always ready crampon, ideal for slippery surfaces and icy: anchored at the inner heel of the boot, the crampon is opened with a simple hand gesture by turning in the opposite direction to its position of "rest." LUSIA looks like a boot, high-performance and reliable, suitable for the most diverse needs of modern hunters.