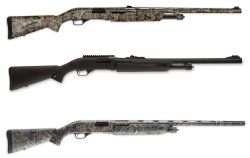 Winchester Repeating Arms
Any shooter and hunter who's looking for a pump-action shotgun that's fast and dependable will get the needed speed from the Winchester SXP Super X Pump slide-action shotgun. No pump-actuated system can match the fast, dependable, inertia-assisted rotary bolt. It delivers three shots in a half-second. Pick one up, shoulder it, shoot it and you'll agree it's a solid handling shotgun with speed to spare. But the SXP package just got larger with models available to handle everything including the toughest, meanest, most powerful 3.½" shells available on the market today. This workhorse of the marsh can now shuck dominating 3.½" loads like Winchester's very own "Blind Side" monsters and "Supreme Elite Extended Range" shotshells that can reach out the waterfowl at distances where normal 2.¾" or even 3" loads would normally give up. With all this power and the advantage of total SXP pump action reliability, the destiny of every hunter is in his/her own hands (pumping hand, that is).

Winchester Repeating Arms
Best of all, new 3.½" Super X Pump models are on the way now, so shooters, hunters and enthusiasts can expect them in stores in days -- while there are still plenty of ducks and geese to bring down.
And with the new 3.½" model still get all the regular features and special touches that make it a Winchester plus a few more.
Hard chrome chamber and bore are optimum features when using steel or tungsten shot. This makes the surfaces highly resistant to wear and guarantees superior protection from rust and corrosion.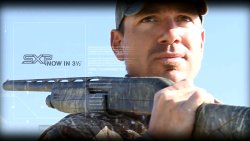 Winchester Repeating Arms
All Winchester SXP pump-action shotguns come equipped with the Speed-Plug System, which allows the user to remove the three-shot adapter by removing the magazine cap, pushing on the spring retainer holding the spring in place and removing the adapter. It's trouble-free. In seconds, the shooter can can remove or install the adapter without tools.
Four massive rotary bolt locking lugs provide support, strength and solid lockup in the receiver of the lightning-fast Super X® Pump. Under recoil the mass of the shooter's body slows the rearward travel of the shotgun, while the inertia of the bolt, slide and forearm continue cycling the action to help you get a head start on your next shot. Dual steel action guide bars channel and eliminate twisting, binding, wasted time and energy when cycling the action.
This video has been hidden because of an external service (YouTube) that could potentially collect personal data.Allow video services for the duration of the visitAllow video servicesStop allowing video services
Other features include:
.742" BACK-BORED TECHNOLOGY BARREL reduces recoil and provides ideal shot performance with less shot deformation.
NEW 3½" CHAMBER gives the shooter the advantage to reach out for heavy, long-range waterfowl.
INVECTOR-PLUS™ CHOKE TUBE SYSTEM offers uniform, reliable patterns.
HARD CHROME CHAMBER AND BORE make surfaces highly resistant to wear, more durable and corrosion resistant.
BLACK CHROME PROTECTION on bolt and other components is better than bluing.
TRUGLO® LONG BEAD® FIBER-OPTIC FRONT SIGHT offers true, precise sight picture.
3-SHOT ADAPTER WITH SPEED-PLUG SYSTEM is easily and quickly removed.
ROTARY BOLT with four massive lugs provide strength, support and solid lockup.
DROP-OUT TRIGGER GROUP allows easy cleaning.
CROSSBOLT SAFETY is easily operated.
INFLEX TECHNOLOGY RECOIL PAD directs felt recoil down and away from the shooter's cheek.