Winchester Repeating Arms

Winchester Repeating Arms
SX3 stands for "Super X3"; and the prefix "Super" stands exactly for what it is: a super gun with superb performance. Introduced a couple of years ago, Winchester's SX3 line of Winchester semi-automatic shotgun had been growing year after year to encompass today eleven variants, enough to satisfy the needs of hunters and sports shooters alike. Integrating a plethora of technical novelties and well-proven solutions in a modern, dynamic-looking design, the SX3 became an instant "modern classic" ganing, literally, the "hearts and minds" of thousands of sportsmen worldwide and a hands-off, total praise from all those who had even the slightest chance to test it at the range or on the field!

Winchester Repeating Arms

Winchester Repeating Arms
It takes only a few seconds to understand why the SX3 shotguns line is one of the best available choice for demanding shooters. The stock, grip and forearm dimensions are slimmer for a lighter, more controlled feel. Contributing to the feeling of lightness is an ultralight alloy magazine tube and recoil spring system that removes a half pound of weight. The new lightweight barrel further reduces weight with a narrow profile and a machined rib. The .742" Back-Bored Technology barrel ensures the ideal combination of shot uniformity and velocity. The new gunmetal grey Perma-Cote™ UT (Ultra Tough) finish is more durable than traditional blueing. In fact, it is the toughest finish ever applied to a shotgun. Best of all, the centered balance and superior fit Winchester shotguns are renowned will remain intact while the self-adjusting Active Valve will ensure speed, recoil reduction and durability in all conditions.

Winchester Repeating Arms

Winchester Repeating Arms
Critic-tested, the Winchester Super X3 mechanism sustained a true torture with over five thousand rounds fired without a single malfunction under any condition ‒ which is definitely enough to reaffirm the integrity and durability of a design that offers superior performance and speed with less felt recoil in comparaison with its most direct competitors on the market.
It's no wonder if this fine shooting machine gained the total praise of some of the world's best sports, competitive and acrobatic shooters. The American Patrick Flanigan and, more recently, the Italian Raniero Testa - who actually replaced Flanigan as the main testimonial for Winchester Repeating Arms - were among those who quickly found out how the Winchester Super X3 line could help them to perform at the best of their capacities.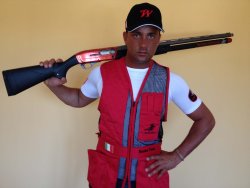 Winchester Repeating Arms
Raniero Testa earned his current World Record Holder status at the "Arcera" shooting range in Gaeta (Italy) last July 11th, when he hit a total of twelve clays in less than six seconds in front of a specially-appointed jury. All clays were hand-thrown by himself, and his specially-prepared Winchester SX3 "Red Performance 12M" shotgun featured a specially-extended magazine holding twelve rounds of 12-gauge ammunition. Testa performed multiple times during 2012 to demonstrate the capacities of the SX3 shotgun, and is due to continue his performances in the year 2013.
The previous record was held by Patrick Flanigan, formerly a Winchester/Browning shooting team member now turned to Mossberg, who used an SX3 shotgun himself for the past years ‒ and established his own record with one, custom-prepared as the "Flanigun".