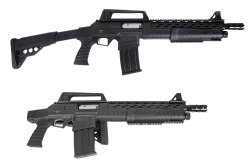 The Turkish-based Uzkon arms company announced a new pump-action shotgun, dubbed the AS46, conceived for sport shooting in tactical/dynamic specialties as well as for personal, home and property defense and for Police and private security purposes.
Chambered to fire 76mm/3" 12-gauge shotshells, the Uzkon AS46 is built around a 7075-T6 lightweight aluminum alloy receiver and uses a 4140 steel bolt and barrel – which also sports a Breacher-style flas hider. The AS46 feeds from 5-shots box magazines, and each AS46 is issued with two magazines
The Uzkon AS46 pump-action shotgun features a railed forend and a full-length top MIL-STD-1913 "Picatinny" rail, which also hosts a removable tower front sight and an M16-style carrying handle that integrates the rear sight assembly. Several stock options are available for the AS46 – a standard shotgun stock with a curved grip, a tactical fixed stock, a collapsible stock, and a collapsible and side-folding stock; these last three variants also feature a vertical, ergonomic pistol grip. A pistol grip-only variant will also be available.