The U.S. market has never been so eager of small-size, small-caliber rifles and carbines. With the Second Amendment rights being constantly on the "line of fire", there are many organizations, including the YSSA, that devote themselves to introduce young people to the pleasures and responsibilities of shooting, so to form the next generation of supporters of the Right to Keep and Bear Arms and to ensure that America's shooting and hunting traditions remain intact for the ages to come. In order to do so, of course, teachers, trainers, parents and legal guardians need the right tools, some that suit well the youngest, inexperienced shooters while at the same time remaining perfectly apt to teach the basics of marksmanship and gun safety.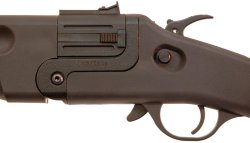 This is what Savage Arms − one of America's premiere hunting and sporting guns manufacturers − had in mind when they launched, new for 2013, this tiny, handy combination gun. Dubbed the "Model 42", Savager Arms' new Drilling is itself a respawning, albeit heavily modified and modernized, of the early Model 24, now longtime out of production and still a piece of the Company's history, which has been popular with small game hunters and woodsmen for decades. The idea behind the design of this firearm is maximum versatility for minimum cost: with the Model 42, a shooter will possess a small game shotgun, while at the same time has a rifle in the same compact package. This will of course turn in quite handy for small game (varmint) hunters, as well as for outdoorsmen who often enjoy some days of trekking and camping in the deep woods and know, better than many self-appointed "environmentalists", how fast, and in how many ways, things can go straight down the hills in the wilds, and how a gun at hand can often make difference between a safe trip back home and a vacation in the forests turned into tragedy.
The Savage Arms Model 42 combination gun features a synthetic stock and handguard, and matte black carbon steel frame and 20-inches-long barrels. It is a quite simple single-trigger, single-action, external hammer top-break open over-and-under combination gun, with the lower barrel being smoothbore and chambered for the popular .410-gauge cartridges, the upper rifled barrel being rimfire instead, and available in either .22 Long Rifle or .22-WMR variants. The Savage Arms Model 42 also features an external push-button safety and adjustable front and rear sights. At merely 6.1 pounds, the Savage Arms Model 42 combination gun is extremely light, and the standard sling swivel studs make it even more comfortable to carry all day round. The Model 42 is already available through authorized Savage Arms distributors in America and importers worldwide, at a manufacturer's suggested retail price topping 480.00US$ in the United States.