The great flexibility of the project at the base of the AK-47 assault rifle allowed developing of light machine guns, sniper rifles and even shotguns on the same assault rifle platform designed by Mikhail Kalashnikov.
Saiga 12-083 C TAC: features and details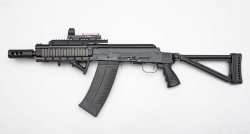 Commercialized with the name of Saiga 12, the semi-automatic shotguns from Kalashnikov Concern share the proverbial robustness and reliability of their ancestor.
There are different models with different barrel lengths and with hunting, sports and tactical stocks, among which the IPSC version stands out, being suitable for competing in the Open division.
Here we are presenting instead a tactical version named Saiga 12-083 C TAC.

The Saiga 12-083 C TAC is a semi-automatic 12/76 (Magnum) bore shotgun with a 307 mm long barrel equipped with a fixed flash hider. It is equipped with a side mounting rail for optics and red dot sights.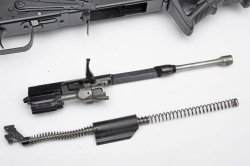 The gas-operated action is directly borrowed from that of the AK assault rifle.
The receiver is made of steel with the classic sheet metal dust cover that ensures a quick and easy access to the bolt.
The manual safety control is entrusted to the iconic side lever that characterizes all AK derived weapons. The weapon can be equipped with most of the accessories designed for this family of weapons.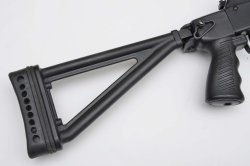 The hand guard is made of synthetic material, as well as the pistol grip and the "crutch" stock is collapsible.
It is a handy compact weapon that can produce a considerable volume of fire, thanks to the removable magazine with a capacity of five cartridges, suitable for home defense and for using from inside vehicles.
The recommended retail price is 1125 euro.
---
Like all products of the Kalashnikov Group, the Saiga 12-083 C TAC semi-automatic rifle is distributed In Europe by DTG Defense Technology Group: http://www.dt-group.it