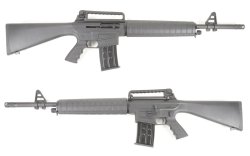 In the past years, the Turkish arms industry established itself as a global powerhouse on smoothbore long guns and the evolution of their already well-established working system. Reason is quite simple: local privately-owned arms industries need a hard-to-obtain Governmental license to develop and manufacture rifles and carbines, while development and manufacturing of shotguns and handguns is unrestricted for all legally-operating gun manufacturers. As of today, thus, the Turkish arms industry can come out with a plethora of developments when it comes to shotguns, either resorting to tried-and-true working principles or experimenting totally new solutions in both design and technology; that's they key for success that led Turkish gunmakers to sell literally hundreds of thousands of shotguns in Europe and the United States in the past decade. Furthermore, the Turkish arms industry has the merit for re-launching the "military-lookalike shotgun" trend that had waned early in the 1990s when military-style 12-gauge guns − mostly manufactured in the United States, South Africa and South Korea − were banned from distribution in America, thus closing the main market for this kind of product and making it non-lucrative. 
That's the case for the Alpharms 15-SA, the latesr product from Leader Arms Technology, a company headquartered in the Turkish city of Trabzon. First spotted last March at the 2013 edition of the IWA expo in Nuremberg (Germany), it's now being exported globally − most notably in western Europe, through the German wholesaler Waffen Schumacher, which can ship to national distributors and individual retailers in the single EU-member Countries upon request. As it's evident ever at a first glance, the "Alpharms" 15-SA model was conceived to capitalize on the enormous market success of other military-style shotguns manufactured in Turkey  − such as the 12-gauge AKDAL MKA-1919 or the .410-gauge SAFIR Arms T-14; and yet, Leader Arms Technology products enjoy a certain degree of manufacturing and technical uniqueness. So to speak, the "Alpharms" 13-SA is built upon a forget 7075-T6 aluminium alloy upper receiver: that's the same material used in the manufacture of AR-15, M16 and M4 rifles and carbines for both civilian and Military/Police sales; the upper receivers for the "Alpharms" 15-SA is provided by a German-based AR-15 manufacturer, while the Turkish company makes barrels drilled 4140 steel barrels on its own.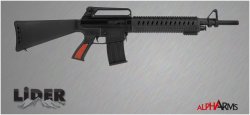 Lider Av Tüfek Silah Teknolojileri ve Metal San. Tic. Ltd.Şti.
The "Alpharms" 15-SA semi-automatic shotgun employs a reinforced polymer lower receiver, with integrated pistol grip and fixed stock, and its controls configuration replicates the AR-15 series of rifles and carbines − both in its civilian and military versions − so to help sports shooters, military personnel and Police operators who may already be accustomed with the quintessential American "Black Rifle" to get easily and quickly accustomed with this shotgun. The same reinforced polymer is used in the manufacture of the M16-A2 style handguard, while the flash hider, the interchangeable chokes and the carrying handle are all made of metal − the handle itself being removable, and mounted over an aluminium MIL-STD-1913 "Picatinny" rail. The "Alpharms" 15-SA operates through a gas system that's pretty much similar to the DGI system used on the AR-15, with an over-barrel gas tube and a rotating bolt. Feeding is through a prismatic detachable magazine, holding up to six 76mm (3", a.k.a. "Magnum") 12-gauge shotshells.
Another version of the "Alpharms" 15-SA shotgun also exists, dubbed the Alpharms 13-SA, featuring some minor aesthetic differences and a slightly modified gas impingment system that will suit the new vented, railed handguard. What's most interesting, however, is the price: currently, the "Alpharms" 15-SA shotgun is sold at around 800,00€ in Germany, which is the first European country to have it. Of course, retail prices will change from Country to Country, from distributor to distributor, and from retailer to retailer. Non-European customers should contact the company to inquire about the availability of this product, and others, in their Country, and to obtain contact informations for their local or national authorized distributors.