FABARM - Fabbrica Bresciana Armi S.p.A.
FABARM, the Italian gun manufacturing company headquartered in the northern town of Travagliato, is well know for its multifaceted shotguns line featuring products for hunters, sports shooters, and Military/Law Enforcement/Security uses alike. The high quality and the hellbent reliability of the FABARM products is acknowledged worldwide − is no wonder that the company has been granted a NATO N/CAGE code (#A-1469 − N/CAGE stands for "NATO Commercial and Government Entity", that being, a NATO-certified provider of weaponry and equipment), and that its pump-action and semi-automatic shotguns for professional purposes are widely popular between élite forces around the world.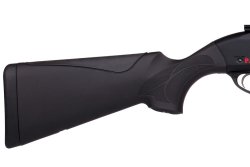 FABARM - Fabbrica Bresciana Armi S.p.A.
The latest FABARM tactical-oriented product is the P.S.S.-10 semi-automatic shotgun, officially launched on the international professional market at the 2011 edition of the IWA expo in Nuremberg (Germany), and on the world civilian shooters' markets at the EXA gun expo in Brescia (northern Italy) the same year. The P.S.S.-10 design spawns directly from the main FABARM commercial autoloading shotguns line, the XLR, yet it sports a series of unique features that make it a great tactical weapon for law enforcement purposes − having it been first conceived for, and delivered to, such an unforgiving professional force as the South African Police Service. Yet, the P.S.S.-10 is also configured to be an excellent choice for private security personnel, for those private citizens and individuals looking for an effective home defense shotgun − albeit the overall length of the P.S.S.-10 might make it less than easily manageable in the close quarters of a house − and for 3-Gun competitors looking for a reliable and high-capacity shotgun (hence the name of "Practical Shooting Shotgun").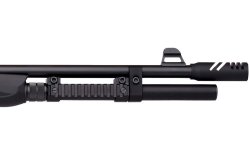 FABARM - Fabbrica Bresciana Armi S.p.A.
The FABARM P.S.S.-10 is over 1 meter long (1.205 mm.) and sports a 61-centimetres Tri-Bore stainless steel barrel test-proofed to withstand pressures up to 1630 Bar − to ensure maximum reliability and safety even when using steel shots − equipped with a 7-centimetres long flash hider that brings the overall barrel length to 68 cm. and that will effectively extinguish the muzzle flash and reduce muzzle climb in fast-firing, allowing faster and easier return on target, a critical factor in 3-Gun matches; the muzzle compensator will also dub as a breacher, allowing tactical operators to use the P.S.S.-10 to breach-open barricaded doors for dynamic team entries by shooting locks away from point-blank distances without risking to damage the barrel due to overpressure returns.


FABARM - Fabbrica Bresciana Armi S.p.A.
The P.S.S.-10 receiver is made out of Mil-Spec hard-anodized ERGAL aluminum alloy, and hosts the working system, based upon a gas-impringment pulse piston that will ensure flawless operation with either extra-hot, standard and low-power loads. The magazine tube holds nine 12-gauge shells with 3" (a.k.a. 76mm, a.k.a. "Magnum") case; an additional shell will be hosted in chamber to bring the overall capacity to 10 rounds. The stock and the pistol grip are both synthetic in construction and sport a resistant, comfortable yet gripping Soft-Touch rubberized finish. Last, the P.S.S.-10 sports a MIL-STD-1913 "Picatinny" top rail for optical and reflex sights, and two shorter, twin rails under the barrel for other tactical accessories of sorts. Iron sights are provided by LPA; the front sight features a red tritium insert, the rear sight is of the "Ghost Ring" type.