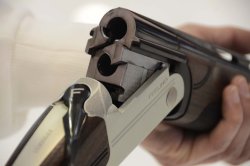 At the EXA 2013, Franchi introduced the new over&under Feeling Aluminum Cal. .410, with whon wanted to reiterate the concept of natural harmony that is created trail hunter and his rifle.
The over-under Franchi Feeling cal. .410 presents technological innovations concentrated in mechanics: is equipped with single trigger and is provided with a selector switch on the upper back dellazione. The hammers are operated by a helical spring housed on a spring guide, the head of which loads the hammer just above its fulcrum. The selector consists of a rail "classical" with axial movement which, when pushed forward, the unit will impose trigger to engage the levers of the trigger. Furthermore, on the safety rail a second rail is engaged transversely and its movement towards the right or left moves lation of trigger unit engaging the corresponding lever trigger.
The over-under Franchi Feeling cal. .410, with a total weight of 2,450 kg, uses automatic ejectors, slot aluminum, calcium and auction selected walnut oil finished Grade 1 and barrels of 68/71 cm.