Should you adjust to your gun …or should it adjust to you? The new Summit Impact allows the shooter to adjust all critical specifications making it easy to fine tune the gun to their shooting style. Point-of-impact, overall weight, stock fit, trigger system, recoil characteristics, and balance are all customizable. The geometry of the Impact allows for an upright shooting stance, making your gun mount more comfortable while reducing felt recoil. The result is less strain on your neck and shoulders allowing you to concentrate on only the target. The 17mm tall tapered rib dramatically increases target visibility.

The Impact is the world's most versatile clay target gun carefully designed for the worlds best competitors, and it could not be different, having been conceived and put into production in this glorious Olympic year that saw olympian shooters earn so many gold medals, especially for Italy, the motherland of this fine shooting machine. Combining superb guncraftsmanship and typical Italian style with the best available performances, the Caesar Guerini's Summit Impact shotgun is guaranteed to provide the best for every shooter.

The Caesar Guerini Summit Impact over/under shotgun features a 17mm-tall D.T.S. rib, adjustable from 5% low to 90% high by simply turning one screw, which allows for a more up­right and comfortable shooting position while improving visibility. The Impact rib is 40% lower than Guerini's standard trap rib but, offers many of the same advantages. Furthermore, the Summit Impact O/U shotgun comes standard with the D.T.S. "adjustable comb", featuring a patented 7 way adjustability and index screws for fine calibration, and with the new D.T.S. trigger system, with two trigger pull weight options, take up, over travel, and length of pull adjustments. Optional D.T.S. barrel balancers allow weight to be added anywhere along the barrel in seconds.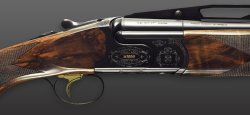 Featuring a glare-free satin blued finish with Invisalloy clear protection on both frame and barrels, this superb shotgun has stock and handguard crafted out of 100% selected walnut. All barrels comee tested and certified for correct point-of-impact regulation, and all stocks are pre-fit for the optional D.T.S. Kinetic Balancer system with mul­tiple weights and micro adjustment, also including kinetic recoil reduction and doesn't need to be removed to access the stock bolt when removing your stock. Left hand and custom stock dimensions are available. A trap style semi-beavertail fore-end is also an option. Prices vary depending from version to version: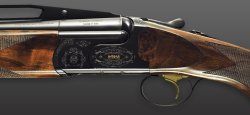 MSRP $5,150 (12 gauge, 30", 32", 34" barrel)
MSRP $7,725 (12 Type-S (Skeet 4g Comp. Pkg), 28", 30" barrel)
MSRP $5,150 (12 Type-T (Trap), 34" barrel)
MSRP $7,400 (12 Unsingle Combo, 32"-34" barrel)
MSRP $5,150 (20 gauge, 32" barrel)
Additional Charge for Left Hand Stock: $215