Vincenzo Bernardelli S.r.l.
There's been a lot of buzz around the Vincenzo Bernardelli S.r.l. company − a legendary name in Italian gunmaking − ever since they were purchased by the Turkish SARSILMAZ group. Regardless of what many gun-ignorant, or outright anti-gun, newspapers wrote about in Italy, the Bernardelli company maintains a proudly 100% Italian production plant in the city of Torbole Casaglia (province of Brescia, northern Italy); despite the fact that some manufacturing lines had to be phased out in the past years as they proved no longer competitive in the modern market − most notably the technically perfect, but way too expensive, Bernardelli P018 and P.ONE semi-automatic pistols had to be discontinued − the company decided to return to a market segment that had been abandoned a few years ago, that being, the defense/security firearms sector.


Vincenzo Bernardelli S.r.l.
The IWA and EXA arms expos in Europe, in March and April of 2013, saw in fact Bernardelli launching a full lineup of 12-gauge pump-action shotguns dedicated to the needs of civilian shooters as well as to those individuals seeking a reliable instrument for property or household protection, and to private security, military and Police personnel. Dubbed the PA-12, the line now comprises seven different models, including the basic variant − which could be converted in three different configurations simply through the replacement of some furniture − which has been around in Europe since the year 2010.


Vincenzo Bernardelli S.r.l.
All the variants of the PA-12 shotgun series are built around the same machined aluminium frame used by the Bernardelli company for the manufacture of their high-grade semi-automatic hunting shotguns; featuring the same, consistent quality, finish and resistance as some of the most highly valuable shooting and hunting pieces on the market today, the Bernardelli PA-12 shotguns also come with a 3" ("Magnum") bore and a stainless steel barrel, whose lenght varies from 14 to 18 and 20 inches, depending on the model and intended use. So to speak: the "Standard", "Compact", "Tactical" and "Telescopic" versions all come with full-lenght 20-inches barrel and a 7-shots magazine tube, which brings their overall ammunition capacity to 8 shots.


Vincenzo Bernardelli S.r.l.
Said models differ in furniture; the Standard variant has a short polymer forend and standard stock while the Tactical version has the same short forend but comes with an ergonomically-shaped pistol grip and lower stock heel, plus it features a vented metal barrel shroud; the Compact version is basically the same as the "Standard", although it comes with a long polymer forend and a polymer pistol grip with an upfolding metal stock, while the Telescopic version features the long forend, an ergonomic pistol grip and a four-position, M4-style extensible buttstock. All the above models come equipped with an LPA high-visibility front sight, and their receivers are drilled and tapped to quickly accommodate a MIL-STD-1913 "Picatinny" rail for Ghost Ring type rear sights or other aiming devices; as a matter of fact, the "Telescopic" version comes with the Picatinny rail as a factory standard issue.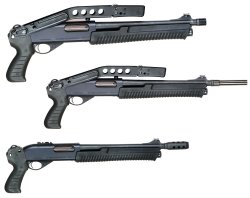 Vincenzo Bernardelli S.r.l.
The last two − or, better, three − variants are more specifically defense and security-oriented, and may not be available for civilian sales everywhere due to their short overall lenght. The Defence version, as a matter of fact, comes in two variants: one featuring a 14" barrel with threaded muzzle, the second coming with a 4" extension permanently attached to the muzzle thread to bring the overall barrel lenght to 18 inches. Both come with a polymer pistol grip and an upfolding metal stock, a high-visibility LPA front sight, a long polymer forend, and a 5 shots magazine tube. The Mini version is much akin to the "Defence" model, except it comes only with a polymer pistol grip and long polymer forend, is factory-issued with a Picatinny rail on the receiver, and has a muzzle brake and flash suppressor screwed to the 14-inch barrel to provide breaching capabilities.

Availability and pricing for the PA-12 series shotguns may vary depending from national laws and regulations, custom fees, taxes, the policies of individual retailers and nationwide distributors. All inquiries concerning local availability and prices are to be asked directly to the Bernardelli factory or, even better, to your local or national Bernardelli licensed distributor; the company keeps a comprehensive list of distributors on their website.