Already packed with the well-known balance and performance features of the legendary DT11 platform, the new Black DLC version takes it a step further with greater durability and a revamped look. The DLC (Diamond-Like Carbon) coating on barrels and receiver improves durability and resistance to corrosion and wear, while adding a modern all-black look enhanced by acid green details. The carbon-fiber top rib allows for reduced weight and better swing, while leaving the possibility to adjust the shooter's burden with the B-Fast balancing system on the stock and barrels. The Steelium Pro barrel technology is the final seal for DT11's accuracy: an internal profile with triple forcing cone reaching up to 450 mm, reducing recoil and muzzle rise while ensuring consistently dense and uniform patterns. Available in Sporting, Trap and Skeet variants, the DT11 Black DLC becomes stronger than time.
Beretta DT11 Black DLC main features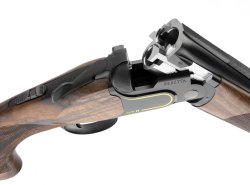 Oil-finished grade 3 walnut wood: a hint of the Beretta over-and-under classic look
B-Fast adjustable weight system: barrel and stock balancing to adapt the gun to the shooter's shouldering and swing
DLC coating on the receiver, trigger housing and barrels: enhanced durability thanks to increased wear and corrosion resistance
Modern look for the Black Racing line: alternating matte and glossy black with acid green details
Steel detachable trigger group: DT11's guarantee to get back to shooting in few minutes thanks to the interchangeable trigger
Steelium Pro barrels: tri-alloyed steel undergoing deep drilling, cold hammer forging and vacuum distension for a triple cone fitting reaching up to 450 mm (in a 76 cm barrel)
10x10 carbon fiber top rib that ensures lighter weight and better swing
Optimachoke HP Black Edition interchangeable chokes: resistance to corrosion and steel shot with special blued finish
Technical background on the Beretta DT11 Black DLC
The DT11 is the iconic over-and-under boxlock in the hands of the world's top shooters and winner of countless international competitions. The new Black DLC version maintains the features that have made the DT11 the most successful platform for competitive clay target shooting, but adds up a DLC coating for improved durability, the carbon fiber top rib already adopted on the Black Edition  DT11, and a contemporary black-acid green look that will be applied to all future Beretta Black line products. The receiver keeps the design of the original platform: the extremely reliable cross-bolt locking mechanism, the 3-millimeter wider receiver to improve stability and handling, the replaceable barrel locking shoulders, and the forend iron with a replaceable insert in high resistance material for a perfect fit between forend and barrel. The simple trigger group release procedure consists of three distinct and convenient movements that can be performed when the firearm is in its condition of maximum safety, that is, when it is open. In a short time, you can remove your trigger group and replace it with a new one that can be purchased aftermarket (steel or carbon fiber), getting back to shooting immediately. The trigger position can be easily adjusted with a very high degree of precision. "V"-type hammer springs guarantee a crisp trigger operation and high percussion speed. Unlike the previous DT11 Black Edition version, the trigger assembly is made of steel to keep more weight and balance on the middle part of the shotgun.

The Diamond-Like Carbon DLC Coating.

The receiver, together with the barrels and trigger group, are coated with a Diamond-like Carbon (DLC) finish. DLC is a thin film of amorphous carbon that, when deposited on certain materials such as steel, transfers many of the beneficial properties commonly associated with natural diamonds: hardness and resistance to chemicals and wear. Already used in several technologically advanced industries such as automotive, medical and racing, DLC is now the most innovative and environmentally friendly coating Beretta applies to its products. Compared with previously adopted treatments, DLC offers important advantages that make the gun very durable, which we detail here:
Very high resistance to corrosion and alkaline or acidic solutions, including acid palm sweat that typically increases the risk of leaving marks on barrels
Strong resistance to ageing and rust for a much longer life
Remarkable wear-reducing properties thanks to the hardness characteristics typical of natural diamond.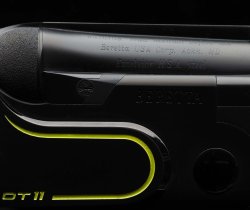 For its application, DLC does not involve the use of solvents or hazardous substances: this also makes it non-toxic and environmentally neutral. The black coloring of the DLC, applied to the matte surfaces and the mirror-polished hinge pins and side plates, gives the shotgun a racing look, along with the acid green enameled details, such as the DT11 logos, the Beretta logo, and the characteristic "swoosh" on the receiver's side.
As with every DT11, the top lever design is the result of collaboration with top shooters. It improves grip, reduces effort and makes it easier for left-handed shooters. The shape of the barrel selector is designed for maximum grip and ease of use.

All DT11 over-and-under assembly stages are carried out by the same highly skilled gunsmiths and in the same place where Beretta luxury shotguns are manufactured. This means that every effort is made to ensure a perfect coupling between the various main (receiver, barrels, forend iron) and secondary parts (sidelocks, top lever, etc.) of the firearm. This attention to detail makes each shotgun unique, ensuring that every single product is manufactured and tested under the personal care of the master gunsmiths of the world's oldest and most prestigious gun-maker.
Maximum attention to balance

The various component weights are distributed so that the center of gravity is aligned with the first barrel: this feature greatly reduces muzzle rise, allowing faster target acquisition for the follow-up shot. Even with this attention to weights, the possibility to adjust the shotgun's center of gravity is always available thanks to the B-Fast balancing system, with weights to be added in the stock and magnetic weights to be applied on the side ribs, under the forend. A series of differently sized weights are available in the shotgun case to make the gun more back- or front-heavy, depending on the shooter's preference.
The rib features hollow barrel bridges to improve balance and heat dissipation when the barrels overheat. The 10x10 mm upper rib of the DT11 Black DLC is made of carbon fiber with the aim of decreasing weight and improving shotgun's swing, a solution that has already been adopted by many professional shooters with the DT11 Black Edition.
The best barrel technology

The barrel design and upper profile of the receiver shoulders allow for unparalleled target acquisition, even during instinctive shouldering. Thanks to its unique manufacturing process, Steelium barrel technology enables Beretta's tri-alloy steel to become a true ballistic gem. Deep drilling, cold hammer forging and vacuum relieving provide the steel with mechanical characteristics that are ideal when superior ballistic performance is required. The Steelium Pro barrels mounted on the DT11 represent the last word in gun barrels and boast a highly elongated triple-cone internal profile, which varies according to the length of the barrels, up to a maximum of 450 mm (in the case of 76 cm barrels).
The advantages are:

Denser and more compact patterns with high penetration and target striking performance
Quicker and more accurate follow-up shot
Reduced perception of muzzle rise
The DT11 Black DLC is available in 30" or 32" (76- or 81-cm) barrel length for the Sporting version, only with a 30"/76-cm barrel for the Trap and Skeet models. Manufactured from high-strength steel, Beretta Optimachoke HP interchangeable chokes guarantee remarkable corrosion resistance and withstand the rigors of steel shot. The DT11 Black DLC is equipped with special blued OCHP Black Edition chokes. Anyway, DLC-coated chokes can be purchased aftermarket.

Beretta DT11 Black DLC: select wood and customization for every shoulder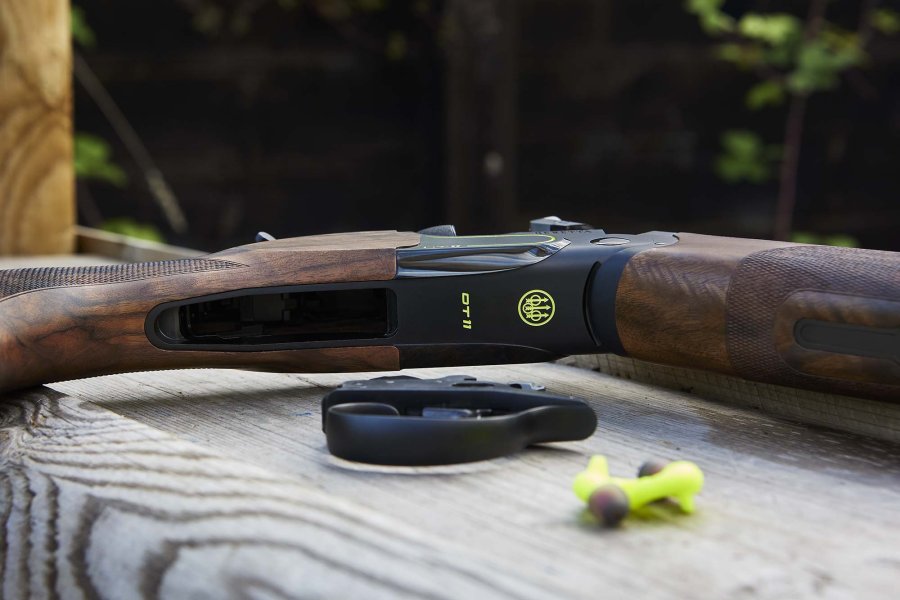 The oil-finished grade 3 walnut stock and forend are finely checkered by hand for maximum grip. DT11 Black DLC is available in several stock and drop options:

Sporting: standard stock or adjustable B-Fast stock
Trap: standard stock or adjustable B-Fast stock
Skeet: adjustable B-Fast stock
The soft and adaptable 18 mm Microcore recoil pad is made of open-cell polyurethane and combines lightweight, recoil absorption and performance. After firing, it expands gradually and instantly, increasing its surface area on the shoulder and giving the shotgun secure control and precise support, along with the specially designed checkering on the surface. The Microcore recoil pad perfectly matches the elegance that distinguishes the lines of Beretta shotguns, but with much more stability and comfort than a rubber or wooden recoil pad.

Beretta DT11 Black DLC specs and price

| | |
| --- | --- |
| Model: | DT11 Black DLC Trap |
| Gauge: | 12/70 |
| Trigger: | Selective single, with DLC finish |
| Receiver: | Steel |
| Barrels: | 76-cm long, with DLC finish |
| Stock:  | Oil-finished grade 3 walnut wood |
| Rib: | 10x10 mm conical |
| Front Sight:  | Bead-type, white  |
| Chokes: | Optimachoke HP interchangeable |
| Overall Length:  | 120 cm (with 76 cm barrels) |
| Price: | From 12,899 euro |
The Beretta DT11 Black DLC comes with: black ABS case with internal black cloth lining; B-Fast: stock balancing weight system kit; magnetic barrel weights (side rib);  screwdriver for trigger adjustment; 2 spare firing pins (one top, one bottom) with return springs; 2 orange beads: one large, one small; Beretta stickers; 2 snap caps; 3 OCHP Black Edition chokes, choke key and gun oil; stock wrench; user and maintenance card.
DT11 Black DLC is compatible with all DT11 pro-shops and gun accessories already available on the market. The DT11 Black DLC can already be ordered but will actually be available in gun shops starting from the next shooting season (Spring 2024).

Retail prices (MSRPs in Italy) will be:
Sporting version (standard/fixed stock): 13,199 euros
Sporting version (B-Fast adjustable stock): 13,599 euros
Trap version (standard/fixed stock): 12,899 euros
Trap version (B-Fast adjustable stock): 13,299 euro
Skeet version (B-Fast adjustable stock only): 13,599 euros