Article also available in other languages
We at ALL4SHOOTERS.COM have been asserting this as a fact for a long time: despite what many shooters and gun enthusiasts may believe, the Turkish arms industry is definitely rocking the world. Turkey has a rich history in gunmaking, but in the past twenty years or so, the company has also acquired the much needed manufacturing capabilities, technologies and know-how to produce and market a long line of handguns, shotguns and rifles featuring excellent workmanship, clever technical solutions, and very affordable prices due to the lower costs of workmanship down there. As a matter of fact, there's a lot of European and American companies that have their products manufactured by Turkish contractors and then sell them on the American and European markets with their own brands at a doubled or even tripled price. At the same time, Turkish guns are distributed worldwide by an increasing number of wise, and honest, importers, who sell them at a budget price, offering some of the best value for money that a shooter, a hunter, a sportsman or just the Average Joe looking for a defense, home protection or plinking piece can ask for.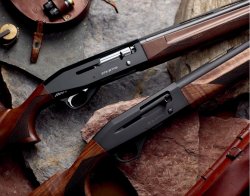 Furthermore, the Turkish arms industry has long established strong collaboration relationships with the European and American gun companies, which leads to the mutual exchanges of projects, patents, ideas, or even semi-finished parts, this resulting in an advantage for all parts. That's the case for the Venza 12-gauge semi-automatic hunting shotgun, launched in grand style by the Turkish ATA Arms company during the 2013 arms trade fairs season, and built with a huge number of Italian-made parts. The ATA Arms Venza shotgun is available in four different frame finished, with special Grade 2 Turkish walnut or black polymer furniture, and with 610, 660, 710 and 760 millimetres-long barrels, all coming with vented ribs and 70mm chokes; the magazine tube holds up to three 12-gauge, 76mm/3" "Magnum" shotshells, which sums up to an overall capacity of four shots, counting an additional round in chamber. The overall weight for all variants of the Venza shotgun ranges around 3 kilograms when empty.

This video has been hidden because of an external service (YouTube) that could potentially collect personal data.Allow video services for the duration of the visitAllow video servicesStop allowing video services
However, the main feature of the Venza shotgun is in its own "heart" − that meaning, its patented gas-impingement working system, dubbed the "Venza System" or GPCS, ("Gas Pressure Control System").

The GPCS/"Venza System" is based upon a number of gas valves, of increasing diameter, located all throughout the gas tube so to dissipate excessive gases easier, even when there's quite a volume of them − e.g., like it could happen when using particularly hot loads. This results in a drastic reduction of recoil and muzzle climb levels from the standards of its most direct competitors. 
ATA Arms' Venza shotguns are already in distribution in Turkey through the ATA Arms network of local retailers; perspective non-European buyers should contact the company to know if the ATA Arms products are available in their respective Countries and who are the local distributors, to which all requests concerning availability and pricing for the Venza should be asked.