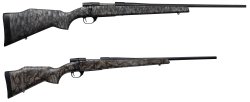 Headquartered in the town of Paso Robles, California, Weatherby Inc. is one of America's best known manufacturers of hunting and "multi-purpose" rifles and shotguns, conceived and built to perform greatly right out of the box for either hunting, sports shooting, or service/duty/tactical purposes for Police or private security personnel. Taking advantage from decades of experience, Weatherby is perfectly aware of how the sense of aesthetics will change as generations of shooters and hunters pass by, and that's why, with the new-for-2013 WBY-X line, the company decided to definitely push on the modernity pedal, modifying the look of the tried-and-true Vanguard rifles and carbines to appeal the newest, "coolest" tastes of the new generation of younger sportsmen.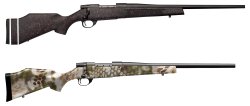 The new Black Reaper and Hog Reaper rifles represent the perfect example of that: featuring Weatherby's own Vanguard action, and either 24" or 20" cold-hammer forged barrels respectively, they both feature a Montecarlo-style lightweight composite stock with the skull-ish Proveil "Reaper" camo pattern. Featuring a four-shots or five-shots internal magazine, the "Black Reaper" and "Hog Reaper" rifles from the Weatherby WBY-X Vanguard line come with a match quality, two-stage trigger that's "creep free" and aadjustable down to 2.5 lbs, a matte bead blasted blued finish, and are available in something like thirteen different calibers, carefully selected between the most popular chamberings within hunters and sports shooters. Much like all Weatherby's "Vanguard" rifles, they guarantee sub-MOA accuracy right out of the box.


The GH2 and Kryptek TR rifles are quite similar to the "Reaper" rifles as far as it concerns technical specs, although they vary considerably when it comes to other specifics. The GH2 is available in five different calibers and comes with a black stock accented by a pink "Girls Hunt 2" spiderweb pattern, a 20-inches barrel and a factory-issued, removable rubber spacer to be installed to, or removed from, the stock so to adjust the length of pull and fit even the smallest shooters. On the other hand, the "Kryptek TR" version, named after the Kryptek "Highlander" camo finish featured on its stock − different colors available − is chambered for either .223-Remington or .308-Calibers, comes with a 22-inches, #3 heavy barrel, and is conceived as a "Threat Response" rifle, that meaning it's fit right out of the box for both marksmanship competition, Police patrol or other tactical applications.
This video has been hidden because of an external service (YouTube) that could potentially collect personal data.Allow video services for the duration of the visitAllow video servicesStop allowing video services
Last, but not least, the Whitetail Bonz and Whitetail Bonz Youth represent a new twist of your average mountain deer rifle. Eight different chamberings are available for these two rifles, both coming with a "Next Bonz" camo finish on the lightweight composite stock. The standard "Whitetail Bonz" rifle comes equipped with a 24-inch barrel, while the "Youth" variant sports a 20-inches barrel and a spacer to adjust length of pull.
Weatherby's WBY-X Vanguard series of rifles was first showcased at the 2013 SHOT Show in Las Vegas (NV) last January, and are now available in the United States through retailers, at a MSRP of 749.00US$ for all variants. Foreign (non-US) perspective buyers should inquire for availability and pricing through their local retailers or authorized national dealer for Weatherby. The company maintains a list of international dealers on its website.