Headquartered in the region of South Tyrol, the Bignami company is the sole Italian importer − and one of the very few European distributors − of the line of modern sporting rifles manufactured in the United States by Troy Industries. At the 2016 edition of the HIT Show, at the Vicenza fair grounds, the company showcased three new AR variants from the Troy Industries line, specifically conceived for practical and tactical shooting competitions.
The Troy Conqueror 3-Gun 18" .223 Remington semi-automatic rifle, sporting a 18" long barrel with a 1:7" twist rate and a prominent flash hider, weighs barely 2810 grams with a full magazine and features a full-length top MIL-STD-1913 "Picatinny" rail, a standard M4-type collapsible stock, a Troy ventilated free-float handguard, and an overall superior ergonomic design. The retail price for Europe has been set at €3.136,00.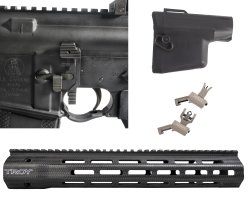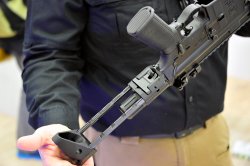 The .223/5,56mm caliber Troy CQB SPC-A3 semi-automatic rifle is pretty much akin to the above-mentioned model, but offers distinctive features such as a different handguard design, a Troy Lightweight BattleAx stock and a CQB-oriented 406mm-long barrel. The retail price for Europe is set at €1.400,00.
Last, but not least, the 7,62x51mm/.308 Winchester caliber Troy VTAC 7,62 − a joint development of Troy Industries and Viking Tactics − is an AR-10 derivative sporting Troy's BattleAx-line collapsing stock and pistol grip, an octagon-shaped lightweight aluminum alloy railed slide, a full-length Picatinny rail and 45-degrees offset folding backup sights. The black version of the Troy VTAC 7,62 is sold at €4.100,00 in Europe, while the desert tan variant goes for €4,357.00.
Additionally, the Bignami company distributes the entire line of Troy Industries' aftermarket accessories line − including the M-LOK handguards for AR-10 and AR-15 derivative modern sporting rifles, in 13" or 15" and black or desert tan variants; the Troy BattleAX CQB stock; components such as the Troy gas block, hold-open release and magazine release catch buttons; and Troy's own 45-degrees offset flip-up front and rear sights, also available in black or desert tan variants.