Established in 1942 as a part of the Canadian Forces, the Canadian Rangers are now over 5000 men (and women) strong, stationed in about 200 often remote communities in the northern Provinces of Canada. Their duty is to patrol the arctic regions of the north American giant, safeguarding national sovereignty over those vast lands and keeping them safe.
Despite being one of the prides of Canada, and playing such a strategically significant role, the Canadian Rangers are still issued with old .303 British Lee-Enfield SMLE bolt-action service rifles manufactured during World War II in Canada by the Long Branch Arsenals: most are No.4 Mk.I* models, but some rare E.A.L. model are also spotted here and there in Canadian Rangers stations.

Canadian Rangers currently carry their service rifles mostly for protection against polar bears, but that's not the main reason why they retained a bolt-action design for so long: well 70 years after the foundation of the Canadian Rangers, no semi-automatic or select-fire/full-automatic rifle or carbine design ever managed to offer the reliability levels deemed necessary or sufficient to be carried by some of Canada's most hardened men and women to keep them safe while they patrol some of the most unforgiving lands on planet Earth, all year long.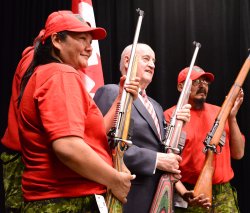 Lee-Enfield rifles have however felt long in the tooth for years now, and with spare parts and other servicing supplies necessary to keep them working getting scarcer day by day, the news that the selection process for a replacement may be coming to an end are certainly welcome.
The NCRR design ("New Canadian Rangers Rifle"), also known as the C14 rifle, will be a variant of the bolt-action T3 Compact Tactical Rifle manufactured by TIKKA − a brand operated by the Finnish SAKO company, itself a Beretta Holding firm − which will be however manufactured locally under license by Colt Canada.
Formerly known as DIEMACO, the Colt Canada Corporation is headquartered in Kitchener (Ontario), and is known for manufacturing some of the world's highest-quality M16 rifle and M4 carbine variants for military and law enforcement purposes. Colt Canada C7 (M16 rifle) and C8 (M4 carbine) variants are currently used by the Canadian, Dutch and Danish Armed Forces, and are also the weapons of Choice for the United Kingdom Special Forces community − including the legendary 22nd Special Air Service regiment.

The first 125 samples were manufactured entirely in Finland by Tikka and already imported in Canada; Canadian Rangers will test the rifles in the harsh and challenging arctic climate during the "Operation Nanook '15" exercise, and provide feedback. Colt Canada will later manufacture up to 6,500 C14 rifles.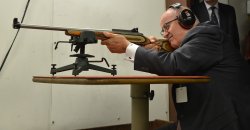 The new Canadian Rangers' C14 bolt-action service rifle is chambered for the 7,62x51mm (a.k.a. .308 Winchester) caliber, and feeds through detachable 10-rounds magazines. The original black polymer stock of the Tikka T3 CTR rifle will be replaced by a laminated stock in aunique orange/red colour with a green Canadian Rangers crest on the buttstock.
Laminate wood is deemed less prone to suffer from deformation in the shifting arctic climate: the C14 bolt-action service rifles will be used in temperatures that can be as high as +39°C with moderate to high humidity along coastal and forested regions, particularly during summer, and as low as ‐51°C in arctic regions. Canadian Rangers located in coastal areas would likely also see their NCRR C14 rifles exposed to long-term, salt-laden air and water.

Also, the vivid reddish-orange-greenish stock of the C14 rifle will be easier to spot by rescue parties should a Canadian Ranger get lost in the whiteout.

Colt Canada Corporation will manufacture the Tikka barrels, actions, and frames under license; the C14 rifles will sport a heavier profile barrel, and the two-stage trigger also sports a three-positions safety. Other features of the C14 NCRR include larger bolt handle and enlarged trigger guard to accommodate gloved hands, and protected front and rear iron sights.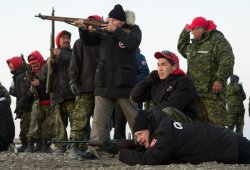 Office of the Prime Minister of Canada
All C14 rifles will be issued in a Pelican hard transport case with Ranger Crest and custom-molded internal foam padding; the issued cleaning kit, sling and soft transport case will be supplied by Rampart International, out of Ottawa; another Canadian company (The Old Co‐Op, from North Gower, Ontario) will supply the trigger locks.
The license-manufacture of the Canadian Rangers' C14 rifles will kick off at the Colt Canada plant halfway through 2016 and will end in late 2018; the overall worth of the entire contract is not yet known, but the contract awarded to Tikka for the delivery of the first 125 totally Finnish-made test samples was worth 1,5 million Canadian Dollars (more or less 997.000 Euro, or 1.138.000 U.S. dollars). In the turn of the next three years or so, all Lee-Enfield rifles still issued to the Canadian Rangers will be replaced with the new C14 NCRR and phased out.
What broke the heart of everybody at all4shooters.com − and indeed the hearts of countless gun enthusiasts, shooters, and collectors worldwide − was the Canadian Government's announcement that the retired Lee-Enfield samples will not be sold on the civilian surplus market but rather be sent to scrap...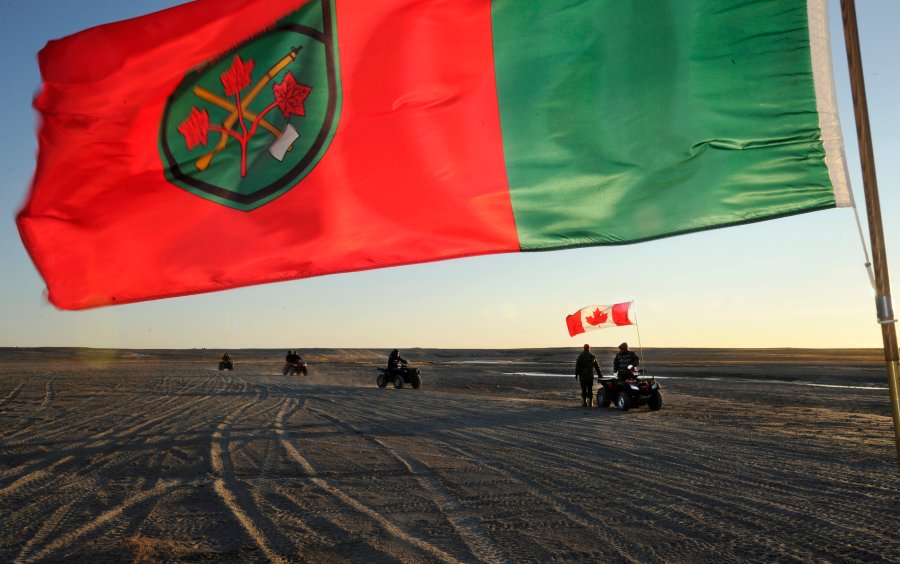 Sgt. Alain Martineau / DND-MDN Canada