SHOT Show 2022 is over – our team on site told you about all the new products presented at the Las Vegas event. But our notebooks are still full of notes and with this ranking we want to propose you all together the most interesting – or most original – long guns among those seen at the show, adding some models that for lack of space we could not introduce before. Enjoy!
Cadex Defense CDX-R7: tactical or hunting rifle

Cadex Defense is a Canadian company based in Quebec that has been producing and developing prototypes of firearms and accessories for over fifteen years. Among the rifles on display at the Las Vegas show were both tactical and hunting models. Let's start with the CDX-R7 CPS, a compact rifle for tactical and sporting uses chambered in .30 Winchester and 6.5 Creedmoor, with a 16.5"/420 mm barrel. The CDX-R7 is designed to be used by snipers in an urban environment and in its design the emphasis has been placed on concealability and discretion during transport. Therefore, the skeleton buttstock can be detached from the gun at the push of a button, but offers the shooter full adjustment options. The action is proprietary and features an aluminum receiver, a 416 stainless steel bolt with helical grooves and a cylinder or pear-shaped cocking handle. Special care is given to the Cadex DX2 Evo two-stage trigger group, which can be quickly converted to a single-stage trigger by its operator. Trigger pull weight can be easily adjusted between 680 and 1130 grams. The lower part of the chassis stock can be replaced with different variations so that the rifle can be fed with different types of box magazines. The finish of the metal parts is Cerakote, available in a wide range of shades and combinations.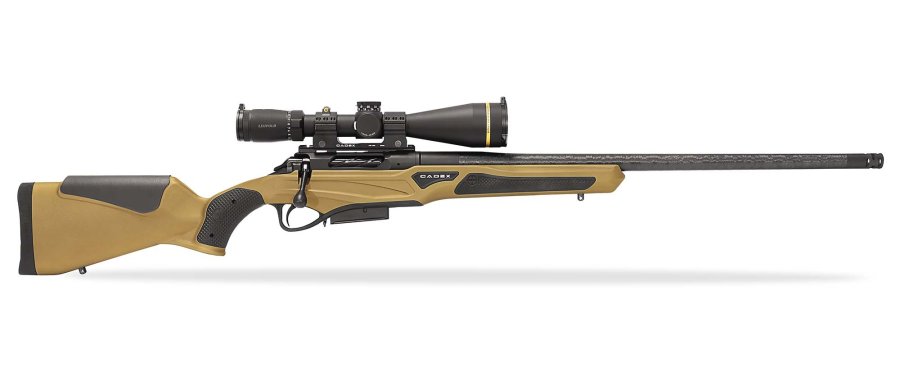 Cadex Defense also manufactures hunting guns with a very original look and we want to make an exception by presenting you two firearms from the same manufacturer. The CDX-R7-CRBN is a rifle where design priority was given to handling and balance rather than lightness at all costs. The result is a gun weighing 3719 grams that can handle powerful calibers without putting too much stress on the shooter's shoulder. Built on the same CDX-R7 action, it features a carbon fiber coated stainless steel barrel manufactured by Proof Research that is 51 or 61 centimeters long (depending on caliber) and fitted with a proprietary muzzle brake. The adjustable trigger group is also the same as the tactical version. The synthetic stock with adjustable cheek rest is available in a wide variety of colors, from black to tan, from high-visibility orange to "stormtrooper" white. The rifle is also available in a CDX-R7 SPTR version featuring a standard steel barrel with sporter profile. Available calibers range from 6.5 Creedmoor to .338 Lapua Magnum.

Springfield Hellion cal. .223 Remington

The Springfield Hellion is a semiautomatic rifle that is derived from the Croatian HS Produkt VHS-2 assault rifle. Springfield Armory, which has been successfully distributing the guns of the Croatian company in the USA for years under the brand name "XD", now offers the semi-automatic version renamed Hellion and chambered in .223 Remington, the commercial denomination of the 5.56x45 mm NATO. It is a gun in bull-pup configuration with a 16"/406 mm barrel that weighs approximately 3,630 grams unloaded and reaches an overall length of 71.7 to 75.5 cm, depending on the position of the stock that is adjustable in length, with five fixed positions. The gun is gas-operated with a two-position adjustable short-stroke piston so as to ensure operation even when a suppressor is fitted. The charging handle is non-reciprocating and ambidextrous. The Picatinny rail on the top of the action allows the mounting of any type of iron or optical sights. The handguard has M-Lok slots that further extends the accessibility of this modern and ergonomic firearm. The Springfield Hellion is fed by Magpul PMAG Gen M3 30-round double-stack magazines. The Springfield Hellion is offered in the U.S. at $199, approximately €1,700.
Browning X-Bolt Hellion Max Long Range OVIX


The interminable name of this Browning rifle actually reveals almost all of its technical specifications. It is in fact a bolt-action made on the tested X-Bolt action, specifically set up for long range shooting. Among its features we find the thick steel receiver, the Match type fluted barrel finished in bronze colored Cerakote with removable Hawg muzzle brake, oversized charging handle, stock with adjustable MAX cheek rest with OVIX proprietary camouflage, vertical pistol grip and recoil pad with removable spacers. The Browning X-Bolt Hell's Canyon Max Long Range OVIX is available in 6.5 Creedmoor, 6.5 PRC, 6.8 Western, 7 Rem. Mag, .280 Ackley Improved, 28 Nosler, .300 Win. Magg, .300 PRC and .300 Rem. UM with a 26-inch (66-cm) barrel. The price in the U.S. is $1539 (about 1370 euros).

Pedersoli Boarbuster Shadow in .45/70 caliber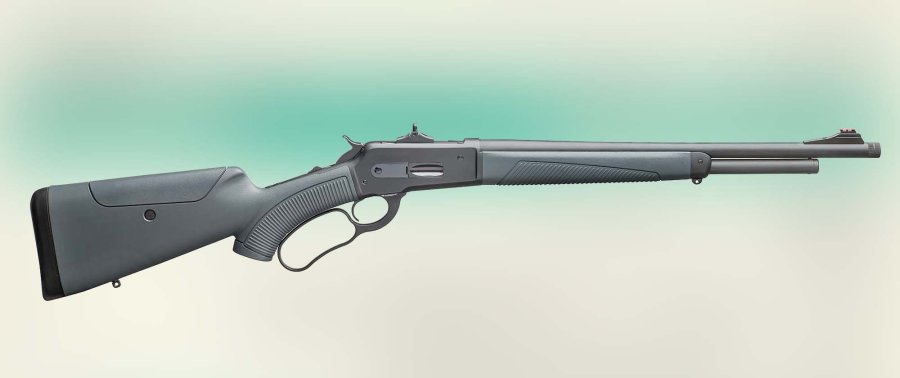 The Boarbuster family expands with some new models including the Shadow, which features a newly designed stock optimized for the use of optics. Made of polymer, the stock of the Shadow has a 1 centimeter raised comb and a cheek rest that is height and side adjustable. The pistol grip has also been modified by making it slightly less pronounced, so as to allow a more fluid and natural movement of the arm when loading. The design of the cocking handle itself has also been improved in order to enhance its ergonomics and ease of operation. Finally, the fore-end has been slightly oversized to provide a firmer grip on the rifle even when wearing winter gloves. 
On the left side of the steel receiver there are two drilled and tapped holes for the mounting of a Picatinny rail developed by Pedersoli, which allows to mount optics in an off-set position. In this way the spent cartridge case does not interfere with the scope during ejection. For those who prefer iron sights, the Boarbuster Shadow offers a height- and drift-adjustable sight that can be mounted directly on the receiver. The ramped front sight has a high-visibility fiber optic insert. The Pedersoli Boarbuster Shadow costs 1544 euros.
M+M M10X International Defense Rifle in caliber 7,62x39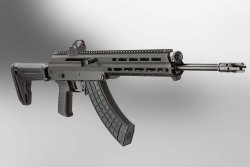 You could define this "black rifle" as the perfect hybrid between the AK47 (Kalashnikov) platform and an AR-15. In fact, it presents the main features of both the most iconic assault rifles, with an extreme simplification that increases its reliability. Manufactured by the American M+M the M10X is a semi-automatic rifle in 7.62x39 caliber (caliber chosen for its widespread availability) and is fed by AK-47 compatible magazines. Its designer Michael Meier wanted to work on simplicity and the MX10 has about half the parts of a similar gun while ensuring maximum reliability. The system is gas-operated with a long-stroke piston and rotating bolt. The design combines AK-47 features, with the characteristic action cover in stamped sheet metal replaced here by an aluminum upper, and AR-15 features, with upper and lower receivers hinged at the front. Retail price in the U.S. is about $ 1850 (1620 euros).
Derya MK-12 LH for left-handed shooters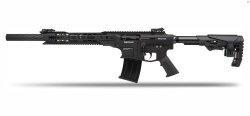 The market offer of long guns specifically designed for left-handed shooters is getting richer and richer, and now it is not only about bolt-action rifles. Tthe Turkish company Derya has in fact included in its wide catalog a left-handed version of its MK-12 semiautomatic shotgun, a gun with an extremely "tacticool" look designed for Dynamic Shooting competitions but also for defensive use. The main feature of this semi-automatic in 12 gauge Magnum is the feeding provided by a box magazine that can have a capacity of 2+1, 5+1 or 10+1 cartridges. The advantage offered by the box magazine is that it allows you to switch between lethal and non-lethal ammunition very quickly.
The gas-operated rifle has a 50-centimeter barrel and a pistol grip stock in perfect AR-15 style with telescoping buttstock, adjustable cheek rest, upper and lower Picatinny rail to mount anything on this southpaw shotgun. Even the safety lever replicates the shape and position of the AR-15's. In addition, the charging handle and especially the ejection port are located on the left side of the gun, making it ideal for the left-handed shooter.
Mossberg 940 Pro Turkey, typical american semiautomatic

In 2020, Mossberg introduced to the market the 940 Pro family of semi-automatic shotguns in 12 gauge, the most sophisticated model of which is the 940 JM Pro optimized for dynamic shooting competitions by shooting champion and record holder Jerry Miculek. At the 2022 SHOT Show, the range was expanded by two 940 Pro Turkey models intended for turkey hunting. These optic-ready models are available with 18.5"/47 cm or 24"/61 cm barrel lengths; they share the HIVIZ CompSight fiber-optic sight for rapid target acquisition, the Mossberg X-Factor choke for dense patterns even at long distances, and Mossy Oak Greenleaf photo camouflage for the ultimate in camouflage. 
The 940 Pro's internal components (gas piston, magazine tube, hammer and sear) are nickel-boron coated, and the plunger is hard-anodized aluminum. After all, these 940 autoloaders are designed to perform reliably in the harshest conditions. 
At the heart of the 940 Pro platform is a gas system with which 1,500 rounds can be fired before the gun needs to be cleaned. Performance-oriented features include an enlarged, beveled loading port with redesigned elevator that ensures efficient, jam-free feeding. Length of pull can be adjusted from 33 to 37 cm. An oversized charging handle and bolt release complete the package.
Armscor VRF14 12 ga semi-auto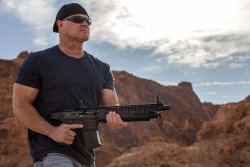 John Linn - Adventure Studios 20, © John Linn - Adventure Studios 2020
The Armscor VRF 14 is a compact 12-gauge semi-automatic shotgun designed primarily for home defense. Thanks to the pistol grip and the 14"/36 cm barrel it is only 26"/66 cm long and therefore particularly suitable for use in confined spaces and from inside vehicles. The rear attachment for a tactical sling further increases the operational carrying possibilities. This aggressive shotgun features a set of flip-up sights on the long Picatinny rail that runs along its entire top and on which other red dot sights can be mounted in co-witness. Other rails of different lengths are present on the sides and bottom of the polymer handguard. The receiver is made of 7075 aluminum and the weight of the unloaded gun is about 6.6 lb/3 kg. The Armscor VRF14 comes standard with a 5+1 round box magazine, and can employ the 9- and 19-round magazines of Armascor's other VR series shotguns.
WDM Guns Ambi Beast

It's hard to decide which model to choose from the countless variations of the AR-15 presented at the SHOT Show by large, small and very small companies. We propose this "Ambi Beast" manufactures by WDM Guns with a very special antique finish that hides the company's specialty, the proprietary NiB-X nickel-boron coating that provides unmatched resistance to corrosion and weathering. It also ensures exceptional smoothness of moving parts, even in the presence of sludge and gunshot residue, resulting in above-average reliability. Most of the elements that make up the bolt assembly are military or Mil-Spec. Chambered in .223 Remington, the Ambi Beast owes its eerie name to the fact that it features ambidextrous controls; other features include a 7075 aluminum receiver, 16-inch (42 cm) long cold-hammer forged steel barrel, M-Lok slots on the handguard with NiBX finish, and 6-position adjustable buttstock. Trigger is two-stage with a pull weight of 1,100 grams. The WDM Guns Ambi Beast is not particularly expensive: in the U.S. it costs $1350, about 1200 euros.