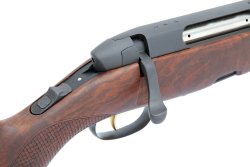 This June 25th, at the Mannlicher Europe Shooting Center in Wiener Neustadt/Austria, Steyr Mannlicher presented the new SM 12 bolt action hunting rifle.
The main features of the new SM 12 rifle can be summarized by Precision, Safety and Tradition.
Precision, because Steyr Mannlicher barrels always have been a synonym for accuracy, however, the new optimized barrel profile (O.B.P.) will exceed the previously set standards. Like all Steyr Mannlicher barrels the SM 12 barrels are cold hammer forged, featuring the distinctive forging marks on the outer contour.
The dimensions have changed; while the barrel length has been marginally reduced (from 600 to 560 resp. from 650 to 635 mm on magnum calibers) for comfort and balance, the so gained weight reduction was used to design a slightly thicker barrel (16,5 mm at the muzzle) resulting in enhanced barrel performance. The barrel is completed with a match crowned muzzle that usually can be found on competition rifles.

Safety, because of the new H.C.S. (hand cocking system) an engineering masterpiece.
Pushing the cocking slide forward on the SM12 will cock the system; a red dot appears on the tang and the rear end of the firing pin will protrude from the bolt cap – indicating visually and tangibly ( in the dark ) that the rifle is ready to fire.
Both operations are smooth, noiseless and very comfortable.
Applying a slight pressure to the ergonomically positioned decocking button will smoothly and noiseless decock the firing pin.
The newly designed adjustable and ultra crisp combi trigger will impress also those who prefer not to use the set trigger option but like direct triggers. Of course also the set trigger is adjustable to the customer's needs and preference.
Following Steyr Mannlicher's "Safety first" philosophy, when the H.C.S. is decocked also the set trigger will be decocked automatically.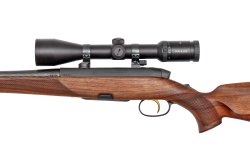 Tradition, because every hunter demands a slim, elegant and well balanced rifle. A concept well embodied by the Steyr Mannlicher SM 12. The rifle features a new stock design with an elegant checkering and Bavarian cheek piece with double flame, a feature of very expensive custom made rifles; plus, the new designed slim line housing make it one of the most elegant rifles produces by Steyr Mannlicher.
The stock profile was redesigned and optimized for shooting with scopes and red dot-sights.
All these design features – optimized barrel profile and slim line receiver – make the Steyr Mannlicher SM 12 an extremely well balanced bolt action rifle, suitable for all hunting and sporting scenarios.
The fact that the rifle will perform equally well both in the hunting fields and the target shooting range inspired the manufacturer to create a new definition for the SM12: The "Crossover rifle".
The Steyr Mannlicher SM 12 is available in the following calibers:
Standard: .243 Win., 6,5x55SE, .270 Win., 7x64, 7mm-08 Rem., .308 Win., .30-06 Spr., 8x57JS, 9.3x62.
Magnum caliber: 7mm-Rem. Mag., .300 Win. Mag., 8x68S, .300 Weatherby Magnum.
---
For further information

Steyr Mannlicher GmbH

Ramingtal 46
4442 Kleinraming
Austria
http://facebook.com/steyrmannlicher
http://www.steyr-mannlicher.com