Article also available in other languages
The SIG Sauer group − composed of the German-based SIG Sauer GmbH & Co., of the Swiss-based SAN - Swiss Arms A.G. and of the north-American SIG Sauer Inc. subsidiary − is today one of the major players in the global arms industry. Extremely active on the civilian, military and law enforcement markets, the SIG Sauer name has longtime established itself as a synonymous for extreme quality levels and hellbent reliability in both handguns and rifles manufacture.

Particularly, SIG and SIG Sauer semi-automatic pistols are used today by hundreds of military forces and Police units throughout the world, as well as by countless sports shooters, private security operators and simple gun owners who rely on them for top-level competitions, to ensure the safety of others, or to protect themselves, their loved ones, and their most valuable assets.
SIG Sauer's tradition with rifles comes a long way, but today the brand is mostly known for its extensive line of sporting and tactical rifles based upon the quintessentially American AR-15 design and upon the Company's own SIG-540/SIG-550 technical layout, itself highly regarded by the international community of professional operators as one of the world's finest individual weapons.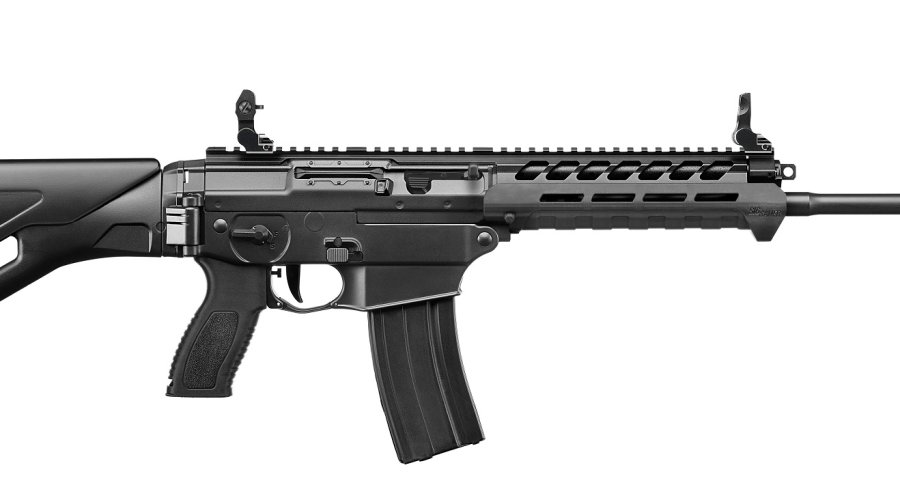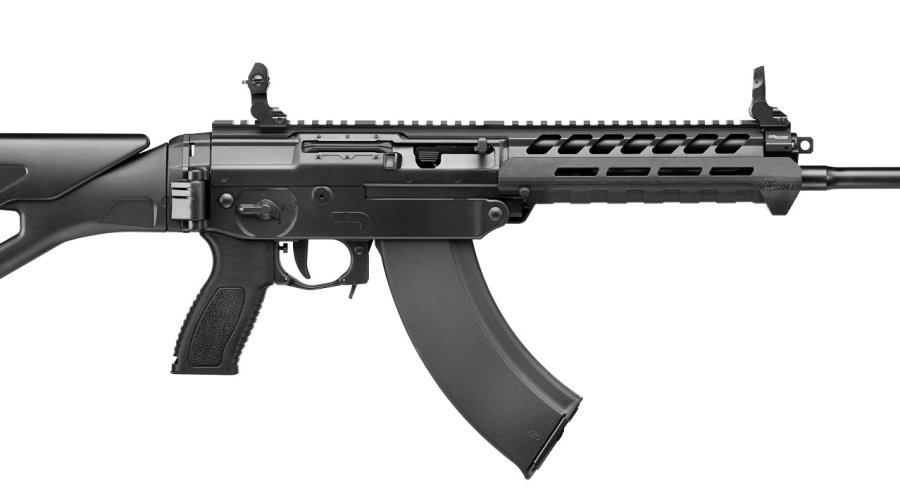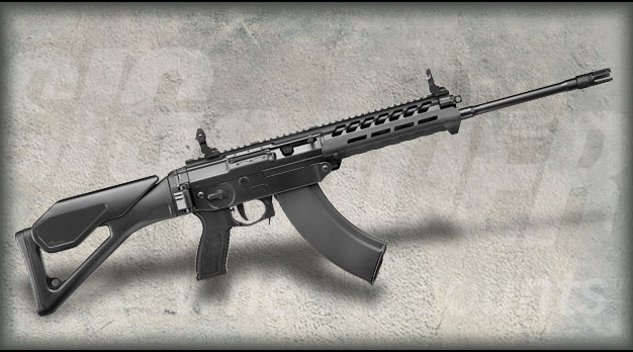 This layout is the grounds from which SIG Sauer developed one of its latest, most important new products for 2014 − this being, the SIG556xi rifle platform.

As its own name states, the SIG556xi represent an evolution of the SIG SG-550 design, and particularly of the SIG-556 variant which has been manufactured and distributed by the north-American SIG Sauer Inc. branch for some years now. The enhancement and redesign operations have however been aimed at boosting modularity and versatility features of an already tried-and-true, reliable system.
Much like all its SIG SG-series predecessors, the SIG Sauer SIG556xi system is based upon an upper receiver and a lower receiver, both manufactured out of machined, blued stainless steel, treated to military specs. However, the upper receiver is the only common element in all variants, and is the serialized component of the design, which not only makes modularity easier − the unserialized lower receiver will be a free-to-purchase component in many Countries − but also allows legal modifications by civilian owners as long as nothing other than the furniture is touched on the upper.
The lower receiver is available in a plethora of variants, all compatible with the single upper receiver design, and it's one of the components allowing caliber conversion.
The SIG556xi platform is based upon SIG's own, well-established working system: a modified, refined, precision-manufactured Kalashnikov-style long-stroke piston with a three-positions gas regulator located right over the barrel to allow total reliability with any kind of ammunition − even low-power loads, or ammunition of unknown origin or quality − and to provide excellent performances for silencers or sound suppressors without gas leakages or other technical issues. The rotating bolt can be disengaged from the bolt carrier, and is the second component to be replaced when a SIG556xi rifle or SBR is being converted from its native caliber to another.
The third interchangeable component is the cold-hammer forged, chrome-moly, precision-rifled barrel. Standard barrel lenght for select-fire and civilian-grade versions of the SIG556xi platform is 16 inches, but a 10-inches barrel SBR will also be available; 10-inches and 14,5-inches barrels will also be sold as replacements.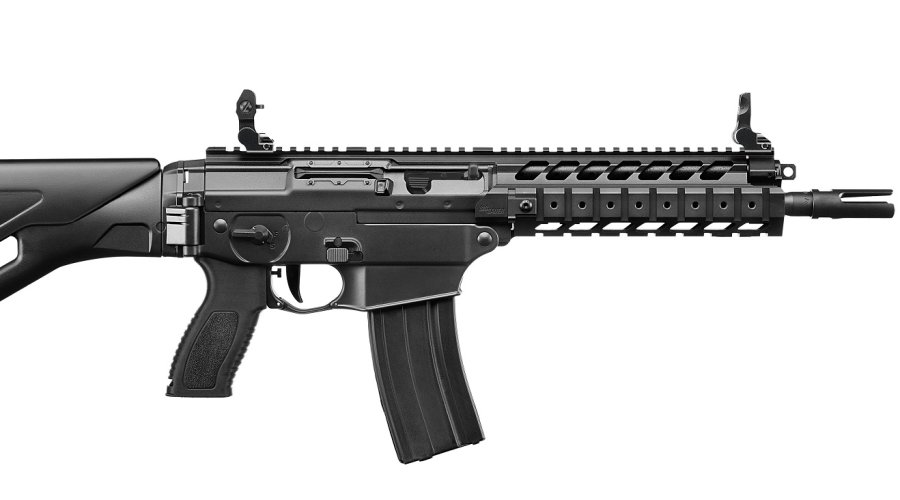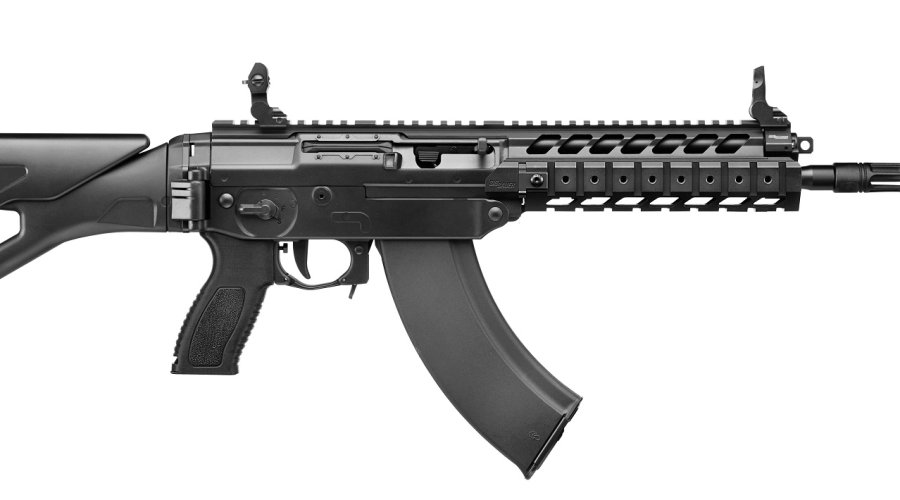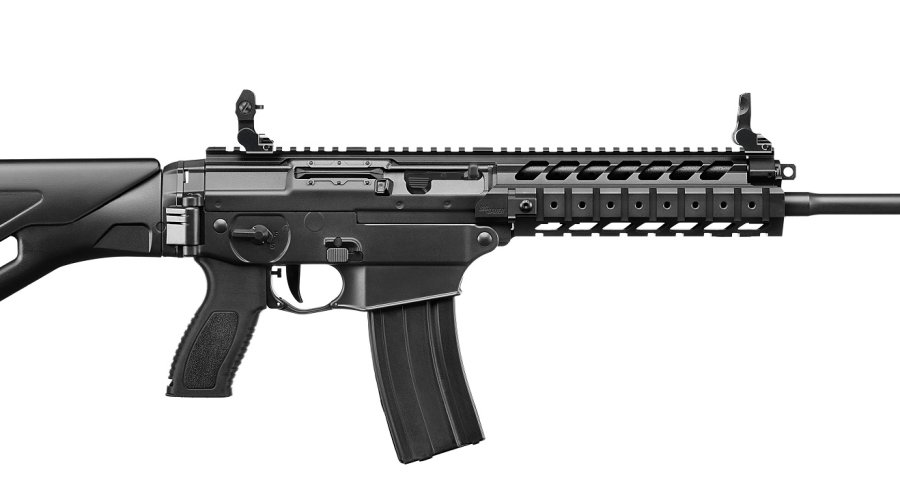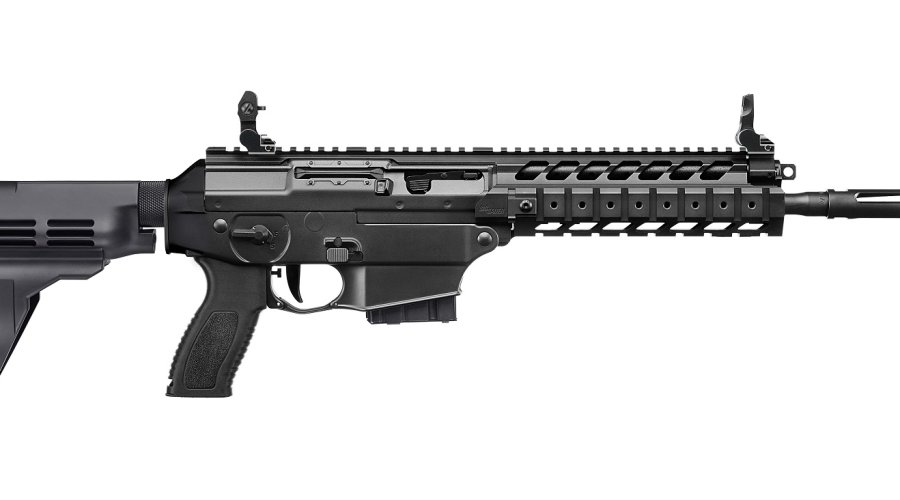 The replacement of the lower receiver will allow the use of 5.56x45mm (.223 Remington), 7.62x39mm or .300 AAC "Blackout" ammunition; for all calibers, lower receivers with a STANAG 4179 magwell are available, allowing the use of drop-free AR-15 type magazines. However, lower receivers for the 7.62x39mm caliber are also available that will allow the use of AK/AKM type commercial or military magazines of any make or material. 7.62x39mm-caliber SIG556xi variants coming from factory with said lower receivers are known as the "SIG556xi Russian".
The capability to use 7.62x39mm ammunition and AK/AKM magazines at the same time will provide a great option for those military or Police organizations looking forward to modernize their arsenals while retaining the capability to use old ammo and magazine stocks, and will also turn in handy for non-conventional warfare operators (a.k.a. Special forces) that may need to use enemy captured ammunition and mags alike.
The SIG556xi is a totally ambidextrous platform: STANAG magwell models feature a drop-free mag release button located on both sides, while AK/AKM magwell models use a standard paddle release lever. The fire selector − dubbing as a simple safety switch on civilian-grade models − is also ambidextrous, while the cocking handle can be reversed to left-hand or right-hand operation.
Most of the furniture is also interchangeable. The SIG556xi rifles come from factory with a Swiss-style, synthetic sidefolding stock equipped with a removable polymer cheek riser, but a series of optional receiver end plates allow the use of tubular, M1913 mount stocks or fixed or telescoping AR-15 stocks.
A full-lenght, machined aluminium MIL-STD-1913 "Picatinny" rail is located on top of the upper receiver; it includes two flip-up, adjustable iron sights, and will easily take most military or commercial optical or electro-optical gunsights. Handguards are also available in polymer, carbon-fiber or hard-anodized machined aluminium versions; the polymer handguard will accept all MagPul light and rail kits, while carbon-fiber and aluminium handguards will take 2", 5" or 6" Picatinny rails at 3-o'clock, 6-o'clock and 9-o'clock positions for quick accessory compatibility.
A redesigned trigger group will allow military and Police customers to quickly convert their SIG556xi rifles from select-fire to semi-automatic only capabilities, depending from the current needs or the rules of the Force they're issued to. Civilian-grade SIG556xi rifles will instead come with their own upper and lower receivers − not compatible with military-grade parts that may allow conversion to select-fire or full-automatic operation − and will not accept working parts, such as the trigger packs, of the military models.

The 10-inch, full-auto SBR models will also have a civilian counterpart: dubbed the P556xi, it's going to be a large-frame, stockless pistol − which will however be compatible with the Company's own SIG SB-15 stabilizing brace,  not a stock but a stabilizing accessory that will attach to the shooter's forearm to improve stability and accuracy.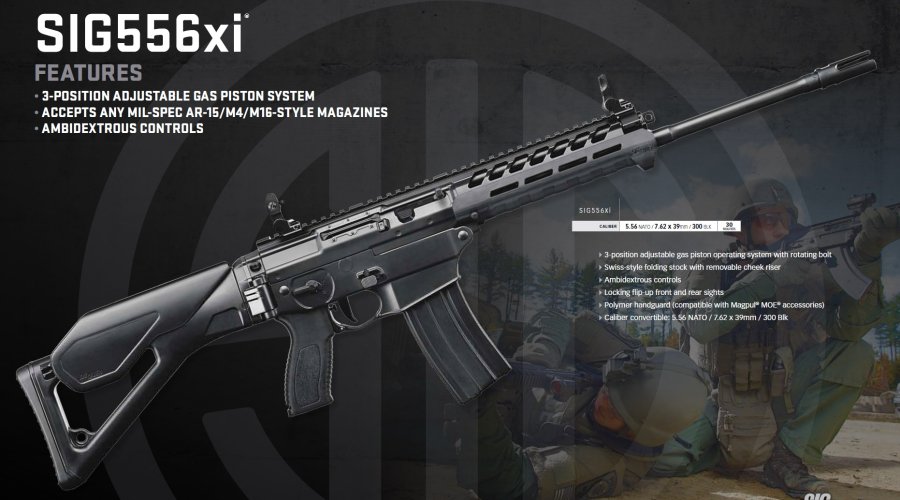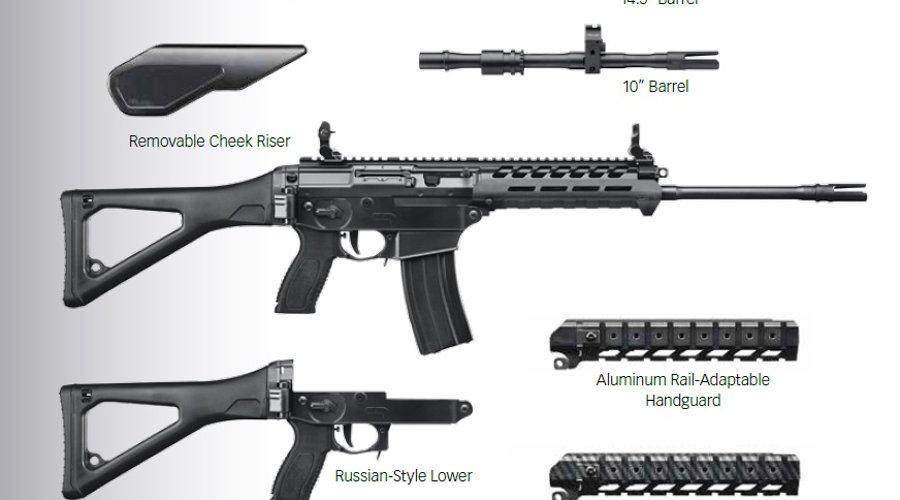 This video has been hidden because of an external service (YouTube) that could potentially collect personal data.Allow video services for the duration of the visitAllow video servicesStop allowing video services
Conceived to meet the needs of military operators, Police officers, competitive sports shooters, battue hunters, and simple gun aficionados, the SIG556xi rifle will be available in the weeks and months to come on the U.S. civilian market at a manufacturer's suggested retail price that's well below the 2000.00US$ threshold − a more than acceptable price, considering what modern sporting rifles are going for nowadays.
Police and military forces will instead need to contact SIG Sauer directly to inquire about availability of select-fire SIG556xi variants.
As far as it concerns non-American civilian customers, they'll need to be patient: all4shooters.com field editors at the 2014 edition of the IWA expo − held in March at the Nuremberg Exhibition Center, in Germany − were told by SIG Sauer representatives that the SIG556xi won't be available commercially outside of the United States at least until early 2015.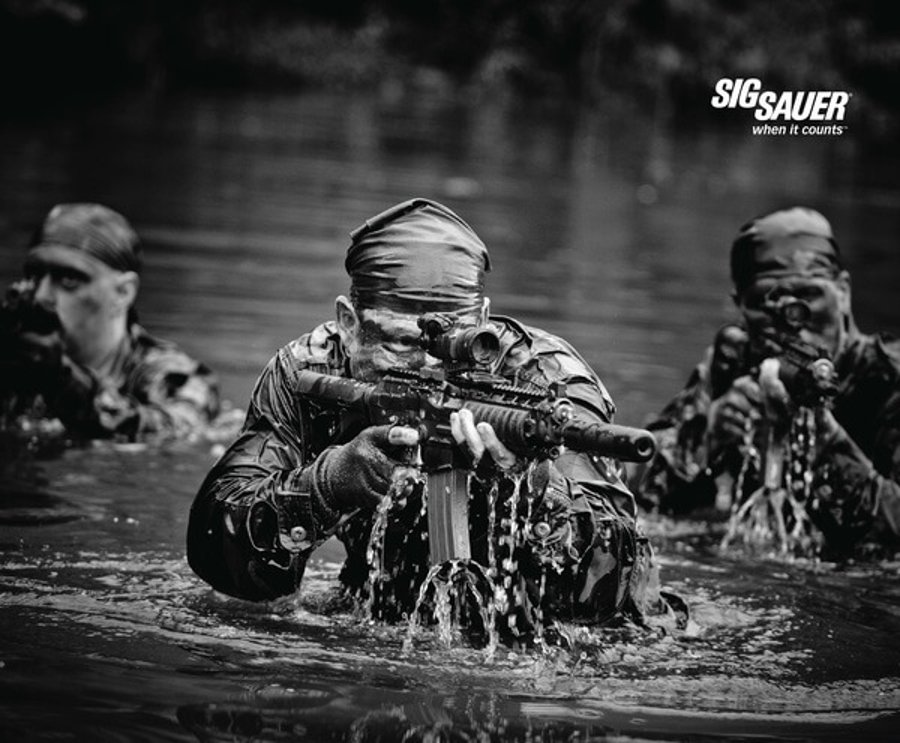 ---