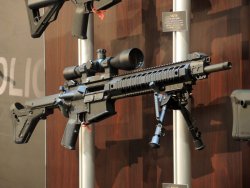 Based off of the SIG716 semiautomatic rifle, the new SIG716 Precision Marksman features an 18" match-grade heavy barrel, extended free-floating, Picatinny standard railed handguard, and a two-stage Geissele match trigger. The rifle also  features a Magpul UBR adjustable stock and MIAD pistol grip with replaceable backstraps, which allows the shooter to customize the fit of the rifle to his or her body.
The end result is a 7.62x51mm NATO rifle that combines excellent accuracy with renowed SIG SAUER's reliability.
The SIG716 is set up to accept the popular and rugged Magpul Pmag with a capacity of 20 rounds, but will work with any SR-25 compatible magazine.
The heavy, match grade 18" barrel features six RH grooves with a 1 in 10 twist for optimal stability with heavier 168-175 grain bullets.

The 716 PRM employs an advanced and adjustable short-stroke pushrod gas system, which can be  set in any one of four-positions, including one for adverse conditions, a reduced setting for use with a sound suppressor and a complete gas shutoff for maximum suppression.

The Geissele match trigger is two-stage and breaks at a crisp 5.5 pounds. A built-in tensioning device removes any accuracy-robbing play between the upper and lower receivers. Ambidextrous controls allow the shooter to operate the rifle with either hand or any grip position. The muzzle is capped and threaded 5/8x24TPI and will accept most muzzle brakes, compensators or suppressor mounts. The rifle includes a set of SIG flip-up iron sights.