Article also available in other languages

The Swiss-German SIG-SAUER GmbH. group, a global leading manufacturer of commercial, law enforcement and military firearms, is not new to the world of military-style, semi-automatic, civilian-grade rifles. Back in the 1960s, the Swiss SIG parent company manufactured some batches of PE-57 and AMT rifles, these being civilian versions of the Stgw-57 battle rifle then in use with the Swiss Army and exported to several customers in southern America, in Africa and in Asia. Later, during the 1970s and the 1980s, SIG licensed to MANURHIN in France the manufacture of civilian versions of the SG-530 and SG-540 assault rifles, and manufactured itself the semi-automatic version of the SG-550 rifle, dubbed the PE-90. In the early 1980s, some restrictions applied to the world's most lucrative market for military-style semi-automatic sporting rifles and carbines − that being, the USA − forcing the SIG group to drastically reduce the production of said items; production that was restarted in full force, with the introduction of several new models, when said restrictions were lifted gradually in 2004. Nowadays, the SIG-Sauer group of companies is owned by the L&O Group − a capital management company − and manufactures a wide line of semi-automatic, military-lookalike sporting rifles and carbines in its facilities in Switzerland and Germany, as well as in their north-American Branch, SIGSAUER Inc., headquartered in Exeter (New Hampshire). Said rifles are highly regarded as top-of-the-line products, and are used by countless civilian shooters worldwide, as well as by a number of Police forces around the world for patrol duties.

Despite having its own line of home-developed rifles (the SG-550 and SG-556), SIG-Sauer also manufactures its own line of AR-15 variants, first introduced in 2011. Dubbed the SIG-516, these high quality rifles are based upon an adjustable, short-stroke pushrod operation system, and are available in a variety of models and upgrades.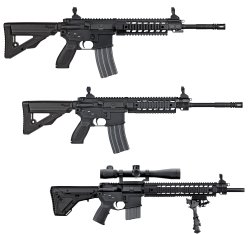 The SIG-516 Patrol Rifle offers SIG-Sauer's typical reliability and accuracy in a size that doesn't require NFA registration in the United States and that isn't restricted in most European Countries. The 16-inches mil-spec M4 profile barrel provides improved ballistics for the 5.56mm NATO round. In addition to the 16-inch patrol rifle previously offered, SIG-Sauer now offers the SIG516 in a variety of barrel lengths and configurations. All SIG516 rifles now come standard with Magpul stocks and pistol grips, and continue to accept MIL-STD magazines, including the latest polymer designs. A free-floating aluminum M1913 quad rail allows users to customize their kit with lights, lasers, grips or any other accessory.
So to speak, the SIG-516 Tactical Patrol carbine features a 14.5" mil-spec M4 profile barrel and is optimal for law enforcement officers who want a carbine-length patrol rifle but still need enhanced maneuverability over standard length carbines. The Tactical Patrol has an overall length of 34" with stock extended and is just 31" inches long with the stock retracted.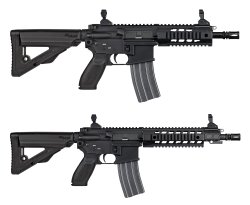 The SIG-516 CQB (Close Quarter Battle) features a 10" heavy barrel and is tailored to the needs of tactical entry teams. Offering a balance of maneuverability and ballistics, the CQB measures 30" with the stock extended and 27" collapsed. This shortened carbine maintains the 14" sight radius similar to standard M4 model AR-type rifles.
The SIG-516 PDW (Personal Defense Weapon) is a select-fire variant that features a 7" heavy barrel. With an overall length of 27" (24" with stock collapsed) the PDW offers law enforcement and military units a reliable firearm that is quick to aim and easy to maneuver in tight quarters. Weighing in at just 6 pounds, the PDW offers an easy-to-control cyclic rate of 750-800 rounds per minute.
The SIG-516 Precision Marksman sports an 18" heavy HBAR barrel and a two-stage match trigger for optimal accuracy. Featuring a fixed Magpul PRS stock and MIAD grip, the Precision Marksman is ideal for squad designated marksmen and law enforcement snipers.
All SIG-516 rifles feature 5.56x45mm-NATO/.223-Remington or 7.62x39mm chrome-lined chambers and bores. An adjustable gas valve allows the advanced operating system to reduce carbon fouling, excessive heat and unburned powder in the action, ensuring reliability and function that is unmatched; plus, they all feature an adjustable gas valve that can be opened to increase gas flow when ammunition or adverse environmental conditions require additional cycling energy. Additionally, gas flow can also be reduced or shut-off for use with suppressors to prevent stoppage or damage to the rifle when in the suppressor mode. Ambidextrous controls and Magpul grips and stocks allow for operator adjustment and fitting to match the rifle perfectly to the shooters profile.
Article also available in other languages