Seekins Precision has just dropped its latest product, the NX3G. Just another AR-15 style rifle? Up to a point: Seekins' rifle has something new to show off. 
First of all, the chambering: the NX3G sports a .223 Wylde chamber, which means that it can fire both .223 Rem and 5.56x45mm ammo without giving up accuracy or worrying about excess pressure. Contrary to what many believe, in fact the two cartridges are not fully interchangeable.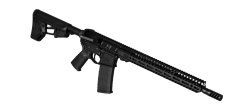 Due to subtle differences in the chamber dimensions and pressures, a .223 cartridge will not perform so well in a 5.56mm rifle. On the contrary, an "hybrid" .223 Wylde chamber will accept both .223 Remington and 5.56×45mm NATO ammunition handling both cartridges with the same accuracy and reliability. 

The Seekins NX3G is a "competition tool" specifically built to meet the fast paced shooting relevant to most 3 Gun stages and other sporting applications, also providing rifle performances above the average tactical carbine. That's because the NX3G comes with a 416-5R 16 in / 406 mm match grade barrel fitted with Seekins' own Advanced Tactical Compensator (ATC) – an effective muzzle brake that allows for a sensible reduction in recoil and muzzle climb. Seekins also claims that each barrel is inspected four times to insure match grade tolerances for maximum accuracy and performance, giving an edge on the competition.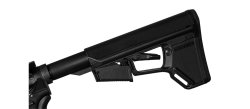 Thanks to skeletonized NOXs (No-Excess) components, the NX3G weighs 7 lbs / 3.1 kg, offering ease of maneuverability and versatility: CNC machined from 7075-T6 billet materials, the rifle features a lightweight, free-floating NOXs handguard, skeletonized NX15 upper and lower, a Magpul ACS-L stock and ambidextrous controls. Price is not too steep, at 1,659 USD.
Seekins Precision NX3G: technical data
| | |
| --- | --- |
| Model: | NX3G |
| Caliber (chamber):  | .223 Wylde (.223 Rem and 5.56x45mm) |
| Barrel length:  | 16 in / 406 mm  |
| Weight:  | 7 lbs / 3.1 kg |
| Price (suggested):  | 1,659 USD  |