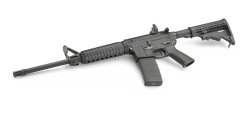 The Ruger AR-556 5,56x45mm/.223 Remington caliber semi-automatic rifle, launched earlier in October at the end of Ruger's later-2014 wave of new products, is perfectly in-line with the international trend of an increasing demand by civilian shooters for modern sporting rifles (those semi-automatic centerfire long guns cosmetically and, partially, technically patterned after modern military-issue weapons, a category which the anti-gun lobby addresses to with the derogatory term of "assault weapons") that would offer reliability, rugged construction, and affordable prices − an important factor, given the ongoing economic crisis whose stranglehold over the United States may be loosening, but remains quite strong in Europe and elsewhere.
Ruger Firearms first entered the AR15-type rifles market in 2009 with the SR-556 semi-automatic rifle, based upon a proprietary two-stage gas piston: an excellent rifle, whose technology contents however keep the price tag on mid-to-high levels; the challenge for the Company was now to create an affordable, superior-technology AR platform whose quality would remain stable and superior to that of many low-price modern sporting rifles available both in Europe and in the United States.

The goal was met by creating a rifle that is both packed with interesting features and purged from anything that would be redundant or otherwise unnecessary.
The Ruger AR-556 rifle sports a standard AR-type glass-filled Nylon handguard held in place by a patent pending designed Delta Ring, which is easier to loosen than a standard Delta Ring and will allow custom replacement of the factory handguard at the shooter's will with much less hassle than any other AR design.

Ruger's own manufactured six-position telescoping stock is installed on a MIL-SPEC buffer tube, which will allow owners to replace it with any other stock available on the market; an attachment ring for single-point slings and other tactical sling systems is also factory-issued with the Ruger AR-556 rifle.
The only MIL-STD-1913 "Picatinny" rail to be found on the Ruger AR-556 rifle can be found on top of the MIL Type III hard-anodized, forged 7075-T6 alloy upper receiver; it hosts a flip-up Ruger adjustable rear sight, and makes the AR-556 ready for any commercial or military-grade optical sight.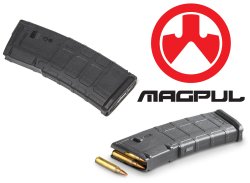 The Ruger AR-556 autoloading rifle also comes with Ruger's own, beavertail-design polymer ergonomic pistol grip, with an enlarged trigger guard to allow easier use with tactical gloves.

The forged, hard-anodized aluminum lower receiver of the Ruger AR-556 rifle sports a standard AR-15 controls configuration, but it will quickly accept aftermarket oversized or ambidextrous control switches or buttons.
The machined gas block of the AR-556 rifle hosts the "F" height adjustable front post sight, which will thus co-witness with optics, and integrates a bayonet lug; it is another Ruger patent pending design, whose main features are the anti-glare serrated faces and the machined quick-detachment port at its bottom, which will make removal for cleaning or replacement much easier for shooters who prefer low-profile gas blocks and free-float aftermarket handguards.
The Ruger AR-556 autoloading rifle fits a cold-hammer forged, matte black finished, 16.10"/40,89cm 4140 chrome-moly steel barrel sporting Ruger's own "birdcage" style flash hider screwed on the 1/2"-28 threaded muzzle as well as six right-handed grooves with an 1:8" pitch which will stabilize all .223/5,56mm loads in the 35 to 77 grains weight range.
A direct gas impingement rifle, the Ruger AR-556 is fit with a 9310 stainless steel machined bolt and bolt carrier group that's 100% internally chrome-lined (even the gas key is plated!) and pressure-tested along with the barrel as a single assembly.
The first firearm to be entirely conceived and manufactured in Ruger's new plant of Mayodan (North Carolina, USA), the AR-556 autoloading rifle is a great alternative for both civilian shooters looking for a rugged and reliable modern sporting firearm and for local Police departments seeking for an AR-type patrol carbine that would be both budget-priced and fit for duty.
The manufacturer's suggested retail price for the Ruger AR-556 autoloading rifle has been set at $749.00 in the United States − that's 587,33€ at current change. Should it not be ITAR-restricted, the price would not only make it a great seller in the United States, but also in Europe, where it would become a cost-effective alternative to higher-priced modern sporting rifles offered by famous brands such as Colt, Bushmaster and Heckler & Koch and to budget-priced ARs of Chinese manufacture.
Further informations concerning non-US sales of the Ruger AR-556 autoloading rifle, however, may not be available before early 2015 at the very least.
This video has been hidden because of an external service (YouTube) that could potentially collect personal data.Allow video services for the duration of the visitAllow video servicesStop allowing video services