Article also available in other languages
Officially launched in November 2013, the Ruger American Rimfire bolt-action rifle − manufactured in long-barrel and "Carbine"- size variants and in .22 Long Rifle, .22 Winchester Magnum Rimfire, .17 Hornady Magnum Rimfire calibers - quickly became a global best seller. Lightweight, accurate and inexpensive, Ruger's American Rimfire is perfect for plinking, indoors and outdoors training, varmint hunting, pest control, and to train youngsters and newbies to the basics of safe firearms handling and individual marksmanship.

Sturm, Ruger & Co., Inc. − the manufacturer of the American Rimfire rifle, headquartered in Southport (Connecticut, USA) − has however announced a limited safety recall procedure for some lots of American Rimfire rifles manufactured between November 17th, 2013 and January 8th, 2014.
These rifles and carbines − chambered only in .22 WMR and .17 HMR, and whose serial number ranges from 840-34831 to 830-43880 − have been found to be lacking a small vent hole − which is part of the design − located on the receiver, just below and behind the serial number. The vent hole has no function per se when the gun works correctly, but acts to relieve pressures and prevent catastrophic failures (so-called "Ka-Booms") should the gun be fired with the barrel partially or totally clogged by dirt or other elements, should a case head rupture, and in other similar circumstances.

Said rifles, and only said rifles, are being recalled to have a vent hole machined into the receiver.
The recall is no cause for alarm: the Ruger American Rimfire rifles remain safe to use, as the vent hole has been conceived as a "contingency measure", and as of today no accident has been recorded concerning a catastrophic failure of a Ruger American Rimfire rifle lacking the vent hole.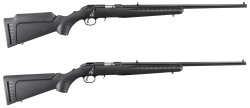 It's of course savy for all Ruger American Rimfire rifle owners to inspect their guns to check if their models feature the vent hole, and if the serial number matches the recalled batch.

ALL .22 LONG RIFLE "AMERICAN RIMFIRE" MODELS, AND ALL THE SAMPLES IN ALL CALIBERS WHOSE SERIAL NUMBER DOES NOT FALL BETWEEN 830-34831 AND 830-43880, ARE NOT AFFECTED BY THE RECALL NOTICE.
The owners of Ruger American Rimfire rifles that fall in the recalled batches should contact Ruger at the telephone and fax numbers or at the E-mail address reported on the official recall page on the Company website. The company will pay all costs of shipping and will return the rifle to the owners within a week of the day it's shipped to Ruger; recognizing the inconvenience, Ruger will also show gratitude to all shooters who will cooperate by including an extra magazine (a $24.95 value) at no charge upon return. Due to the recent changes of local gun laws, residents of the U.S. State of Connecticut will receive a ShopRuger.com gift certificate instead of the complimentary magazine.
SPECIAL NOTICE TO GERMAN READERS:

We have received news from both Ruger Firearms importers in the Country − AKAH - Albrecht Kind GmbH and Heinz Henke GmbH − that the recalled guns were NEVER imported in the Federal Republic of Germany.